News/Media

*If a menu item has a submenu clicking once will expand the menu clicking twice will open the page.

Study & Practice

*If a menu item has a submenu clicking once will expand the menu clicking twice will open the page.

Projects

*If a menu item has a submenu clicking once will expand the menu clicking twice will open the page.

FPMT

The office is a place for Dharma practice. When one goes to the office, dealing with people, one has to recognize it's a place to practice lam-rim, the three principles of the path, tantra, and the six paramitas. The six paramitas fit very well for daily life. They offer protection for you. Everything is there.

Lama Zopa Rinpoche

*If a menu item has a submenu clicking once will expand the menu clicking twice will open the page.

Shop

The Foundation Store is FPMT's online shop and features a vast selection of Buddhist study and practice materials written or recommended by our lineage gurus. These items include homestudy programs, prayers and practices in PDF or eBook format, materials for children, and other resources to support practitioners.

Items displayed in the shop are made available for Dharma practice and educational purposes, and never for the purpose of profiting from their sale. Please read FPMT Foundation Store Policy Regarding Dharma Items for more information.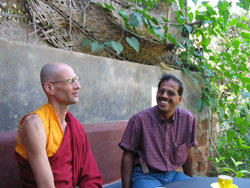 Ven. Kabir Saxena, who works for the Maitreya Project Universal Education School in India, with David Mendonsa, a Goa building contractor, who hosts regular inter-faith meetings in his home.
There's no discouragement
shall make him once relent
his first avowed intent
to be a pilgrim.
My Chambers Dictionary reminds me that a pilgrim is "a wanderer who travels a distance to visit a holy place." Allegorically or spiritually, a pilgrim is also one who journeys through life as a stranger in this world. Do we feel perhaps, as we plant our eager feet on the soil the Buddha walked, a subtly nuanced longing for the shining beings we could be, a calling to someplace elsewhere, seemingly far from the limitations set by our imperfect lives, environments, and seething minds? Or do we feel alien because we sense an extraordinarily rich and spiritually suffused world that's been lost, its faint echoes only remaining in the ruins of a Sarnath or Sravasti, in the wild crags of Vulture's Peak where Buddha's lion-roar proclamation hinted at the sundering of the chains of the vicious circle? Or does pilgrimage, despite its hardships, remind us of our hearts' deepest desire to be both at peace and yet inspired, a desire constantly thwarted by our yearning for material security and comfort and the predictable regimentation that brings in the paycheck but not the joy we seek?
These are all valid questions, but the issues arising for me, to quote Dante, "in the midway of this our mortal life" as I find myself "in a gloomy wood"(of the mind), is to see how being a pilgrim has brought a mirror uncomfortably close up in which I perceive not vistas of pristine pure fields of unalloyed bliss but rather my prehensile grasping at the eight worldly concerns, the tempest that is the unruly mind, that is, the "unsubdued mind," as Rinpoche so often used to call it. And yet, to be fair and balanced, this joint pilgrimage with a monk companion that commenced twelve days ago in central India has also brought moments of great happiness and awe. Let me explain. I hope you are sitting comfortably as you visualize His Holiness the Dalai Lama visiting a small township inhabited in the main by an assortment of leprosy patients, deaf, dumb, and mute children, where everybody has a role as worker, student, or advisor, where the dignity of the human being has been restored against impossible odds – a place called Anandwan or "Forest of Joy" – inspired and set up by Baba Amte, a fearless and compassionate social worker who has dedicated his life to the leprosy-affected and the tribal people of the region. His Holiness visited Baba's project over a decade ago, and the two men share much mutual love and respect. So it was moving, if I may indulge in some British understatement, to see Baba's hand tenderly held for a long while in His Holiness's as they together watched a performance by the Anandwan orchestra, all of whose members are, of course, physically challenged. Here was the union of the best of India's ancient wisdom culture with the best of her modern warrior-redeemers. And as I watched these unusual beings in such harmony and reflected on their accomplishments, remarkable in their own ways, I wondered when my practice and study of the Dharma would enable me to work in the world with even one percent of their love and perseverance.
This question returned when we visited the tribal project set deep in the jungles of southeast Maharashtra, run by Baba's son, whose simple clothing and meager diet put a most non-simple Buddhist monk like me to shame. How I enjoyed rushing back to the comforts of the settlement, the hot water and mattress after the minor rigors of our short foray into the forest! The Vinaya reminds us to relish the passing of our youthfulness in forests, far from worldly delights. This corrupted son of the suburbs fears the challenge of the forest, its apparent heart of darkness masquerading as delicate bamboo and exquisite play of light through healthy trees. Or was this the mirror again? …
This article can be read in its entirety in Mandala