News/Media

*If a menu item has a submenu clicking once will expand the menu clicking twice will open the page.

Study & Practice

*If a menu item has a submenu clicking once will expand the menu clicking twice will open the page.

Projects

*If a menu item has a submenu clicking once will expand the menu clicking twice will open the page.

FPMT

Death could come any minute so transform your life into Dharma.

Lama Zopa Rinpoche

*If a menu item has a submenu clicking once will expand the menu clicking twice will open the page.

Shop

The Foundation Store is FPMT's online shop and features a vast selection of Buddhist study and practice materials written or recommended by our lineage gurus. These items include homestudy programs, prayers and practices in PDF or eBook format, materials for children, and other resources to support practitioners.

Items displayed in the shop are made available for Dharma practice and educational purposes, and never for the purpose of profiting from their sale. Please read FPMT Foundation Store Policy Regarding Dharma Items for more information.
January / March 2010
By Jane Marshall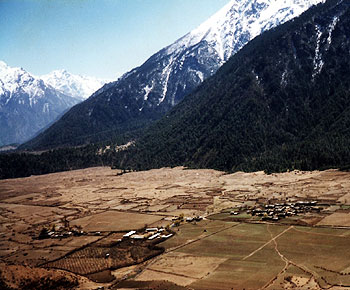 The Beginning of the End
The Final Kyirong Years
Kyirong, Tibet to the borderlands of Nepal
1959
Heinrich Harrer, author of Seven Years in Tibet, wrote:
"I shall never cease thinking of this place with yearning, and if I can choose where to pass the evening of my life, it will be in Kyirong." It was in this valley that Kushok Lobsang Dhamchöe was born.
Kushok's family was a combination of wealthy landowners and reincarnate lamas. For centuries his lineage experienced wealthy harvests and wanted for little. They enjoyed a yearly bounty of barley, wheat, potatoes and labu. Kyirong Valley, known as Happy Valley, was described by Harrer as mythical fairy-land of flowing streams, abundant food and uncanny climate considering the harsh, wild landscape that surrounds it.
The family's clergy members, including Kushok's father, had literally risen from the valley floor to the surrounding hills and cliff top monasteries and nunneries. There they worshiped Buddha and worked to pierce through the ordinary world, to peer into the void. Into emptiness. But the family's good fortune was not to last forever.
Kyirong Valley is a holy place. It was through this area that Buddhism spread from its birthplace in India. In the 8th century, Indian guru Padmasambhava (known to Buddhists as Guru Rinpoche) traveled from India to Nepal and then to Tibet and stayed in and around Kyirong taming a host of wild demons, tricky and ferocious demi-gods, and powerful spirits that tormented the people of Tibet. Though it is said his power could destroy these terrifying characters, he instead transformed their negative behavior into positive action, making them protectors of Dharma. Once the beings were subdued, Guru Rinpoche hid treasure texts in the mountains. Growing up, Kushok was aware of this history and always believed the mountains were alive with watchful deities. His uncle had once tapped the side of one of the Kyirong mountains and, instead of hearing the solid thud of stone, heard a hollow copper reverberation. Uncle suspected the mountain held the texts, and no one questioned the fact that one day, the treasure within would be revealed.
Guru Rinpoche purposely hid these termas, or texts, within beloved Tibet. He asked the earth to protect them until the appropriate treasure hunter, or tertön, came. The Tibetan Book of the Dead is one such text. Others remain in the folds of rock in Kyirong.
Kushok's birthplace is the stuff of legend and folklore. And even in 2009, it remains a secret and inaccessible location, locked away by the Chinese government as they prepare to build a highway through its fertile ground….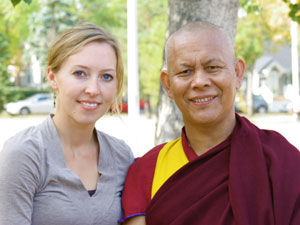 Though I tried my best to return Kushok to his home, the 60th anniversary of communism combined with the growing unrest in neighboring Nepal made his return impossible. Even as a tourist in Tibet, I was forbidden access to Kyirong and was only able to travel along the Friendship Highway. I was so close, yet Kyirong remained hidden.
From Kopan Monastery near Kathmandu, Nepal, Kushok and I gazed northwest and imagined his home. There his family waited to be reunited with the boy who had fled, who had studied with the Dalai Lama. Even in 2009 it was forbidden for them to display the Dalai Lama's picture, but knowing that their relative had freely practiced for 30 years with His Holiness kept them strong.
In the late 1950s, Kyirong began to hear of its country's suffering. Stories about Amdo and Kham in the eastern provinces seeped through, and in 1959, they learned of the loss of their leader. That year the Chinese army massacred the Norbulingka, His Holiness' summer palace, with heavy artillery and military might. The Dalai Lama managed to escape the assassination plot but his country would never be the same.
When news of Lhasa's fall and the Dalai Lama's escape reached the isolated borderlands of Kyirong, there was panic. Bombs? The Kyirong people had never heard of such violence. How many dead?! Our leader is gone. They mourned. They ran. There was chaos.
No one took their belongings, they grabbed only bags of tsampa – roasted barley flour – and whatever bits of vegetable or yak cheese they could strap onto their backs for their journey to Nepal. They felt that all was lost.
"After that, people escape day and night, as fast as," said Kushok. "I only a small boy, but we hear Lhasa is taken by Chinese already. Then everyone race across border to Nepal before the Chinese come."
Kushok was five years old and his mother had recently passed away. Aunty was carrying a pack tied to her back with coarse rope. Her eyes looked wild, and Kushok was scared. He had been sleeping. Dreaming. She grabbed his arm and pulled him from the warmth of his bed, from under the yak wool blanket and the familiar wood beams of the ceiling. The Buddha on the altar watched him.
"We must run. The army is coming! The Chinese are coming!" And they swept past startled cattle on the lower level of their stone house, and they left the potatoes to rot in the cellar. They ran from the village in the black of night, their breath catching in the cold and fogging the air.
A deer rustled in a stand of trees, kicking down a slide of pebbles as it searched for food. Kushok opened his eyes. Through their narrow slits he saw an open sky, brilliant and glaring blue, a vortex of nothing and everything all in one. He let his awareness seep back slowly as his brain adjusted to his surroundings. Aunty's house was far away now, and he was in unfamiliar territory above Kyirong. It left him feeling excited and disoriented.
"Where am I?" he thought aloud.
He slowly breathed in fresh air untouched by breakfast smoke or cattle smells. He heard a nearby stream flowing over rocks. As he rolled onto his side a blanket slipped off his wiry body and onto the shards of rock that formed the ground he had slept on. He looked around, but all he could see besides the expansive natural setting that surrounded him was a bag, half-opened.
The perspective of the mountains seemed unusual. Kushok was used to seeing them from their wide bases, their bodies growing upwards from the valley into rugged peaks. Kyirong rests at one of the lowest elevations in Tibet at less than 3,000 meters. But now he was high above with the valleys and earth below. The peak of Langtang Mountain towered above them. Kushok was a doll in a giant's palm. Rivers fell from the jagged rock and plunged into lakes far below, making his vantage point almost overwhelming, as if the transformation from ocean floor to mountain top were happening right in that moment and shoving him to the clouds in a sweep of sheer velocity.
Kushok caught aunty's lumbering form in the corner of his eye and ran to her.
"How did you sleep, little one?" she asked, a thermos of icy water in her hands. "Are you thirsty?" Her arms and hands were red from the cold stream water. Somet imes she ached from too much love for him, a swollen band of pain across her chest and shoulders.
"I'm hungry."
Aunty emptied some dried, flattened rice called baji into Kushok's cupped palms.
"Can't we make a fire?"
"No. We must be very quiet, very invisible. We cannot be loud when we walk, and we can only make a fire when we really need to." Aunty was terrified by the stories from Lhasa. How could anyone try to murder the incarnation of Chenrezig, the Buddha of Compassion? The Dalai Lama was much more to Tibetans than a figurehead or political leader. He was a manifestation of Buddha, compassionate toward all beings, even those who attempted to destroy him. The thought of him facing the explosion of artillery made aunty's body tremble. She sat on a stone just off the trail where she had hidden her nephew for the night and looked away. A sob shook her body and she swallowed it back to where it came from. She had to get Kushok to safety. Since the moment she had met him, wrapped in his mother's amniotic sac at birth, she knew he was special. Her duty was to protect him. His father was a high lama, and his father's brother was the highest rinpoche of Trakar Tasso monastery. This boy was destined for something more and aunty knew she would give her life for him. "Rest, son. We have a long walk ahead."
After several days of walking the gorges that appeared to have been scraped out by a god's weapon began to level out. The gnarled tree roots and puddles of icy water, the sharp scree slopes and dagger peaks of the Himalayas slowly transformed into slapping bamboo stalks and steep but manageable hills. The thud of bird wings reverberated as the colorful flyers grappled for purchase with the warm air and hawks soared high above, relaxed on the icy wind currents.
Over the next year, an exodus of Tibetans poured down from the mountains and settled along the riverbed in temporary camps. Kushok's uncle Tsering Tashi was key in organizing these villages, helping to provide food and shelter for the growing number of exiles. The American government sent bags of cracked wheat and milk powder, and so there was some comfort in the settlements. But the Tibetans had trouble acclimatizing, especially those from higher elevations.
"The river was bloated with bodies," Kushok continued to explain to me as we ate our meal together. "Tibetans not familiar with Nepal climate, food. So everyday people dying in the settlements and put in the river. River full. Full of bodies." I tried to imagine Kushok without his current robes, his high level education and the relative comfort that he now enjoys as a Canadian citizen. I tried to imagine a scared boy facing death each day, a homeless boy with no parents and no country and no leader.
Excerpted from Back Over the Mountains: Saving the Human Spirit (working title), a biography in progress by Jane Marshall about Ven. Kushok Lobsang Dhamchöe, spiritual director of Gaden Samten Ling Tibetan Buddhist Meditation Centre, Alberta, Canada. Kushok shared this story with Jane Marshall and she attempted to help him return to Tibet for the first time in over 20 years.