News/Media

*If a menu item has a submenu clicking once will expand the menu clicking twice will open the page.

Study & Practice

*If a menu item has a submenu clicking once will expand the menu clicking twice will open the page.

Projects

*If a menu item has a submenu clicking once will expand the menu clicking twice will open the page.

FPMT

Anybody who dedicates their life to achieving lam rim realizations with the goal to liberate numberless beings from the oceans of samsaric suffering and to bring to enlightenment, this is what I regard as the most important thing in the world.

Lama Zopa Rinpoche

*If a menu item has a submenu clicking once will expand the menu clicking twice will open the page.

Shop

The Foundation Store is FPMT's online shop and features a vast selection of Buddhist study and practice materials written or recommended by our lineage gurus. These items include homestudy programs, prayers and practices in PDF or eBook format, materials for children, and other resources to support practitioners.

Items displayed in the shop are made available for Dharma practice and educational purposes, and never for the purpose of profiting from their sale. Please read FPMT Foundation Store Policy Regarding Dharma Items for more information.
REJOICING IN FPMT'S 2010
We received so many photos for "A Year Remembered: Rejoicing in FPMT's 2010!" the cover feature of the April-June 2011 issue, that we couldn't find the space to print them all. Luckily for us, fpmt.org/mandala/ allows us to share with you some of the great images that you would have missed otherwise. 
Lama Zopa Rinpoche
For many, FPMT is Lama Zopa Rinpoche as his spiritual directorship and inspiration cannot be separated from the work or direction of the entire organization.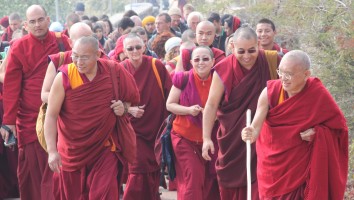 Lama Zopa Rinpoche in India, 2010.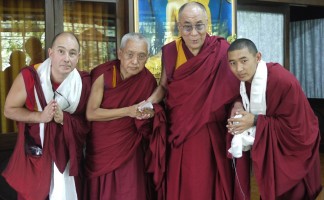 His Holiness with Rinpoche, Ven. Kunsang and Ven. Sangpo, Dharamsala, India, July 2010.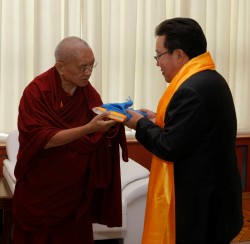 Lama Zopa Rinpoche received the Order of the Polar Star from the President of Mongolia, October 2010.
FPMT International Office
Lama Zopa Rinpoche's office, FPMT International Office, provides the framework for all FPMT activity. International Office coordinates communication between Lama Zopa Rinpoche and the organization, and provides support and services to students and to all FPMT centers, projects and services.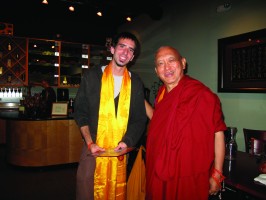 Osel Hita and Lama Zopa Rinpoche, Portland, Oregon, USA, May 2010.
International Projects
Of the 156 FPMT centers, services and projects around the world, eight projects serve the international community.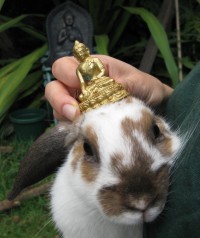 Lots of animals received blessings from Enlightenment for the Dear Animals during 2010.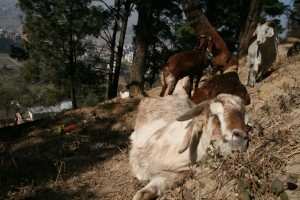 Rigzin, one of the goats at the Animal Liberation Sanctuary, enjoying the sunshine and dust.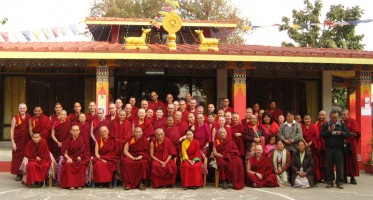 International Mahayana Institute luncheon in January 2010 at the Root Institute in Bodhgaya, India.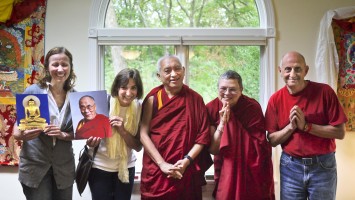 Lama Yeshe Wisdom Archive staff with Lama Zopa Rinpoche, August 2010. From left to right: Wendy Cook, Jennifer Barlow, Ven. Ani Desal and Nick Ribush. Photo by Ven. Roger Kunsang.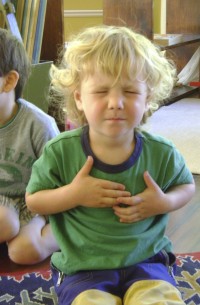 Julian Sends, a member of Wishing Well Children's Community in Santa Cruz, California, USA. Wishing Well launched in September 2010 and uses the Creating Compassionate Cultures curriculum in its program for toddlers and preschool-aged children.
Centers, Projects and Services
When FPMT was founded in 1975, 12 Dharma centers had been started by students of Lama Yeshe and Lama Zopa Rinpoche. By the end of 2010, 156 centers, projects, services (and study groups, which are probationary centers, projects and services) across Asia, Australia, Europe and the Americas (a total of 37 countries) were engaging in Dharma study and practice as well as offering service to their local communities. Here we highlight just a few of the accomplishments from centers, projects and services around the world.
Australia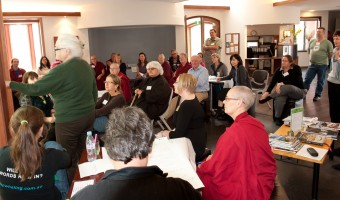 FPMTA National Meeting – Regionalisation Dialogue Forum, Hobart, Australia, October 2010.
New South Wales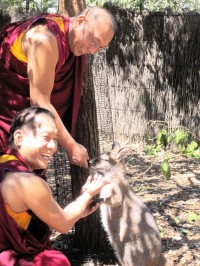 Vajrayana Insitute introduces Dagri Rinpoche and Geshe Samten to an Australian native.
Queensland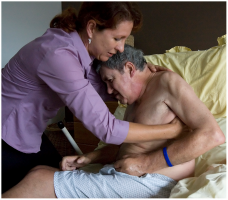 A Karuna Hospice Service nurse and Tony, a Karuna resident.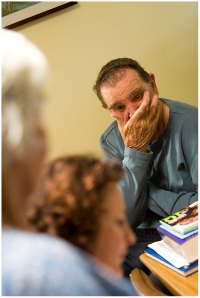 Alb attends Karuna Hospice's bereavement counseling after his daughter, Katherine, was diagnosed with cancer and died suddenly, 2010.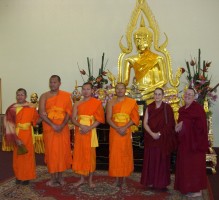 Langri Tangpa Centre held a Brisbane pilgrimage visiting several Mahayana and non-Mahayana temples, 2010.
South Australia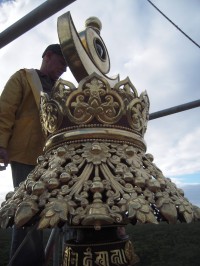 De-Tong Ling Retreat Centre built, filled and consecrated the vase of the center's Enlightenment Stupa and put in place the 13 rings, umbrella, sun and moon. Photo by Will Abram.
Tasmania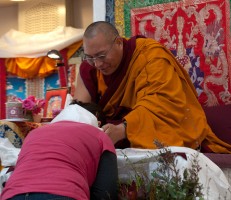 National Coordinator Helen Patrin offers a mandala to Dagri Rinpoche at FPMT Australia National Meeting, hosted by Chag-tong Chen-tong Centre, 2010.
Highlights from Dagri Rinpoche's speech can be found at fpmt.org/mandala/
Victoria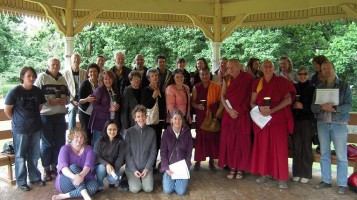 The Atisha Centre hosted an inaugural multi-faith evening of prayers at a local park in Bendigo, Victoria, Australia, 2010. Photo by Liam Chambers.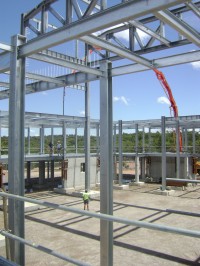 The Great Stupa of Universal Compassion made progress by completing steel construction for stage three of the project, 2010.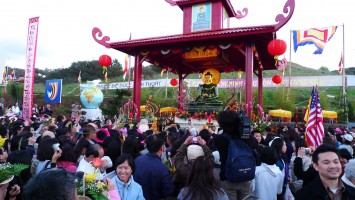 Over one million people in North America viewed the Jade Buddha for Universal Peace in 2010.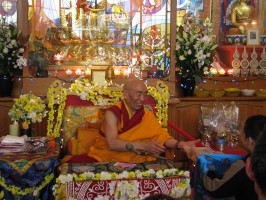 Tara Institute celebrated resident teacher Geshe Doga's 25 years at the Institute and Geshe-la's 75th birthday, October 2010. Photo by Damien Busby.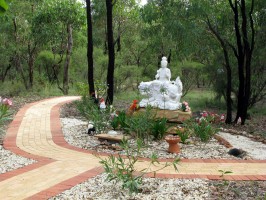 A path through bushland connects Thubten Shedrup Ling Monastery, Atisha Centre and the Great Stupa. Photo by Thubten Lhundrup.
China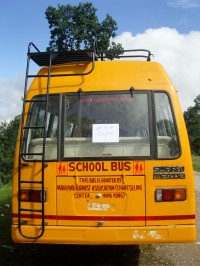 Thirty-two-seat bus donated by Cham-Tse-Ling to Kopan Monastery and Nunnery.
France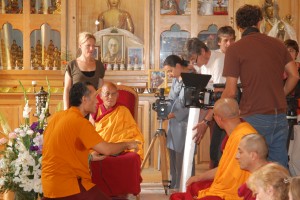 At Institut Vajra Yogini, Yangsi Rinpoche shot a movie with the help of students and Geshe Tengye, 2010.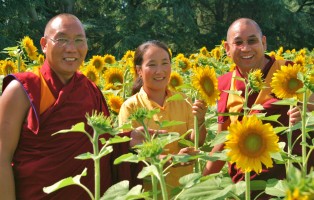 Dagri Rinpoche, Khadro-la and Geshe Jamphel visit the sunflower fields that surround Nalanda Monastery, June 2010.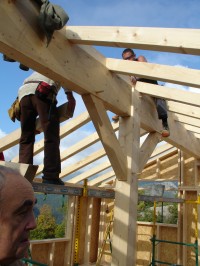 At Thakpa Kachoe Retreat Land, construction began on the first building to grace the retreat center's nine hectares [about 22 acres] of wilderness in the southern Alps of France.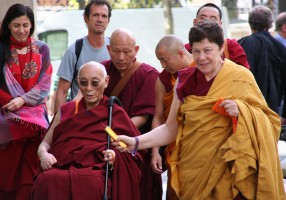 Kalachakra Centre organized a Kalachakra initiation with Choden Rinpoche in September 2010. Photo by Severine Viet.
Germany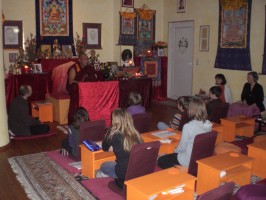 Young students with Dagri Rinpoche at Tara Mandala. Photo by Dieter Kratzer.
India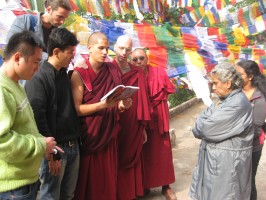 Practioners from Choe Khor Sum Ling on pilgrimage.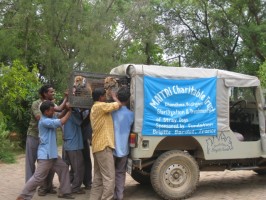 Dogs being cared for by MAITRI's Animal Birth Control program.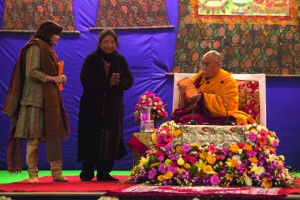 His Holiness the Dalai Lama at the 19th Dharma Celebration, hosted by Tushita Mahayana Meditation Centre.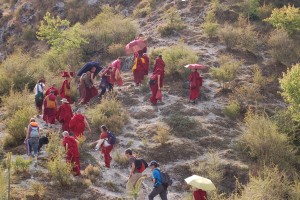 Lama Zopa Rinpoche leads Most Secret Hayagriva retreat group to an incense puja.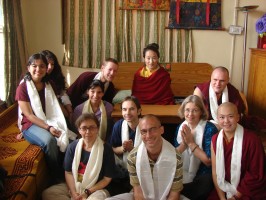 Ten students of Lotsawa Rinchen Zangpo Translator Program practice their Tibetan comprehension with Khadro-la after two years in Dharamsala, India, learning Tibetan in order to serve as interpreters in the future.
Italy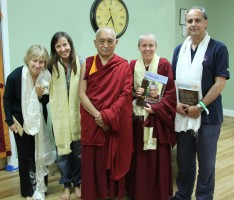 From left: Merry Colony, Laura Pellati, Lama Zopa Rinpoche and Ven. Joan Nicell with Prof. Massimo Bergamasco of the Sant'Anna School for Advanced Studies.
Japan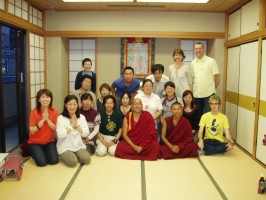 Geshe Thubten Sherab visited Do Ngak Sung Juk Centre in September 2010.
Malaysia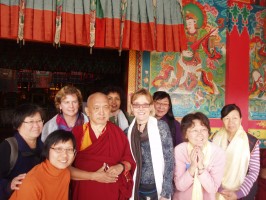 Lama Zopa Rinpoche and Kasih medical team at Khachoe Chakyil Ling Nunnery.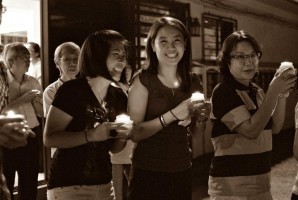 Around 80 members and friends of Losang Dragpa Centre participated in a celebration of Buddha's First Turning of the Wheel of Dharma in their newly consecrated garden. Photo by Chin Sue Ngee.
Mongolia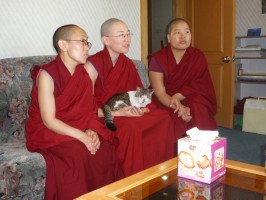 Mani, the resident cat at Ganden Do Ngag Shedrup Ling, was killed by a car on July 1, 2010. Photo by Ven. Glenda Lee.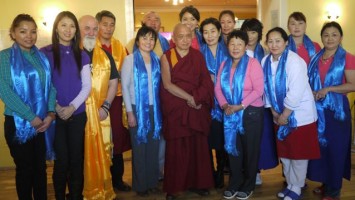 Lama Zopa Rinpoche with the Stupa Café and Shedrup Ling Staff in Mongolia.
Nepal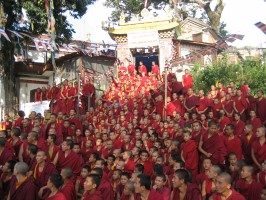 Kopan Monastery participated in the Jayang Debate, the first inter-monastic debate for monks in Nepal.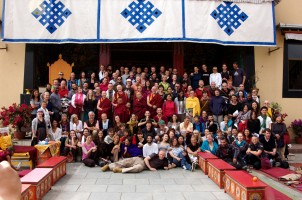 Kopan Monstery hosted 260 participants at this year's November lam-rim course.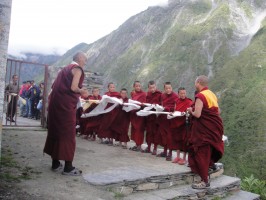 After being without a teacher for many months, Geshe Jampa Tsundu arrived at Mu Monastery to take on the role.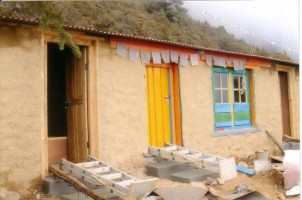 Retreat houses at Lawudo.
New Zealand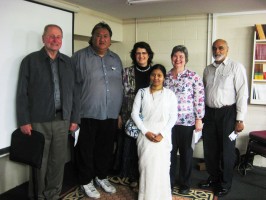 Amitabha Hospice's "How We Prepare for Death" lecture speakers (from left to right): Peter Hansen, Humanist; Tipene Daniels, Jewish;  Suzanne Mahon, Baha'i; Ananya Chaitany, Hindu; Ecie Hursthouse, Buddhist; and Ismail Waja, Muslim.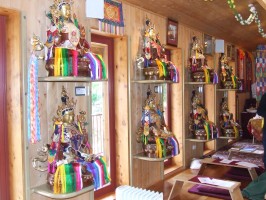 Chandrakirti Meditation Centre finished and consecrated 21 life-size Tara statues.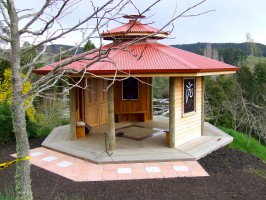 Chandrakirti Meditation Centre's Yeshe Pagoda, a fire puja and Dorje Khadro burning site.
Romania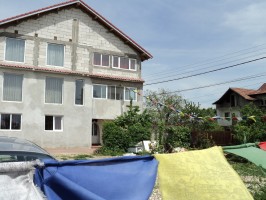 Grupul de Studiu Buddhist White Tara continued to develop, practicing a translation of principal prayers and an important puja in Romanian.
Spain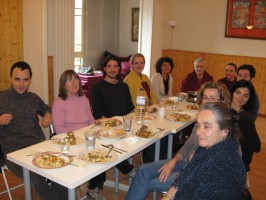 In December, the FPMT Spanish Translation Service held their biannual meeting at Nargarjuna C.E.T. Barcelona.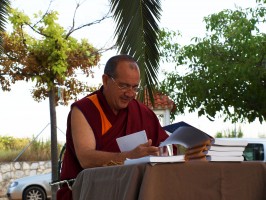 Tekchen Chöling engaged in many activities in 2010, such as receiving teachings from Ven. Thubten Dondrub.
United Kingdom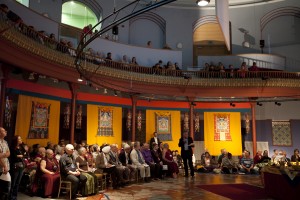 Interfaith opening ceremony of the visit of the Maitreya Project Heart Shrine Relic Tour, Leeds City Museum.
United States
Arizona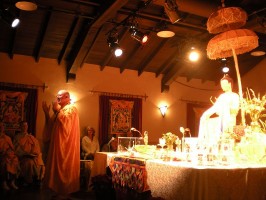 Heart Shrine Relics Tour in Tucson, Arizona.
California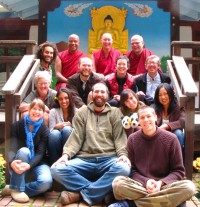 Vajrapani Institute's 2010 staff.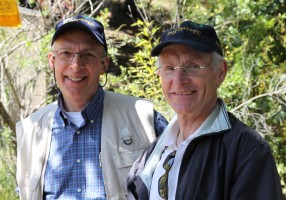 Peter Kedge and Harvey Horrocks, both long-time students and  supporters of FPMT who have each offered service in many key positions within the organization, attended Big Love Day, May 2010.
Massachusetts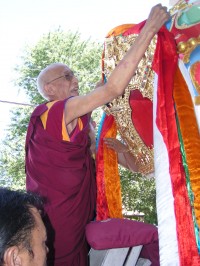 Just before passing, Geshe Tsulga was able to see the completion of the Kalachakra stupa at Kurukulla Center. Photo by Tsultrim Davis.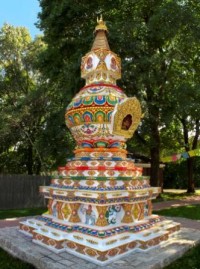 Kurukulla's Kalachakra stupa was completed and consecrated in 2010.
New Mexico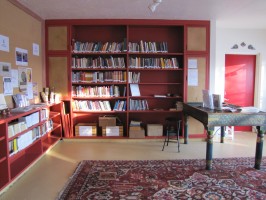 Thubten Norbu Ling celebrated its 10th year by moving to a new location in a bright, friendly neighborhood in mid-town Santa Fe.
North Carolina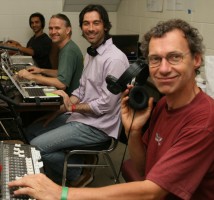 The FPMT Media Team: Alexis ben el Hadj, Harald Weicharrt, Jean-Luc Castagner and Antoine Janssen. Missing is Eamon Walsh.
Oregon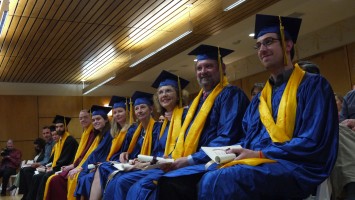 Maitripa College held its second commencement ceremony in May 2010. Photo by Marc Sakamoto.
Vermont

Kalachakra Initation with Choden Rinpoche in August, 2010 at Milarepa Center.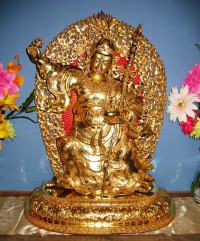 Guru Rinpoche statue in obstacle eliminating posture at Milarepa Center. Photo by Ven. Amy Miller.