News/Media

*If a menu item has a submenu clicking once will expand the menu clicking twice will open the page.

Study & Practice

*If a menu item has a submenu clicking once will expand the menu clicking twice will open the page.

Projects

*If a menu item has a submenu clicking once will expand the menu clicking twice will open the page.

FPMT

Superficial observation of the sense world might lead you to believe that people's problems are different, but if you check more deeply, you will see that fundamentally, they are the same. What makes people's problems appear unique is their different interpretation of their experiences.

Lama Thubten Yeshe

*If a menu item has a submenu clicking once will expand the menu clicking twice will open the page.

Shop

The Foundation Store is FPMT's online shop and features a vast selection of Buddhist study and practice materials written or recommended by our lineage gurus. These items include homestudy programs, prayers and practices in PDF or eBook format, materials for children, and other resources to support practitioners.

Items displayed in the shop are made available for Dharma practice and educational purposes, and never for the purpose of profiting from their sale. Please read FPMT Foundation Store Policy Regarding Dharma Items for more information.
Milarepa: The Movie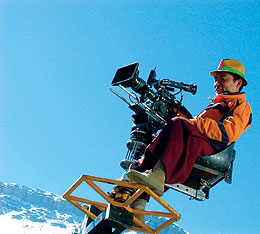 In 2000, a Tibetan lama named Khyentse Norbu took the reins from directors such as Martin Scorsese ("Kundun") and Jean-Jacques Annaud ("Seven Years in Tibet") and directed his own feature-length film based on Tibetan life, "The Cup," a charming tale of young monks distracted by soccer's penultimate match: the World Cup. Working as a principal actor on that film was another young lama, Neten Chokling Rinpoche, who closely observed his friend's directorial techniques. On Norbu's next production, "Travellers and Magicians," Chokling Rinpoche moved up in the ranks to 2nd unit director and assistant to the director, and even served as a stuntman. It was only a matter of time before the inquisitive, 33-year-old lama struck out on his own, and when he did, he would take for his subject none other than one of Tibet's most beloved figures.
"Milarepa," the directorial debut of Neten Chokling Rinpoche, tells the story of the famed Tibetan yogi in his early years. Filmed on location in the remote Spiti Valley on the Indo-Tibetan border, the cast and crew, including the film's star, Jamyang Lodro of "The Cup," consisted mainly of monks from the monastery of which Chokling Rinpoche is the Spiritual Head: Pema Ewam Chogar Gyurme Ling Monastery of Bir, Himachel Pradesh, India.
Contributor Sasha Meyerowitz, a post-production crew member on "Milarepa," recently interviewed Neten Chokling Rinpoche about his new film .
SM (Sasha Meyerowitz): Do your peers find it funny that you, a Rinpoche, are making movies?
NCR (Neten Chokling Rinpoche): You know, the Buddha always said, 'Help according to the time .' Now, times have changed. In that [previous] generation, they didn't have movies or anything like that. Now we do.
SM: How did the idea for this film get started and by whom?
NCR: Every time I read Milarepa's story I find it very inspiring. There's much to learn from his story, what he goes through, where he comes to. Milarepa's life is perhaps a Buddhist version of the traditional "rags to riches" fable, except in this case the "rags" are the unfortunate circumstances, misdeeds, and negative actions Milarepa accumulates early in life. And the "riches" are his coming to the path and attainment of enlightenment. His story shows that the path to enlightenment is accessible to all and can be anyone's aspiration and realization. As he says, "Any ordinary man can persevere as I have done!
SM: What was the process of making the film like?
NCR: Well, I believe making a film about the life of such a person as Milarepa has meaning just in itself. But filmmaking is also hard work. We shot on location in Spiti, in India near the border of Tibet. It looked exactly like Tibet there, in particular the areas where Milarepa grew up, so we were fortunate to work there. But it was pretty tough conditions: cold, remote, no phones, far from lodging, dusty, long, long days. But the filming was made easier thanks to the local people of Spiti. Spiti was once part of the Tibetan kingdom, so due to our similar background, like religion and our very similar language, we had no problems. The locals were really accommodating.
"Milarepa" will premiere across the United States this September at a number of benefit screenings in selected cities. On October 16, 2006, the film will be released on DVD. Visit www.milarepafilm.com for screening dates and locations or to order the DVD.
This article is an excerpt of the full article printed in Mandala