News/Media

*If a menu item has a submenu clicking once will expand the menu clicking twice will open the page.

Study & Practice

*If a menu item has a submenu clicking once will expand the menu clicking twice will open the page.

Projects

*If a menu item has a submenu clicking once will expand the menu clicking twice will open the page.

FPMT

When I talk of being detached, what I mean is to be simpler, more easy-going. Detachment doesn't mean totally renouncing everything. It means that you loosen your grip and be more relaxed.

Lama Thubten Yeshe

*If a menu item has a submenu clicking once will expand the menu clicking twice will open the page.

Shop

The Foundation Store is FPMT's online shop and features a vast selection of Buddhist study and practice materials written or recommended by our lineage gurus. These items include homestudy programs, prayers and practices in PDF or eBook format, materials for children, and other resources to support practitioners.

Items displayed in the shop are made available for Dharma practice and educational purposes, and never for the purpose of profiting from their sale. Please read FPMT Foundation Store Policy Regarding Dharma Items for more information.
Mongolia: Dalai Lama urges shared responsibility
December 2006 / January 2007 Issue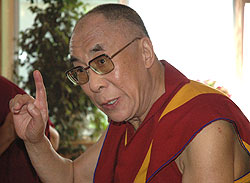 Despite three generations of religious persecution, most Mongolians remain faithful to Buddhism. When His Holiness the Dalai Lama made a seven-day visit in August to Ulaanbaatar, the capital of Mongolia, he was received by thousands with waves of incredible devotion. Carol Beairsto and Ven. Chantal Carrerot, director and resident teacher respectively at FPMT's Shedrup Ling center, report.
The Dalai Lamas have a special relationship with Mongolia. Altan Khan, king of the Mongols and direct descendant of Genghis Khan, gave the name Dalai (Mongolian word meaning "Ocean") to Gyalwa Sonam Gyatso when he visited Mongolia in 1578. Gyalwa Sonam Gyatso then became known as the Third Dalai Lama. The Fourth Dalai Lama was a Mongolian and a descendent of Genghis Khan. Mongolians had a crucial role in the destiny of the Sixth Dalai Lama, and the Great Thirteenth spent a year in Mongolia. This year's visit was the seventh visit to Mongolia for the 14th Dalai Lama.
Addressing the present difficulties that Mongolians meet in trying to recover from decades of religious persecution, His Holiness offered support and advice for the revival of pure monasticism in Mongolia. The highlight of His Holiness' visit was his bestowing the Gelong [Bhikshu] ordination on fifty-two monks. "Giving Gelong ordination made me very happy," His Holiness confided.
At an exclusive gathering for monks and nuns, His Holiness gave the oral transmission on the text "Rules for Mongolian Monasteries and Temples" that he himself had composed. Throughout his visit and whatever his audience, His Holiness insisted on the importance of studying Buddhism, telling Mongolians that they share responsibility for preserving the Mahayana tradition of Nalanda with the Tibetans. "Historically, Tibet and Mongolia have a very strong bond. Especially concerning Buddhism, we are like twin brothers having the same spiritual tradition," he said.
In the session for monastics, His Holiness also emphasized the importance of establishing nunneries, saying that nuns should receive the same level of Buddhist education as monks.
"The preservation of this spiritual tradition, this pure Dharma that is compatible with science, is our common responsibility," said His Holiness. "Now, we Tibetans, as a nation, are dying. In India, we are refugees and we do not have any freedom in our own country. Since you, Mongolians, have gained back your independence, you are in a better position. Therefore your responsibility for preserving the tradition is greater. All my hopes are with you and some regions of the Himalayas."
His Holiness continued: "Nowadays, people living in countries where Buddhism had not spread before are interested in Buddhism. Very educated and influential people, especially scientists and psychologists, are inquiring about the Buddhist explanation of the mind, a knowledge that they themselves do not possess."
When His Holiness visited the FPMT center in Ulaanbaatar, Shedrup Ling, he said: "I always stress the importance of study, because the purpose of Buddhadharma is to utilize our intelligence in the maximum way and, through that, transform our emotions. Transforming emotions means reducing destructive emotions and increasing constructive ones; that's how one practices Buddhism. Just reciting Om Mani Padme Hung without thinking is not a proper Buddhist practice."
The main public teaching events during His Holiness' visit were a two-day teaching on "Praise to Interdependent Origination" by Lama Tsongkhapa held at the National Stadium, and a two-day teaching that included an explanation on the Three Principle Aspects of the Path. The bestowing of the Very Secret Hayagriva initiation and the permission (Jenang) of the Protector Jamsen took place at Ganden Monastery.
Meanwhile, in the Mongolian countryside thousands of people were following the Dalai Lama's visit on television wherever possible, taking blessings from His Holiness by literally placing the tops of their heads on the TV screen.