News/Media

*If a menu item has a submenu clicking once will expand the menu clicking twice will open the page.

Study & Practice

*If a menu item has a submenu clicking once will expand the menu clicking twice will open the page.

Projects

*If a menu item has a submenu clicking once will expand the menu clicking twice will open the page.

FPMT

The mental pollution of misconceptions is far more dangerous than drugs. Wrong ideas and faulty practice get deeply rooted in your mind, build up during your life, and accompany your mind into the next one. That is much more dangerous than some physical substance.

Lama Thubten Yeshe

*If a menu item has a submenu clicking once will expand the menu clicking twice will open the page.

Shop

The Foundation Store is FPMT's online shop and features a vast selection of Buddhist study and practice materials written or recommended by our lineage gurus. These items include homestudy programs, prayers and practices in PDF or eBook format, materials for children, and other resources to support practitioners.

Items displayed in the shop are made available for Dharma practice and educational purposes, and never for the purpose of profiting from their sale. Please read FPMT Foundation Store Policy Regarding Dharma Items for more information.
The Unspeakable – Spiritual Dryness
January / March 2010
Mixed Motives
By Ven. Chönyi Taylor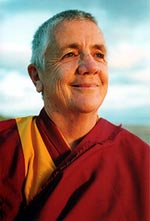 It is important to understand that true practice is something we do from moment to moment, from day to day. We do whatever we can, with whatever wisdom we have, and dedicate it all to the benefit of others. We just live our life simply, to the best of our ability.
– Lama Yeshe
It was quite this morning before the wind came up with the threat of rain. It is so easy to be calm when all is calm around us. Nothing challenged my complacency. Merlin and I wandered along the high-tide mark with little dashes away from the more assertive waves. He is now asleep on one chair. I am on the other with my laptop. On other days, the world intrudes. Sometimes it intrudes with delight and joy. Sometimes the grey, cold rain sends me into a glum despair. Everything seems insurmountable and unending. As Macbeth said, "Tomorrow and tomorrow and tomorrow creeps in this petty pace from day to day."1 Poor old Macbeth was having a bad time, but would he have been so morbid and calculating if he was a Buddhist? Would I feel like this if I was a "real" Buddhist?
Buddhists are supposed to have the answers. Instead of trying to fulfill ourselves by becoming kings, as Macbeth was doing, we know the futility of searching for lasting happiness in short-term pleasures. We can head for the ultimate solution, the direct realization of emptiness. We can use the many practical methods for dealing with negative thoughts. We do not have to trudge through misery the way Macbeth did, yet the reality is that even long-term Dharma students find their enthusiasm withering. Their practice has become dry. I know that from firsthand experience and I have no doubt that many other Dharma students know what I am talking about.
When we experience spiritual dryness, practice seems more like a penalty. Dharma leaves us depressed and enlightenment seems so remote that the promise of achieving it seems hollow. What has happened to that wonderful excitement we felt when we first met the teachings, when we first found our teacher? What has happened to the delight of saying our prayers? What has happened to our enthusiasm for meditation? We know the "right" answers but they do not seem to be working. Some of us deal with this barrenness by becoming critical, or resentful, or self-righteous, or feeling overtaken by a sense of failure. Some of us retreat into Dharma activities with such energy we have no space left to work out what is happening. At least that solution, despite its mixed motives, will be beneficial for others. In secret though, within that desolation, we feel that Buddhism has not worked for us.
Christian mystics call the deepest of such dryness the "dark night of the soul." The same self which had delighted in states of ecstasy must now surrender itself, its individuality and its will, completely and be at one with, be of the same taste as, the Divine Being. This sounds very much like abandoning the false view of the self, not just in theory, but in stark reality. This deep desolation stems from our resistance to letting go of our attachment to an inherently existing self. It is the most radical aspect of our practice. This realization is not achieved when we are ecstatic about our practice because there is no challenge at that time to our clinging to a false self in the same way that my peacefulness was not challenged by the quiet beach. When we experience spiritual dryness, it is this same false self which is objecting to its annihilation. Its clinging is deep and intense. It no longer likes Dharma because instead of being comforted by it as it was in its early days, it is now threatened by it. That false self is also what we call "me" and "I."
The only option is to surrender this clinging which means giving up countless lifetimes of apparent safety and security, and for what? Uncertainty? Insecurity? To become of no importance? To experience death while still living? No wonder monks cling to their robes as they approach this awareness. It takes a lot of courage to welcome such an experience. And if we can give up the clinging, what then? Perhaps we can then see that much of our Dharma practice had been a subtle way to reinforce the false self. Perhaps the desolation means that we are moving into a deeper understanding of Dharma, of knowing that the realization of emptiness is not just an intellectual exercise but a radical restructuring of our whole self-perception.