News/Media

*If a menu item has a submenu clicking once will expand the menu clicking twice will open the page.

Study & Practice

*If a menu item has a submenu clicking once will expand the menu clicking twice will open the page.

Projects

*If a menu item has a submenu clicking once will expand the menu clicking twice will open the page.

FPMT

When others insult, rebuke and speak unpleasant words to us, although an intolerable pain arises like a thorn at the heart, if we comprehend the teachings then we can recognize the essenceless nature of these words which resemble an echo. So just as when an inanimate object is scolded, we will experience not the slightest mental turmoil.

His Holiness the Dalai Lama

*If a menu item has a submenu clicking once will expand the menu clicking twice will open the page.

Shop

The Foundation Store is FPMT's online shop and features a vast selection of Buddhist study and practice materials written or recommended by our lineage gurus. These items include homestudy programs, prayers and practices in PDF or eBook format, materials for children, and other resources to support practitioners.

Items displayed in the shop are made available for Dharma practice and educational purposes, and never for the purpose of profiting from their sale. Please read FPMT Foundation Store Policy Regarding Dharma Items for more information.
Editor's Choice – Media Reviews
July-September 2012
FEATURED MEDIA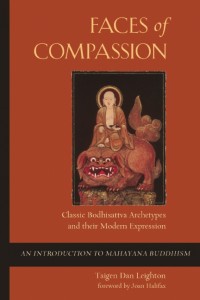 Faces of Compassion: Classic Bodhisattva Archetypes and their Modern Expression – An Introduction to Mahayana Buddhism
By Taigen Dan Leighton
Reviewed by Laura Miller 
Faces of Compassion takes an unusual approach to exploring Mahayana Buddhism, but one that can speak to many readers. Taigen Dan Leighton, a Soto Zen priest, examines the stories, folklore and sutras associated with seven bodhisattvas and identifies the archetypal patterns associated with each bodhisattva. For the seven, he also identifies historical and contemporary people whose actions illustrate what each of the bodhisattvas might look like in our modern times.
Leighton's purpose is to inspire students to find a way to connect to and embody these distant seeming ideals in their day-to-day lives. "We can feel a sense of what it might mean to behave and function as a bodhisattva ourselves by examining the fearless insight and eloquence of Mañjushri, the luminous helpful activity of Samantabhadra, the unmediated, unconditional generosity of Avalokiteshvara, the faithful witness of Jizo, the patience and loving concern of Maitreya, the clever, illuminating displays of Vimalakirti, and the selfless decision and determination of Siddhartha Gautamam," he writes. "However, all of their kindness and efforts are only manifest and real when we see the bodhisattva figures not as theoretical or mythological, but as actualities expressed in our world."
Leighton's book is ecumenical in the sense that he looks at the bodhisattvas through the lens of a number of different traditions. The illustrations of the bodhisattvas in the book come from various countries and periods in history and show us how differently a bodhisattva can appear from tradition to tradition and century to century. Leighton's point is that regardless of how a bodhisattva appears, the qualities emphasized are still the same.
This book is for both beginning and advance students interested in exploring the history and stories surrounding different bodhisattvas, especially those hoping to integrate their qualities into their day-to-day lives. 
Published by Wisdom Publications
Paperback US$15.16
www.wisdompubs.org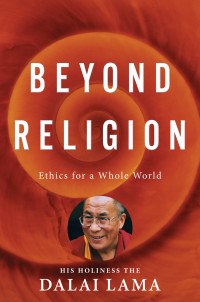 Beyond Religion: Ethics for a Whole World
By His Holiness the Dalai Lama
Reviewed by Michael Jolliffe 
In the 2001 best-selling Ethics for a New Millennium, His Holiness the Dalai Lama sets the stage for ethics based on universal principles. Beyond Religion, the 2011 "sequel," gives His Holiness the chance to elaborate on familiar themes and topics: his notion and understanding of secularism, an appeal to and justification for accepting a common humanity, the value of compassion and ethics in our shared world, and non-religious techniques to train the mind to better address the destructive emotions that lead to individual and global suffering.
Beyond Religion's is not simply a collection of edited public talks, but rather a coherent and expertly edited original piece – a manifesto of sorts. To be expected, His Holiness makes many references to Buddhist concept, but ultimately, his work is written for everyone, especially non-Buddhists. 
Published by Houghton Mifflin Harcourt
Hardback US$24.00
www.hmhco.com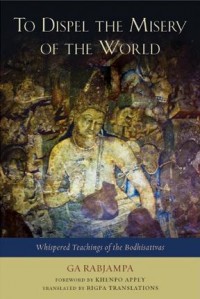 To Dispel the Misery of the World: Whispered Teachings of the Bodhisattvas
By Ga Rabjampa; Translated by Rigpa Translations
Reviewed by Michael Jolliffe 
Rigpa Translations offers a fresh rendition of Ga Rabjampa's (1397-1470) Stream of Nectar: Pith Instructions for Cultivating Relative and Absolute Bodhichitta, a commentary of the Seven Points of Mind Training, a collection of 70 mind training slogans attributed to their popularizer Geshe Chekawa (1101-1175). The slogans are short and simple to remember (e.g., "Meditate on the great kindness of all.") but, as Ga Rabjampa demonstrates, contain the insights of hundreds of years of contemplation by previous lineage masters.
The translator of the book in their introduction point out one particularly important contribution of Ga Rabjampa is his extensive explanation of tonglen, the practice of "giving and taking" – an oft recommended meditation by Lama Zopa Rinpoche to alleviate depression and other mental and physical maladies. 
Published by Wisdom Publications
Paperback US$13.56
www.wisdompubs.org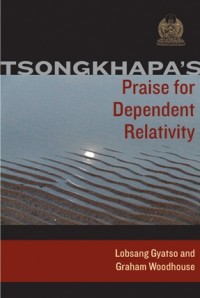 Tsongkhapa's Praise for Dependent Relativity
By Lobsang Gyatso and Graham Woodhouse
Reviewed by Michael Jolliffe 
Author Ven. Lobsang Gyatso served as the first director of the Institute of Buddhist Dialectics in India for 25 years until his tragic murder in 1997. This posthumous commentary with a chantable translation of Lama Tsongkhapa's Praise for Dependent Relativity by Geshe Graham Woodhouse is based on a set of teachings give by Gyatso at Tushita Retreat Centre (now, Tushita Meditation Centre) in Dharamsala, India.
Traditional accounts attribute Praise for Dependent Relativity to a dream Tsongkhapa had wherein Buddhapalita, one of the great 17 Nalanda pandits, appeared and blessed him with the touch of a religious text. Tsongkhapa achieve a direct understanding of the ultimate nature of reality that dawn and composed the praises that same morning.
"Today the central, essential meaning of Praise for Dependent Relativity is as vital as ever," Woodhouse writes. "Buddhist or non-Buddhist, anyone's practical steps in daily affairs will become firmer and gentler when taken in full awareness of the basic dependent nature of all we encounter."
Published by Wisdom Publications
Paperback US$13.56
www.wisdompubs.org