News/Media

*If a menu item has a submenu clicking once will expand the menu clicking twice will open the page.

Study & Practice

*If a menu item has a submenu clicking once will expand the menu clicking twice will open the page.

Projects

*If a menu item has a submenu clicking once will expand the menu clicking twice will open the page.

FPMT

The root of your life's problems becomes non-existent when you cherish others.

Lama Zopa Rinpoche

*If a menu item has a submenu clicking once will expand the menu clicking twice will open the page.

Shop

The Foundation Store is FPMT's online shop and features a vast selection of Buddhist study and practice materials written or recommended by our lineage gurus. These items include homestudy programs, prayers and practices in PDF or eBook format, materials for children, and other resources to support practitioners.

Items displayed in the shop are made available for Dharma practice and educational purposes, and never for the purpose of profiting from their sale. Please read FPMT Foundation Store Policy Regarding Dharma Items for more information.
June-August 2002
By Ven. Tenzin Palmo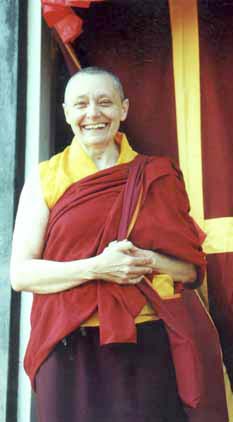 Meditator, teacher, and founder of Dongyu Gatsal Ling, a nunnery in the Drukpa Kagyu lineage in Tashi Jong, India, Ven. Tenzin Palmo found her perfect teacher, His Eminence the eighth Khamtrul Rinpoche in India, 1964. In this extract from Reflections on a Mountain Lake: Teachings on Practical Buddhism [Snow Lion Publications, July 2002] she spiritedly reflects on the role of the spiritual master with particular reference to the Vajrayana path.
In the Vajrayana, or Tantric, school, the guru plays an extremely pivotal role. I think there are two principal reasons for this. Firstly, a genuine teacher, or guru, is the one who reveals to us the empty, aware, clear nature of the primordial mind, our inherent wisdom and compassion. This, the mind's unconditioned nature, is always with us [and] is the most fundamental aspect of our being. However, it is very difficult for us to gain access to this without help. We need a teacher who can create the psychological circumstances for us to glimpse this inherent nature. So a true guru is the one who shows us the nature of the mind. He or she is therefore an extremely important person in our lives.
The second thing a guru can give us is guidance. If we are traveling through unknown territory (and what is more unknown than our own inner psychological landscape?) on our own, it is very likely we will go astray, even with the aid of a map. Sometimes we may be walking along and suddenly the path divides. Do we go to the left or to the right? When we consult the map, it's not always clear what to do. The map gives the broad outlines, but these little sidetracks are not included. We might choose the right path, but we might also choose the wrong one and end up in quicksand or a swamp!
Everybody dreams of meeting the perfect master who is going to take them under his wing. From now on, no more problems! There are movies in which people go through tremendous difficulties looking for their teacher, and when they finally find the right cave, othere is an old yogi sitting there. He looks at them and says, "Ah, I have been waiting for you. What took you so long?" Trying to meet the perfect master who is going to set it all up for you is a common fantasy, where all you have to do is follow his instructions and enlightenment is guaranteed. I even know people who refuse to make any kind of effort on their own behalf, because they are waiting for the perfect guru to turn up and say the perfect sentence.
You might ask what is wrong with this scenario. It sounds good! Well, first of all, even if we did meet the perfect master, as long as our minds remain completely deluded, would he be able to help us? Maybe his only advice to us would be to "go and sit." Maybe we wouldn't be ready for him. We might need to practice a lot more. Even the greatest masters can help only when the disciples are ready. In the meantime, we need to prepare ourselves. In doing so, perhaps we will discover that everybody we meet is actually our master. This area of guru-disciple relationships is very tricky …
Read the complete article as a PDF.