News/Media

*If a menu item has a submenu clicking once will expand the menu clicking twice will open the page.

Study & Practice

*If a menu item has a submenu clicking once will expand the menu clicking twice will open the page.

Projects

*If a menu item has a submenu clicking once will expand the menu clicking twice will open the page.

FPMT

Use problems as ornaments, seeing them as extremely precious, because they make you achieve enlightenment quickly, by getting you to achieve bodhicitta. Experience these problems on behalf of all sentient beings, giving all happiness to sentient beings. This is the ornament.

Lama Zopa Rinpoche

*If a menu item has a submenu clicking once will expand the menu clicking twice will open the page.

Shop

The Foundation Store is FPMT's online shop and features a vast selection of Buddhist study and practice materials written or recommended by our lineage gurus. These items include homestudy programs, prayers and practices in PDF or eBook format, materials for children, and other resources to support practitioners.

Items displayed in the shop are made available for Dharma practice and educational purposes, and never for the purpose of profiting from their sale. Please read FPMT Foundation Store Policy Regarding Dharma Items for more information.
An Appeal to the World from His Holiness the Dalai Lama
TIBET
June-July 2008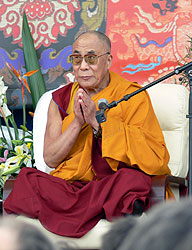 The events of March 10, 2008 marked a significant day for His Holiness the Dalai Lama. It brought back the same feeling of anxiety and fear which he had experienced when tensions, which began to escalate in Tibet from around 1956, eventually led to the peaceful uprising of March 10, 1959, in Lhasa and his eventual escape into exile.
When asked by MSNBC TV interviewer Ann Curry in mid-April about the suffering he – and Tibet – were now enduring, he said: "As soon as I heard [that people in parts of Lhasa were demonstrating] I felt, oh, now our people are going to suffer … not only in Lhasa area, but the other four Chinese provinces: my own birthplace, Qinghai, and Gansu, Sichuan, and Yunnan.  In these four Chinese provinces, around four million Tibetans live in this area.  So, almost the entire Tibetan population [are] now express[ing] their deep resentment and anger. So, I really feel, of course, fear, much anxiety, anguish, and also a feeling of helplessness."
The suffering his people are facing, the Dalai Lama also faces. But as he repeated, as he has said many times before: "If there is a way to overcome, then no need to worry. If there is no way to overcome, no need to worry. In spite of some sort of turmoil in the intelligence side [of my brain], the emotional side stays calm. As a result, since March 10 my sleep is never disturbed." He added, with a chuckle, "This is a practical sort of benefit."
He affirmed that violence is not the answer, that for almost 2,000 years the Chinese and Tibetans lived [mostly] happily side by side. "I always consider Chinese Buddhists as our brothers and sisters. Some kind of negative feeling towards them is useless, unjust.  The ancient nation [of China] deserves to host the world-famous Olympic Games … and when unpleasant events happened in England and France, I sent a message to Tibetans in San Francisco: please don't create any violence."
When Curry asked him if he supported the protests he said, "Firstly, I myself am fully committed to democracy, the right of expression, freedom of speech, freedom of thought, among Tibetans," and when he was asked if he wanted the world and its leaders to boycott the Games he said, emphatically, no. "I wish for the Games event to take place smoothly. Whether individual leaders go or not is up to them, their individual right."
"And what is the greatest use of your life?" Ann Curry asked.
He said, simply: "To serve."
He concluded with this: "To help other people. You see, I have three responsibilities up to now.  Number one, promotion of human value. Thus is my main interest … how to improve human value in order to be better human being. Then, second, as a Buddhist, promotion of religious harmony. So these two, till my death, I [am] involved [with]. As long as I remain, alive, I [am] fully committed.  The third commitment is the Tibetan struggle.  Now this has concerned [me] since 2001. We already have an elected political leadership.  Since then my position is something like semi-retired.  So now I'm looking forward to complete retirement." And he chuckled.
Ann Curry: "Do you think you'll ever see Tibet again?"
The Dalai Lama: "Yes, I believe.  I believe." …
Read the complete article as a PDF.