News/Media

*If a menu item has a submenu clicking once will expand the menu clicking twice will open the page.

Study & Practice

*If a menu item has a submenu clicking once will expand the menu clicking twice will open the page.

Projects

*If a menu item has a submenu clicking once will expand the menu clicking twice will open the page.

FPMT

If you help others with sincere motivation and sincere concern, that will bring you more fortune, more friends, more smiles, and more success. If you forget about others' rights and neglect others' welfare, ultimately you will be very lonely.

His Holiness the Dalai Lama

*If a menu item has a submenu clicking once will expand the menu clicking twice will open the page.

Shop

The Foundation Store is FPMT's online shop and features a vast selection of Buddhist study and practice materials written or recommended by our lineage gurus. These items include homestudy programs, prayers and practices in PDF or eBook format, materials for children, and other resources to support practitioners.

Items displayed in the shop are made available for Dharma practice and educational purposes, and never for the purpose of profiting from their sale. Please read FPMT Foundation Store Policy Regarding Dharma Items for more information.
SERVICE BY ANOTHER NAME …
SERVICE BY ANOTHER NAME …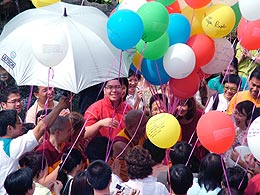 Advice from Lama Zopa Rinpoche on how to appreciate and understand the "social service" that we do when working for a Dharma center.
This is quite an important point. While people are working at a center, they sometimes think, "Oh, I'll do some social service – in childcare, at an orphanage, or at an old folks' home." They don't realize that working for the center is social service. Actually, it's the best social service – best for you and for sentient beings. But from the Western view of social service, even if you are working hard at the center, you think social service is something else, outside – for the sick, for children, for old folks, or something like that.
You see, when you go to work at those other places, from the very beginning you have the motivation of offering yourself; you are making a sacrifice to go there. You think "service, social service," so you don't expect something from those places. And you get more satisfaction, due to your motivation. Yet many people who work for a center don't think that way; especially if there appear to be problems at the center. It seems people have less motivation than if they were going to those other places.
When you don't have the right motivation at the center, then comes the ego. Then, rather than understanding that you are serving the center and its people, the motivation will be for them to serve you! The motivation becomes egocentric and one will face many problems and personality clashes.
Similarly, in the monastery, or when studying Dharma, if you don't have the proper attitude or if you don't know how to study, then you can have the same problem. After you have learned so many texts, it becomes just an intellectual brain room, like a library where you keep many books for information. The heart remains the same – or worse: Maybe you have even more pride. Then, you might think: "Tibetan Buddhism doesn't give me satisfaction or peace of mind. It doesn't help me." These complaints happen, not to everyone, but to certain persons, and I think it has very much to do with the motivation.
Attitude is most important. If you are studying Dharma – know how to study Dharma. If you work at a center – know how to work at a center. If you do service at the center – know how to do service. There is the external way of how to do things, what we normally call "professional skills" in the ordinary world. Then there is how to do with your own mind, with the motivation.
So, even if externally you are very professional, but the motivation – how to do – is not there: giving oneself to others, or thinking of how to benefit others; then the motivation will be ego, so you will still have unhappiness in life. I think it's very important that when you come to work for the center you should have the same attitude of offering yourself, just as you would for the orphanage, or old folks – all these things.
And why do I say this is the best? It's because although all those other services are very important and very necessary, if sentient beings don't know Dharma, they can't practice. If they don't practice Dharma, they cannot remove the cause of suffering: delusions and karma. The problem with this is that then they will be suffering in samsara without end, as they have been suffering without beginning. Only Dharma can end their suffering in samsara, which has no beginning.
To be happy every day working for sentient beings, motivation is very important. Then, so many of the personality clashes and problems will naturally become less. It brings so much to others and so much joy in your life. It brings a lot of success and warm feeling in the center. When outside people come, they see much harmony there: They can see that the people in the center have a warm heart. That's what attracts them and they just want to come back. This way, they can learn more and more Dharma, and practice more and more. Cherishing others is very important. How to develop the center depends on this.
An excerpt from advice given by Lama Zopa Rinpoche on October 14, 2001 at Kachoe Dechen Ling, Aptos, CA.