News/Media

*If a menu item has a submenu clicking once will expand the menu clicking twice will open the page.

Study & Practice

*If a menu item has a submenu clicking once will expand the menu clicking twice will open the page.

Projects

*If a menu item has a submenu clicking once will expand the menu clicking twice will open the page.

FPMT

When Lord Buddha spoke about suffering, he wasn't referring simply to superficial problems like illness and injury, but to the fact that the dissatisfied nature of the mind itself is suffering.

Lama Thubten Yeshe

*If a menu item has a submenu clicking once will expand the menu clicking twice will open the page.

Shop

The Foundation Store is FPMT's online shop and features a vast selection of Buddhist study and practice materials written or recommended by our lineage gurus. These items include homestudy programs, prayers and practices in PDF or eBook format, materials for children, and other resources to support practitioners.

Items displayed in the shop are made available for Dharma practice and educational purposes, and never for the purpose of profiting from their sale. Please read FPMT Foundation Store Policy Regarding Dharma Items for more information.
Science and Buddhism: Studying Compassion
By Lorne Ladner, Ph.D. and Wilson Hurley, LCSW
Buddhist meditation practices have influenced Western psychotherapy for over fifty years, beginning with Jung's interest in Tibetan mandalas, yogic practices, and bardo guidebooks. For over thirty years, scientists have researched the effects of basic meditation practices such as mindfulness of breathing, publishing over a thousand articles on using mindfulness to help in treating conditions ranging from cancer and heart disease to anxiety, stress, and depression. The research on using mindfulness meditation to help treat stress, pain, anxiety, relapse prevention in depression, and other conditions is so strong that it's fast becoming a widely accepted component of psychotherapy and medical treatment in the general community of clinicians – most of whom have little interest in Buddhist religion. For over fifteen years, His Holiness the Dalai Lama and other Tibetan Buddhist masters have been meeting with leading scientists, and one area of interest that has emerged is the possibility that other meditation techniques may prove as or even more useful – based on scientific research – for treating diseases, promoting happiness, and helping promote the development of positive emotions and behaviors.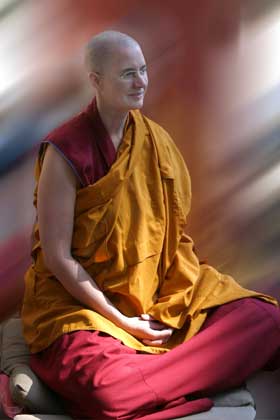 Studying mindfulness and its applications in Western settings is easier than studying many of the meditation techniques popular in the Tibetan tradition. Mindfulness is a simple method that's easy to teach in a consistent way. Even beginners can relatively easily follow the instructions given for mindfulness practice. The Tibetan tradition presents such a wide range of meditation practices – many quite complex, involving numerous steps. For example, the eleven-part method for developing bodhichitta used in the study by Rapgay and Erdynast, a brief summary of which was published in Mandala (December 2004–January 2005), involves many steps and requires practitioners to sustain attention while also engaging the intellect, memory, and emotions in complex ways. The more complicated a psychological method or intervention, the harder it is to accurately study its effectiveness. This has been notoriously true regarding the study of psychotherapy. Although we know psychotherapy often helps people, how individual therapists do therapy and how individual patients experience it is so complex and varied that scientifically isolating the specific factors that bring about changes is very difficult…

"Ven. Drimay in Meditation" by Francesca Hampton
Positive psychology is a field that's just emerging – the American Psychological Association has begun promoting research in this area. Time recently ran a series of articles on this area of emerging research that mentioned studies of monks' brains while they were meditating. The initial scientific research on advanced practitioners and the remarkable results that are evident in great masters of the Tibetan tradition suggest that Buddhism has a great deal to teach Western psychology in this area, and future scientific findings may have huge implications not only for psychotherapy and medical treatment but also in education…

Lorne Ladner is the author of "The Lost Art of Compassion"[HarperSanFrancisco]. He is a clinical psychologist and director of FPMT's Guhyasamaja Center in Virginia. Wilson Hurley is a clinical social worker. He teaches classes at the Mahayana Sutra and Tantra Center near DC.
This article can be read in its entirety in Mandala