News/Media

*If a menu item has a submenu clicking once will expand the menu clicking twice will open the page.

Study & Practice

*If a menu item has a submenu clicking once will expand the menu clicking twice will open the page.

Projects

*If a menu item has a submenu clicking once will expand the menu clicking twice will open the page.

FPMT

Death could come any minute so transform your life into Dharma.

Lama Zopa Rinpoche

*If a menu item has a submenu clicking once will expand the menu clicking twice will open the page.

Shop

The Foundation Store is FPMT's online shop and features a vast selection of Buddhist study and practice materials written or recommended by our lineage gurus. These items include homestudy programs, prayers and practices in PDF or eBook format, materials for children, and other resources to support practitioners.

Items displayed in the shop are made available for Dharma practice and educational purposes, and never for the purpose of profiting from their sale. Please read FPMT Foundation Store Policy Regarding Dharma Items for more information.
Science and Buddhism Meet with His Holiness the Dalai Lama
His Holiness the Dalai Lama visited the USA in September, stopping in San Francisco, Bloomington, Indiana, Washington, D.C. (where he met the president, the secretary of state, and a congressional delegation), Boston, and New York. Dr. Nick Ribush reports on part of His Holiness's visit.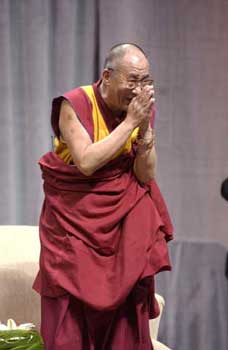 I have had the great fortune of meeting His Holiness the Dalai Lama many times over the past three decades but it's something of which one never tires. So when Geshe Tsulga-la, our teacher at Kurukulla Center, asked me to represent him in greeting His Holiness at Boston's Logan International Airport, I didn't have to check my schedule for that day, Friday, September 12.
His Holiness's first stop was at Kurukulla Center, which was reported in the previous issue of Mandala. You can hear and read His Holiness's advice to the members of this FPMT center and see many photos at www.kurukulla.org. In a packed day, His Holiness also met with 200 journalists and 400 local-area Tibetans, plus another 200 out-of-towners.
His main Boston event was the Mind and Life conference at MIT (Massachusetts Institute of Technology) entitled "Investigating the Mind: Exchanges between Buddhism and the Behavioral Sciences on How the Mind Works." The Mind and Life Institute was started in 1987 by a neuroscientist, the late Francisco Varela, and entrepreneur Adam Engle, an old friend of the FPMT who first came to Kopan in 1974. At www.mindandlife.org you can order audio and video of the entire event.
In the opening addresses, we were reminded that for many years, "consciousness" and "experience" were taboo terms in Western behavioral science, and introspection was rejected as a method for investigating the mind. Cognitive scientists now realize that there can be no comprehensive science of mind without a science of consciousness and that this science will have to make systematic use of introspective reports about subjective experience. The challenge is how to make introspection a reliable method of investigation. Dr. Varela originally developed neurophenomenology to focus on these issues, where first-person experiences complement third-person observations in a process of mutual information and revision.
In the Attention and Cognitive Control session, Dr. Jonathan Cohen of Princeton University defined attention as the capacity to select and process information available to us, and cognitive control as the capacity to guide thought and behavior intentionally, an ability to override habitual responses. Are attention and control the same or different? He suggested perhaps they are the same; attention is what control does. Dr. Alan Wallace, from the Buddhist side, disagreed. Attention can be out of control. It's a distinct mental factor, one of the five ever-present in every thought moment. His Holiness the Dalai Lama mentioned that first an object appears to the consciousness as a pure sensory awareness, then attention, among other mental factors, arises.
The second session was Mental Imagery. Until recently, Western philosophers and psychologists were highly suspicious of introspection as a valid research tool and claimed that imagery could not be studied scientifically …