News/Media

*If a menu item has a submenu clicking once will expand the menu clicking twice will open the page.

Study & Practice

*If a menu item has a submenu clicking once will expand the menu clicking twice will open the page.

Projects

*If a menu item has a submenu clicking once will expand the menu clicking twice will open the page.

FPMT

The sun of real happiness shines in your life when you start to cherish others.

Lama Zopa Rinpoche

*If a menu item has a submenu clicking once will expand the menu clicking twice will open the page.

Shop

The Foundation Store is FPMT's online shop and features a vast selection of Buddhist study and practice materials written or recommended by our lineage gurus. These items include homestudy programs, prayers and practices in PDF or eBook format, materials for children, and other resources to support practitioners.

Items displayed in the shop are made available for Dharma practice and educational purposes, and never for the purpose of profiting from their sale. Please read FPMT Foundation Store Policy Regarding Dharma Items for more information.
Giving Birth to Healthy Life
by Chiu-Nan Lai
Positive imprints begin at conception

Q: Do babies have awareness in the womb? What does this mean for expectant mothers?
A: Dr. Thomas Verny, in his book, "The Secret Life of the Unborn Child," shared some interesting stories of "womb education." Conductor Boris Brott, when asked when he developed an interest in music, replied, "before birth." While learning new music pieces, he was surprised to know certain pieces by heart, particularly the viola parts. His mother, a viola player, was surprised initially, until she realized they were pieces that she had practiced, while pregnant with him.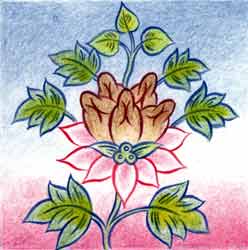 The emerging fields of pre- and peri-natal psychology are becoming aware of the importance of nine months in the womb, and the birth experience, on a person's physical, emotional and mental health for life. Increasingly, experimental, clinical and anecdotal evidence indicates that consciousness exists before birth, and maybe even before conception.
In regression (therapy), people can recall incidences before any brain development, such as the emotional state of the parents at the moment of conception. Some psychologists talk about previous existence (past lives) as a fact of life, rather than a belief.
Not only our talents can come from our womb experience, but also our
outlook toward life and possibly certain emotional and physical difficulties. Phyllis Klaus, a psychologist, had a client that had back problems throughout his life. He sought out Phyllis's help as a last resort. In a relaxed state, he was asked to go back to the source of the problem.
His body went into a jolt, and he re-experienced an automobile accident while in the womb. He checked with his mother later, and indeed, she was in a car accident while pregnant with him.
Dr. David Chamberlain, a psychologist, found that children were able to recall minute details of their birth experience, which matched their mothers' experience while under hypnosis. He also reported on the "vanishing twin syndrome," involving people who had a twin in the womb during the early stage of the pregnancy, and later the twin was re-absorbed back to the uterus. These people would often have unexplained grief and nightmares.
One little girl had a recurring nightmare of losing a little girl friend while holding her hand. The nightmare distressed her so much that she was afraid of going to sleep. Her mother had the insight that the dream was related to a loss in the womb. She was told that she had twins in the first three months of the pregnancy. Only one survived. When she told her daughter that the little girl was her twin sister, the nightmares stopped.
The information gained through pre- and perinatal psychology is useful in understanding the forces that shape one's core beliefs about oneself. The fetus is imprinted with the feelings and experiences of the mother, unable to differentiate itself from the mother. However, knowledge can set one free.
It is important for expectant mothers and fathers to give their unborn child the best "womb education." Welcoming the child with love and warmth is a good start, without expectation of whether it is a boy or girl. Expressing a strong preference for boy or girl can bring anger or low self-esteem in the child who happens to be of the other sex. It is most beneficial for the child if the mother surrounds herself with positive energies:"see no evil, hear no evil, and speak no evil."
Spiritual practices are very beneficial for both mother and child. Be especially careful to avoid exposure to pollutants of all forms: chemicals, radiation and electromagnetic fields. Eat a wholesome organic diet of whole grains and fresh produce. Get plenty of rest and regular exercise in fresh air. Stay away from cell phones, cell phone towers, TV, computers, electric blankets, pesticides, microwave ovens. Look at holy images and cultivate loving thoughts.
Ancient medical traditions of China, Tibet, and India placed great importance on the physical, emotional and spiritual preparation of mothers and fathers-to-be, before conception and throughout the pregnancy. Parents-to-be are advised to purify the body and mind, long before conception, and to eat a clean nutritious diet, avoiding all harmful substances. "Womb education" is believed to imprint the unborn child for its entire life. Loving and positive thoughts toward the unborn child will give the child a good start on a healthful, happy and long life.
This article can be read in its entirety in Mandala