News/Media

*If a menu item has a submenu clicking once will expand the menu clicking twice will open the page.

Study & Practice

*If a menu item has a submenu clicking once will expand the menu clicking twice will open the page.

Projects

*If a menu item has a submenu clicking once will expand the menu clicking twice will open the page.

FPMT

Practice with the bodhisattva attitude every day. People can't see your mind; what people see is a manifestation of your attitude in your actions of body and speech. So pay attention to your attitude all the time. Guard it as if you are the police, or like a parent cares for a child, like a bodyguard, or as if you are the guru and your mind is your disciple.

Lama Zopa Rinpoche

*If a menu item has a submenu clicking once will expand the menu clicking twice will open the page.

Shop

The Foundation Store is FPMT's online shop and features a vast selection of Buddhist study and practice materials written or recommended by our lineage gurus. These items include homestudy programs, prayers and practices in PDF or eBook format, materials for children, and other resources to support practitioners.

Items displayed in the shop are made available for Dharma practice and educational purposes, and never for the purpose of profiting from their sale. Please read FPMT Foundation Store Policy Regarding Dharma Items for more information.
Building Community: Priorities for FPMT Sangha
October / December 2009
By Jane Chesher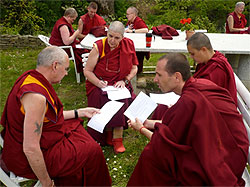 The International Mahayana Institute (IMI) is committed to meeting the Sangha community development plan goals for 2008-2013. Ongoing consultation and discussion forums with the worldwide monastic body are continuing. The latest research comes from group discussions with around 75 monks and nuns at Nalanda Monastery, France, in May 2009.
The results from Nalanda unveiled immediate community needs and areas for further inquiry. IMI will use the findings to situate the delivery of programs and services within the unique socio-cultural and legal framework of all our member countries. IMI plans to work closely with regional representatives and local FPMT centers to nurture the needs of the community over time.
The overall message from Nalanda confirmed better communication networks will enhance sharing knowledge and resources to meet the challenges of an aging Sangha population. A more connected community offers a chance to feel in touch with what is happening outside local groups and can better utilize the wealth of experience from Sangha members around the world.
The group discussions at Nalanda reflected on central aspects of community life.  Providing the conditions for adequate health care and housing was seen as the foundation for a thriving community. Other important areas explored in the discussions were family, finance, legal, work, social responsibilities and communications.
Being Sangha is about joining community, and even if you're not living in community, we need to understand that just by becoming a member of the Sangha, we are becoming part of community.
Health Care
Access to comprehensive and affordable health services was highlighted as an essential priority for the community. While most Sangha are over 50 years old, there are a significant number of younger Sangha who also agreed good health care is critical. The findings raised a number of important considerations for IMI program services.
Development priorities for creating access to adequate health care are:
Ensure Sangha living alone and outside a community network have access to healthcare.
Review options for country-based grouped health care plans.
Identify FPMT center health insurance schemes suitable for Sangha members.
Build a program for the sponsorship or adoption of a senior monk or nun with a disability.
Assist FPMT centers with information about how to value older Sangha members.
Keeping senior Sangha within monasteries, nunneries and Dharma centers is good for junior Sangha to see, and to help us age and die.
Housing
The housing arrangements for monastics can be grouped into three categories. Many nuns and monks live in an FPMT mixed residential center, a Dharma community or a monastery. Over half of Sangha live alone or in a non-Dharma household. And a small number of Sangha are in transitional housing at teaching events, retreats or are looking for permanent housing. The findings from Nalanda identified several areas for development across each housing category.
Development priorities for improved housing are:
Provide a guide for FPMT centers on how to combine Sangha and lay students in shared accommodation.
Set service expectations for Sangha within FPMT centers and promote a realistic vision for what can be achieved within the vows.
Ensure physical facilities at centers are appropriate for older Sangha (e.g. wheelchair access, limited stairs or hills, and easy access to medical services).
Research assisted living options for senior Sangha (e.g. large private houses close to transport, shopping, caregivers and medical services).
Create a Dharma buddy program for older Sangha with sight or hearing difficulties.
Share lessons from FPMT centers already providing hospice or personal care to older Sangha (e.g. Nalanda Monastery, Chenrezig Nuns Community and Land of Medicine Buddha).
Review current respite housing models utilized by other traditions.
Research low-income public housing, new housing, respite and hospice care for older Sangha.
Provide aged care and dying training for Sangha and lay students interested in this service.
As part of doing social work for FPMT centers, the center itself could take on the care of looking after aged Sangha.
Family
The research confirmed a need to adopt important family matters, where necessary, into community life. Keeping family and personal issues separate can sometimes create extra challenges, and the support of the community experience could be beneficial.
Development priorities for handling family matters are:
Prepare a guideline on how to provide spiritual conditions for dying that considers moral, ethical, legal, health and psychological needs (e.g. a "wishes document" for patients, dying care practices, ethical ways to manage disease).
Provide advice on resolving family conflict over important issues (e.g. ordination and legal rights).
Review options for grouped care facilities and hospices that provide residential options for family.
Bring families more into our ordination, discussing with families ahead of time, especially the points relating to any kind of legal documentation, so they understand ahead of time.
Financial and Legal
The groups agreed that neglecting financial and personal legal matters can lead to difficulties and that it's important to create the causes for a sustainable future. Many felt there is a need to promote community awareness on the benefits of taking responsibility for financial and legal affairs.
Development priorities for financial and legal demands are:
Publish advice on how to prepare a will to ensure individual Sangha wishes are upheld.
Review options for establishing an IMI bequest or legacy fund specifically for the community.
Expand knowledge on how to manage finances, and, raise awareness on the benefit of giving to support shared community resources.
Offer l egal advice and information sources to protect individual Sangha rights when dealing with family matters.
We should raise the awareness so those who have money to help can sponsor other Sangha who don't have funds.
Work
The discussion groups found there is an opportunity to educate FPMT centers on the evolving contribution of aging Sangha. Older Sangha can participate and serve at a center during senior years in new and valuable ways.
Development priorities for work and service are:
Raise awareness at centers about the value of new roles for Sangha during older years (e.g. mentoring, studying or touring as a teacher).
Support Sangha to accept offerings instead of generating income from work.
When we are unable to offer service, we need to depend on others, and we'd like to have the support of other Sangha or good lay people within a Dharma environment.
Social Responsibilities
The role of behavior within the Sangha community and broader society was rated as very important at the Nalanda discussions. The robes are perceived as a reflection of the Dharma, Buddhism and His Holiness the Dalai Lama in the minds of others. The groups expressed a need to protect the future of the tradition through living and portraying positive behavior. Poor conduct, particularly by those in authority, can be detrimental to the community, students, lay people and FPMT centers.
Development priorities for sustaining social responsibilities are:
Build skills to help carefully resolve problems or conflicts rather than resist difficulties.
Highlight aspects of the vinaya that address behavioral responsibilities and ways to coexist with compassion for individual difference.
Nominate senior Sangha and teachers with ethical knowledge and conflict resolution experience as special support mentors and advisers.
Ensure FPMT centers have realistic expectations of what Sangha can achieve within their vows.
Cultivate greater awareness for the role and responsibilities of Sangha living in the West.
Nurture the values of clear respectful communication, mutual respect and trust while kindly recognizing the difference in people.
Continue training newly ordained Sangha, particularly on aspects of shared community living.
Promote Sangha awareness days at FPMT centers and in the community.
Spotlight role models within the Sangha who stand out over time as a representative of how to live the vinaya.
Post information about behavioral roles, responsibilities and rights on the IMI website.
How we behave very much affects people. People judge a community and the tradition so it's important how we behave in the world.
Communications
Most agreed at the discussions that being together in-person within the local community or at teaching and retreat events was the best way to communicate. When it's not possible to be present together, electronic communications are the foundation for staying connected and up to date with community activities.
Development priorities for Sangha communications are:
Expand eNews with more information about Sangha, teachings and advice for monastic life.
Produce more IMI regional meetings as a way to come together to discuss goals and share experience.
Promote multiple channels for communication (e.g. Skype, email, eNews and IMI website).
Enhance the IMI website with more interactivity and information including:

Details on Sangha members via the profile function.
Teachings on living the monastic life.
Community stories, experiences and images.
Interactive discussion forums to explore issues for monastic life (e.g. living the vows, desire or a specific problem).
A Sangha buddy system (e.g. similar to Facebook).
It's good to have an idea of what's going on in our community; it gives the community access to monks or nuns, monasteries or centers. We then can have a frame of reference.
Finally….
The Nalanda discussions provide a rich and important source of insight for IMI program and service development. Most Sangha members are now aged over 50 years and live as part of an FPMT center. There is an increasing need for health services and housing facilities for those who are less physically mobile.
It could be useful to assist centers with an understanding of the changing role of Sangha in their communities. A handbook or series of thematic guides may be a way to raise awareness and educate the entire community on our evolving roles and needs.
For those Sangha who live outside a community network or when it's not possible to be together in-person, digital communications provide a sense of community connectedness and well-being.  IMI will work on expanding news and interactivity between members during the coming months.
The range of community development areas for action can be summarized as follows:
The need for health care services for all Sangha members.
The need for housing for older Sangha both within and outside FPMT centers.
The need for special advice on familial relations and protecting individual rights.
The need for financial management skills, legal protection and promotion of shared community resources.
The need to promote new and valuable work options for older Sangha.
The need to protect and uphold social responsibilities within and outside the community.
The need to enhance current communications channels to build closer connections across the global community.