News/Media

*If a menu item has a submenu clicking once will expand the menu clicking twice will open the page.

Study & Practice

*If a menu item has a submenu clicking once will expand the menu clicking twice will open the page.

Projects

*If a menu item has a submenu clicking once will expand the menu clicking twice will open the page.

FPMT

Superficial observation of the sense world might lead you to believe that people's problems are different, but if you check more deeply, you will see that fundamentally, they are the same. What makes people's problems appear unique is their different interpretation of their experiences.

Lama Thubten Yeshe

*If a menu item has a submenu clicking once will expand the menu clicking twice will open the page.

Shop

The Foundation Store is FPMT's online shop and features a vast selection of Buddhist study and practice materials written or recommended by our lineage gurus. These items include homestudy programs, prayers and practices in PDF or eBook format, materials for children, and other resources to support practitioners.

Items displayed in the shop are made available for Dharma practice and educational purposes, and never for the purpose of profiting from their sale. Please read FPMT Foundation Store Policy Regarding Dharma Items for more information.
Heaven, Earth, and Mankind Luck
FENG SHUI
March-May 2002
By Lillian Too
Feng shui [geomancy, or the Chinese art of placement] recognizes the ultimate vastness and voidness of the cosmos which define the "luck from heaven" – what Buddhists refer to as karma, and what Taoists refers to as the Source. There is plenty of conventional wisdom and logic in feng shui. On its own it is neither a religious nor a spiritual practice. But feng shui philosophy is based in the I Ching, the Chinese Book of Changes that contains many Taoist reflections, so it is sometimes seen in a spiritual light. Each practitioner brings his or her own energy to the practice. But feng shui is a very positive practice. It cannot and should not be used to harm others. And I personally have discovered that the purer the motivation that accompanies the practice the more powerful and rapid its results.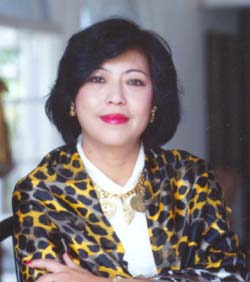 Heaven, earth and mankind luck
The Chinese believe that our lives are shaped and influenced by three types of luck – heaven luck, earth luck and mankind luck – referred to as tien ti ren. Feng shui is earth luck, which reveals all the ways we can live and move in consonance with the rhythms of our environment. It makes us open our hearts and minds to a keen awareness of the invisible energy that pervades living spaces, structures, mountains, and rivers, and the landscapes that make up the earth.
The Chinese call this energy chi, the dragon's cosmic breath. Understanding its intrinsic nature, we learn to differentiate between expanding chi and killing chi, between alive yang chi and stagnant dead yin chi. This life force in the environment has the power to nurture us, or to destroy us. When we succeed in blending harmoniously with the auspicious benign chi of the environment, we refine an approach to living that enhances our quality of life. This is the practice of feng shui — tapping into the good chi, the luck of the earth …
But earth luck makes up only one-third of our store of luck. There is also heaven luck and mankind luck. We have no control over our heaven luck – the situation we are born into. But we do have control over our earth luck and our mankind luck. Awareness of tien ti ren thus implies weaving a positive pattern of attitudes that engage the best of our outer and inner selves. Learning to use correct knowledge, we activate the essence of the outer chi of our physical spaces, and the inner chi that resides within us. In the process we live in harmony with our environment thereby engaging earth luck, and we tap into our own spirituality and our own source of luck – mankind luck. When we practice feng shui within this perspective, it has great potency …
Read the complete article as a PDF.