News/Media

*If a menu item has a submenu clicking once will expand the menu clicking twice will open the page.

Study & Practice

*If a menu item has a submenu clicking once will expand the menu clicking twice will open the page.

Projects

*If a menu item has a submenu clicking once will expand the menu clicking twice will open the page.

FPMT

I encourage people not to express their anger, not to let it out. Instead, I have people try to understand why they get angry, what causes it and how it arises. When you realize these things, instead of manifesting externally, your anger digests itself. In the West, some people believe that you get rid of your anger by expressing it, that you finish it by letting it out. Actually, in this case what happens is that you leave an imprint in your mind to get angry again.

Lama Thubten Yeshe

*If a menu item has a submenu clicking once will expand the menu clicking twice will open the page.

Shop

The Foundation Store is FPMT's online shop and features a vast selection of Buddhist study and practice materials written or recommended by our lineage gurus. These items include homestudy programs, prayers and practices in PDF or eBook format, materials for children, and other resources to support practitioners.

Items displayed in the shop are made available for Dharma practice and educational purposes, and never for the purpose of profiting from their sale. Please read FPMT Foundation Store Policy Regarding Dharma Items for more information.
RITUALS
August-September 2008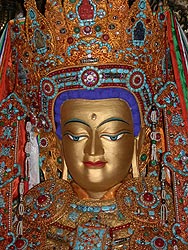 How is it possible for a day to go by without doing pujas? It is so extremely important.
Why do obstacles arise? Lama Zopa Rinpoche often explains how important it is to create merit and purify past negative karma: this is the only way conditions can be changed. Supporting the continual practice of pujas in the way Rinpoche explains below is an incredible and easy way to create merit, and, to purify and change your karma.
For the last thirteen years Lama Zopa Rinpoche has sponsored many different pujas and virtuous actions on auspicious days. On these days, virtuous karma is increased many times (as much as 100 million times)! With this in mind, Rinpoche has put in place permanent arrangements to have pujas and other activities performed by various Gelug monasteries in Nepal and India.
In Sera, Ganden and Drepung alone (three of the main Gelug monasteries) there are more than 15,000 monks. In addition to pujas, other virtuous activities are carried out at the famous Boudhanath Stupa in Nepal, where the stupa is whitewashed, offered saffron color, cleaned, and decorated with new umbrellas and lights each month.
Lunch is offered to each of Rinpoche's gurus, including His Holiness the Dalai Lama, and offerings are made to the various Sangha communities within FPMT.
Whenever these pujas are performed, the Sangha read a two-page dedication prepared by Rinpoche, so that the merit is dedicated to the long life of His Holiness the Dalai Lama, as well as to the removal of obstacles to all the FPMT Dharma activities, its 150 centers, and all its projects. Merit is also dedicated to all FPMT students; to those working, serving, and participating in the centers and projects; to all the benefactors of the centers and projects and all their families; and to all those who make requests to Rinpoche for prayers for health, as well as to all who have passed away.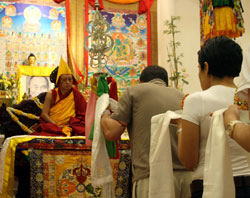 Lama Zopa Rinpoche said:
"The merit that is created from all these pujas that I have organized is also your merit. So you can dedicate all these merits to having realizations and to achieve enlightenment.
"All the offerings that I make to all the Sangha in the monasteries are in monasteries of my gurus; this is because it creates so much more merit. If by thinking of the guru you offer a cup of tea, a glass of water or even a candy to one of the pores of your guru, you collect more merit than if you had made offerings to all the numberless past, present and future buddhas, and to all the statues, stupas and scriptures in the ten directions. This applies to making offerings to your guru's family (wife, husband or children), friend, neighbors or even animals (cat, dog or horse). The merit of making offerings to all the numberless past, present and future buddhas is small when compared to the merit of offering even a glass of water to one of the guru's pores with thought of the guru. The monks in these monasteries all have the same gurus, even Kopan has 300 monks and 300 nuns, and there are many thousands of monks in the other monasteries, all of whom have His Holiness the Dalai Lama as their guru.
"I'm just telling you this so you know how to collect extensive merit. Let's say there is a monastery with a thousand monks and all of those monks are disciples of one of your gurus – His Holiness the Dalai Lama, for example. Even if you have only one rupee or one dollar, if you offer that rupee to all those monks, by thinking of your guru, as I mentioned before, in dependence upon each monk, you collect more merit than having made offerings to all the Buddhas, Dharma and Sangha and all the statues, stupas and scriptures in the ten directions. Even if what you have to offer is just one tea bag, but you offer that that tea bag with thought of your guru to a monastery of a thousand monks, who are disciples of your guru, you collect unbelievable merit. (Of course, there is also more merit because you are offering to ordained people). You don't have to make a huge offering. Even if you offer only one rupee, you can still collect unbelievable merit.
"So far, these offerings and pujas have not been publicized much, but I would like to make it available and known so that other people can participate in making these extensive offerings. Offerings to all these monasteries happen all the time, every year, every month, they are continually happening.  My idea is for these offerings and pujas to continue forever, or as long as the monasteries exist.
"So please, if you make offerings, please think in this way and dedicate, and you can also remember on the actual day that the pujas are happening, to rejoice and dedicate. This is the best business, the best way to create the most extensive merit."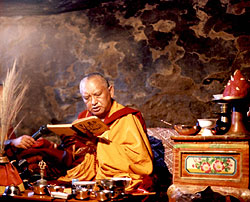 The sponsorship of these pujas also financially benefits the monasteries and nunneries involved, as well as the Sangha that perform them. Also at each puja the Sangha are offered tea, bread and a small offering; in some cases lunch is also offered. Any money in this fund is used solely for the continuation of the pujas and offerings. The annual expense for the pujas is over $64,000. To date Lama Zopa Rinpoche has happily covered nearly all these costs.
Rinpoche recently commented: "How is it possible for a day to go by without doing pujas? It is so extremely important." …