News/Media

*If a menu item has a submenu clicking once will expand the menu clicking twice will open the page.

Study & Practice

*If a menu item has a submenu clicking once will expand the menu clicking twice will open the page.

Projects

*If a menu item has a submenu clicking once will expand the menu clicking twice will open the page.

FPMT

Don't think of Buddhism as some kind of narrow, closed-minded belief system. It isn't. Buddhist doctrine is not a historical fabrication derived through imagination and mental speculation, but an accurate psychological explanation of the actual nature of the mind.

Lama Thubten Yeshe

*If a menu item has a submenu clicking once will expand the menu clicking twice will open the page.

Shop

The Foundation Store is FPMT's online shop and features a vast selection of Buddhist study and practice materials written or recommended by our lineage gurus. These items include homestudy programs, prayers and practices in PDF or eBook format, materials for children, and other resources to support practitioners.

Items displayed in the shop are made available for Dharma practice and educational purposes, and never for the purpose of profiting from their sale. Please read FPMT Foundation Store Policy Regarding Dharma Items for more information.
Mastering the art of 'masterful coaching'
Every day we are influencing, or are influenced by, those we work with. We may have come across a boss or a colleague who seems to draw out the best in others, a person people always turn to, or are motivated by. We may even be that person ourselves, if we only knew it.
The presence of those people in our working world is vital to business success. Respondents to a major survey by Australia's BUSINESS REVIEW WEEKLY in 1999 ranked "the ability to recruit, develop and retain talented people" as second only to customer satisfaction when they nominated the companies they most admired.
Our modern business heroes are "visionaries", "instigators of change", "skilled communicators", "motivated/inspirational to others", and "risk takers" according to the survey.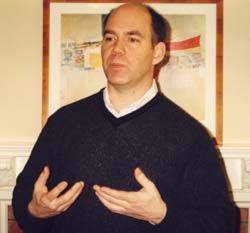 Take Australian adventurer, businessman and philanthropist Dick Smith who is currently behind a move to put on supermarket shelves more dinkie-di Australian-made and owned foodstuffs (the peculiarly-addictive Australian spread, Vegemite, is currently owned by the US company Kraft Foods which is part of Philip Morris). With foreign ownership having such a tight grip, this may seem like an impossible goal. But this is the man who in 1986 was awarded the Order of Australia for achieving other impossible goals and founded the quarterly journal AUSTRALIAN GEOGRAPHIC as a way of inspiring young people to share in the great adventure of being Australian. Whatever venture he's involved in, he leads his team by stepping into a future others could not imagine.
The key here is that Dick Smith is a 'masterful coach' although he may not use that term himself.
'Coaching' is about helping people to become more able to see things they've never been able to see for themselves, to develop a certain wisdom or capacity to realize the future, according to Carl Kaestner, a management consultant with a neo-Buddhist view of the world.
"If the intention is to bring Dharma, the teachings of Buddhism, into your world, coaching can be a vehicle for assisting with that. Coaching is about expanding a person's capacity to create the future that a person truly desires," he said.
"It's about the future you passionately desire. From being the preeminent force in your field or industry… right up to your enlightenment."
Karuna Cayton sees working with Carl as a way of achieving results for his new company through transforming the mind, transforming one's identity.
"Why that's so exciting is because as Buddhists we've already taken the commitment to transform our identities as leaders for all living beings, as stated in the Bodhisattva pledge, and along comes someone with ordinary language and techniques that can be applied in an ordinary context for us to achieve what we are committed to."
Carl, however, is wary of using the word 'techniques'. The kind of coaching which has become a bit of a fad in some circles is full of tips and techniques, but Carl's view is that masterful coaching is more about transforming the personality — starting with your own.
"You don't need a coach to create what you already know how to create. Coaching happens when you're trying to achieve something that seems humanly impossible, that moves you beyond your existing capacity, your existing skills and knowledge — whatever it is you think you know. To do that you might need to shift your thinking, or transform yourself in order to create it."