News/Media

*If a menu item has a submenu clicking once will expand the menu clicking twice will open the page.

Study & Practice

*If a menu item has a submenu clicking once will expand the menu clicking twice will open the page.

Projects

*If a menu item has a submenu clicking once will expand the menu clicking twice will open the page.

FPMT

You can see from your own life experiences how the environment can affect you. When you're among peaceful, generous, happy people, you're inclined to feel happy and peaceful yourself. When you're among angry, aggressive people, you tend to become like them. The human mind is like a mirror. Therefore, it is very important to be conscious of your surroundings and how they affect your mind.

Lama Thubten Yeshe

*If a menu item has a submenu clicking once will expand the menu clicking twice will open the page.

Shop

The Foundation Store is FPMT's online shop and features a vast selection of Buddhist study and practice materials written or recommended by our lineage gurus. These items include homestudy programs, prayers and practices in PDF or eBook format, materials for children, and other resources to support practitioners.

Items displayed in the shop are made available for Dharma practice and educational purposes, and never for the purpose of profiting from their sale. Please read FPMT Foundation Store Policy Regarding Dharma Items for more information.
ADVISE FROM THE VIRTUOUS FRIEND
by Lama Zopa Rinpoche
From a talk given by Lama Zopa Rinpoche at FPMT's first education conference, held October 28-November 2, 1996 in London, England, at Jamyang Buddhist Centre.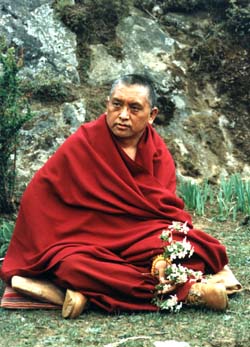 I would like to thank the FPMT, founded by Lama Yeshe, and all the kind gurus who have helped me and others, directly and indirectly. It is unbelievably inspiring to see the progress and the development of the wisdom and skills to benefit others as extensively as possible. The most important thing is, with sincerity and a good heart, to benefit others.
I think it is really unbelievable the credentials that we have and how much we have been benefiting other sentient beings, and what we can do. We have been developing wisdom and a good heart for many years, and been through many hardships. As we Doctor Adrian said [earlier during the discussions about FPMT education], the most important thing is that people have a good heart: this makes others open their own hearts and communicate. That is the essence of Dharma, the result of study and meditating on Dharma: opening the heart to benefit others, harmony with others.
After hearing all this discussion, I would like to express that there is really so much we can rejoice in. I will not go into details, but over the years we have developed so many good things, and in spire of the problems there has been a lot of benefit in the minds of so many sentient beings. They have been given so much satisfaction and peace, so much preparation in their minds to end samsara, that which Is unbearable, the oceans of suffering without beginning. They have been able to make preparation in their mental continuums to end this and to reach the main goal, enlightenment.
I think some centers have had success in learning the more advanced philosophical subjects, and others have had difficulties. But I think that even if only two or three people come to learn these subjects, from my point of view that is good. One cannot say it is not beneficial just because not many people come. Even one person having this knowledge can help many thousands of people; this one person can teach many people This has been our experience. Therefore, even if only a few people come, I think it is very good to continue to teach those who want to learn these subjects.
Having a lot of people gathered is not necessarily beneficial. In the world sometimes even ii the teacher and the teachings are pure, not many people come. And thousands of people would go to and enjoy so much the teachings that give wrong views. This happens often; there are many examples of this in the world. To hear something pure and to meet pure, very qualified beings, people need much merit, good karma, and those who have the merit come and get great benefit.
Generally speaking, even if a teaching makes people happy it does not mean it benefits their minds. There is temporal and ultimate benefit, and the extent of the benefit depends on the duality of the teacher, his samaya and vows.
---
We are teaching Buddhism, teaching what Buddha taught, the unmistaken path to liberation and enlightenment, so however many people come there is incredible benefit. As is mentioned in the Kadampa geshes' teachings, how one can benefit others, how one can make things work for others, is by living in pure morality. Another is by having a good heart; with compassionate thought there is greater benefit to others. And then there is wisdom, skill. These are the things that give long-term benefit.
This is a Dharma organization, not a company producing cars or airplanes or motorbikes. But this does not mean that one benefits others only by teaching Dharma. Dharma and meditation are the main things, but teaching other things that would open people's hearts and become a bridge to bring them into the path to enlightenment is also good.
But the field of education that we need to develop is the philosophical teachings…. In order to preserve the entire teachings of the Buddha I think we definitely need Institutions with established study programs, like the monastic universities they had in India and Tibet. But we are not just helping to preserve the words; we must have the experience also. There are two kinds of teachings, of Dharma: scriptural and realization. We need to develop intellectual understanding followed by practice in order to get the experience….
And we need to produce qualified teachers who have a deep understanding of Buddha's extensive teachings so that we can continuously benefit other sentient beings. We have not put so much energy into this, but we need to. What Olga Planken presented earlier was very good; she has done teacher-training study for many years. We need to encourage more people; we need to put more effort into this area.
I think we also need to have more lay people reaching so that the few Western monks and nuns do not have to run all over the world: they are being pulled this way and that to various countries, teaching, being spiritual program coordinators at the centers, offering service to others. I don't mean sangha should not study, but if there were more educated lay people it would allow sangha to stay in monasteries for longer periods, to live in pure vows without many external interfering conditions — this, too, would help the whole world, all sentient beings.