News/Media

*If a menu item has a submenu clicking once will expand the menu clicking twice will open the page.

Study & Practice

*If a menu item has a submenu clicking once will expand the menu clicking twice will open the page.

Projects

*If a menu item has a submenu clicking once will expand the menu clicking twice will open the page.

FPMT

Living in morality is one fundamental spiritual practice that is a very important source of happiness for you and for all living beings. This is also one of the best contributions that you can give to this world, for world peace.

Lama Zopa Rinpoche

*If a menu item has a submenu clicking once will expand the menu clicking twice will open the page.

Shop

The Foundation Store is FPMT's online shop and features a vast selection of Buddhist study and practice materials written or recommended by our lineage gurus. These items include homestudy programs, prayers and practices in PDF or eBook format, materials for children, and other resources to support practitioners.

Items displayed in the shop are made available for Dharma practice and educational purposes, and never for the purpose of profiting from their sale. Please read FPMT Foundation Store Policy Regarding Dharma Items for more information.
Keeping cultures alive in exile: Tibetan children go to Israel
Shachar Zaider, a social worker and a member of the Israeli Friends of the Tibetan People, helped coordinate the Cultural Exchange Program, in which twelve Tibetan children were selected to visit Israel for two and a half months this year. Rinchen was one of the Tibetans.
Rinchen The point of this Cultural Exchange Program was to give us a basic idea of how life goes on in other countries. All of us are usually only in India and don't get the chance to go outside, so it's an experience of the world, of the global community. Although it's called the Cultural Exchange Program, it has several other aspects, including exposure to Israeli culture and religion, and the landscape.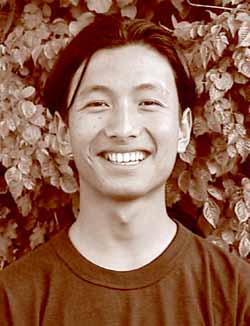 Students from every Tibetan school in India were invited to be tested and interviewed in Dharamsala, and many students came. I am 17 years old and go to the Department of Education School, one of the two Tibetan schools in exile. The other is the Tibetan's Children's Village. His Holiness the Dalai Lama knew we were coming here. The twelve of us met with him in an audience, and he gave us advice. He said we should behave nicely here and that, as Tibetans, we should be the way everyone hears Tibetans are.
I think the reason we came to Israel is because we have a cultural and traditional affinity. The Jewish past and the present situation we Tibetans are facing in India as exiles are similar. The Jews have been in exile for many years and we are in exile now. Jewish society has been quite inspirational. To know how they were able to have their culture and tradition intact until now, for 2,000 years — this point is crucial for us.
We are now in exile and we, too, have different methods to preserve the culture, but we should have some inspiration from another country that is an example.
When we came here we received a very nice welcome, and the Israelis respect our religion. Religion and culture are related for us. All the Tibetans here are Buddhist. I can't generalize for all Tibetans, but it is common in every culture that there are people who love their culture or nation. In our community almost everyone is quite caring about Tibetan culture. Still, there are some young people who are going away from the culture, but this happens everywhere. They don't realize the importance of their culture, but still they need the example and backup, and they shouldn't forget it.
Your cultural identity defines the main basic idea behind your survival. It defines you if you have a culture — you are quite different. Without it everyone would be the same. We are human beings, it's true, but our culture does affect other aspects of our life. We connect development with competition. Healthy competition should be there — if we look at different, more developed communities, it makes us want to develop more.
We have had lots of discussions with students of many countries, and we've gone to seminars based on the Israel-Arab conflict to know about the problems in Israel. We have had tours, films, discussions, and we were in the desert in the south. We've touched almost all aspects of Israeli cultural traditions, as well as their advanced technological development.
We didn't go too deeply into Palestinian culture, although we did discuss it. My perspective on that conflict is the middle one — I don't feel like this side is right and that one is wrong. I could say the Israelis are correct and in their own place after 2,000 years, but then I see where the Palestinian view comes from — they have also lived in this country for many years. It's a very complicated situation. It seems that through discussions and negotiations something can be cleared up.
It made us think about the situation with Tibet and China, and it inspired us to make a relationship with the Chinese students in India. There are many Chinese students in Indian universities, so we can make relations with them, and starting from that we can slowly, slowly go further and build up effective communication.
We have made many friends. Many people have never heard of Tibet, so we are proud to introduce Tibet this way. It is possible now that people will know about the Tibetan cause. My family is very happy I am doing this, and feel proud.
It's important for every teenager, every young person, to realize they are human beings. Just as important, they need to realize that we have different cultures, unique identities in cultures that define us. This shows who we are in our cultural philosophy. It's important to understand our culture and it's important to understand our selves. It is only from being in our situation in Tibet now that's made me realize how important this is.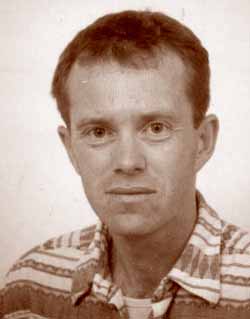 Shachar Last year His Holiness the Dalai Lama met with Dr. Haim Peri and several of us from the Israeli Friends of the Tibetan People. When we discussed the fields where Israelis and Jews can help Tibetans, His Holiness asked Dr. Peri to help him give strength to his children through the means of education for preserving cultural identity in exile. Dr. Peri designed the Cultural Exchange Program in 1999 based on His Holiness's request.
This is the first time of the implementation of the vision of the Dalai Lama himself has happened in this regard. I have heard him say many times that the Tibetan people should look up to the Jews as a role model of an ancient people who came back after 2,000 years of exile. This message of the Dalai Lama is implemented in a fresh way through these youths, through youth leadership and education.
The youth village, Yemin-Ord, is defined as a home or community rather than a boarding school. It is like what we had sixty years ago — refugees and survivors of the holocaust coming from Brazil, Slovenia, Argentinia, Latin America, Africa, the Soviet Union. The Tibetan teens shared their rooms with Jewish teens from Ethiopia, Russia, etc.
Over 500 students live here, mainly from Ethiopia and the former Soviet Union. For the Tibetans this system of boarding schools or children living together in one community is natural. They feel very much at home here. We heard from the Tibetans many times that Yemin-Ord is like home away from home-in-exile.
The idea was to expose them to modern facilities, organizations and institutions because of their potential for youth leadership for the Tibetan community. Every week they had a course in modern psychology, sciences, mathematics and introduction to the computer and internet. They visited universities, the supreme high court, power stations and the parliament, and summer camps held by youths of their age in Israel.
We didn't present the Israeli state or society as the perfect thing. We wanted to expose them to the problems we've had in the last sixty years because when you fulfill your dream of coming back to Jerusalem or Lhasa you have to deal with reality — with political life, with the army, with bureaucracy, with technology. This aspect was very important.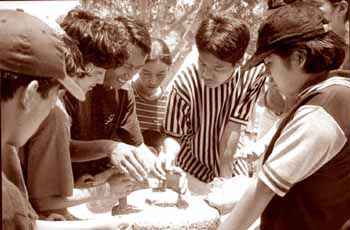 It's not like we are only giving them something — we are also receiving something from them. I had so many people here tell me they've never seen students like the Tibetans. Over two months, twenty-four hours a day, the issue of discipline was not relevant. Compassion and nonviolence, commitment to their community, and a sense of responsibility — all this is integrated in their daily life in a very deep way; these principles are deeply rooted in the Tibetan culture.
I'll give one example. We have a lot of flies and mosquitoes here in the summer — it's very bad. The Tibetans saw the fly-killing machines on the trees, and the they asked that they be taken down to save the lives of those insects; and anyway, they don't help that much. So they took the fly traps down.
Before the Tibetans came I remember one student here asked me if they would come with red robes — they didn't know anything about Tibetans, Tibet or His Holiness the Dalai Lama. They didn't understand why we would invite Tibetan Buddhists to the village. Today everyone loves them. It comes down to always helping each other. The atmosphere in the group after two months was something extraordinary. There was no conflict, no violence, no leadership struggles — it was really extraordinary.