News/Media

*If a menu item has a submenu clicking once will expand the menu clicking twice will open the page.

Study & Practice

*If a menu item has a submenu clicking once will expand the menu clicking twice will open the page.

Projects

*If a menu item has a submenu clicking once will expand the menu clicking twice will open the page.

FPMT

Bad Education is like a prison. We must learn to open the prison, and psychologically liberate human beings.

Lama Yeshe

*If a menu item has a submenu clicking once will expand the menu clicking twice will open the page.

Shop

The Foundation Store is FPMT's online shop and features a vast selection of Buddhist study and practice materials written or recommended by our lineage gurus. These items include homestudy programs, prayers and practices in PDF or eBook format, materials for children, and other resources to support practitioners.

Items displayed in the shop are made available for Dharma practice and educational purposes, and never for the purpose of profiting from their sale. Please read FPMT Foundation Store Policy Regarding Dharma Items for more information.
Peace on this planet is in the hands of young people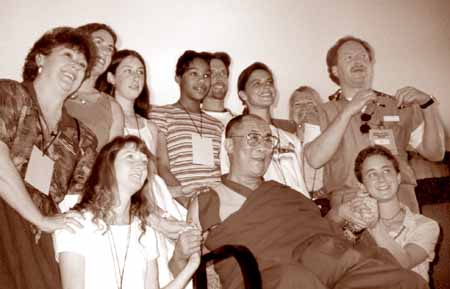 Mandala talked to young people around the world — from Colombia, Tibet, Spain, the USA, Finland, English, Israel — about what they're doing to ensure a more harmonious and intelligent future for this planet.
Fifteen-year-old Spaniard Lama Osel Rinpoche is preparing to carry on the work of his innovative Tibetan predecessor Lama Thubten Yeshe. "I feel I have to study well so that I can help. If I am just spacing out then I feel bad," Lama said. Julia Hengst interviewed Lama at Sera Je Monastery in India, where he has been studying since he was 7, about his views on young people and how to help their minds.
In a landmark event, Lama Osel will officiate at his first formal event, a White Tara empowerment, in Taiwan, November 3-14. "The child has gone and the Vajra Master emerges," said Ven. Marcel Bertels, one of the FPMT people in charge of Lama Osel's education.
Millions of young people in Colombia experience violence as a regular part of their daily lives: "We have seen every type of violence you can imagine," said 16-year old Mayerly Sanchez, one of the five youths who represented Colombia's Children's Movement for Peace when they were nominated in 1998 and 1999 for the Nobel Peace Prize. When they saw the adults weren't doing enough to ensure their rights to a peaceful life, they decided to take responsibility to educate each other about conflict-resolution and peaceful dialogue. Mayerly and 15-year old Nicholas Puerta explain how their movement started and what they have been doing.
The five Colombians traveled through Los Angeles in late 1999, where they were interviewed for a CNN documentary called Soldiers of Peace. Lama Zopa Rinpoche happened to be in L.A. at the same time, and attended one of their presentations at a local high school. "People's relatives in Colombia can be killed at any time, so these children are very brave-hearted to inspire other children and people to stop the violence and work for peace. I admired them for taking responsibility for peace in the world," Rinpoche said. "I suggested they go to China and Tibet. There should also be Tibetan and Chinese children doing the same thing."
The Cultural Exchange Program links Tibetan students with a Jewish refugee village for youngsters in Israel. Rinchen was one of the Tibetans selected for the pilot program, and speaks about the importance of cultural identity. One of his hosts, Shachar Zaider, was impressed by the Tibetan children: "The atmosphere in the group after two months was something extraordinary. There was no conflict, no violence, no leadership struggles — it was really extraordinary."
On the other side of the world, tucked away in Tibetan Buddhist monasteries in India, four young reincarnations of high Buddhist masters study six days a week with the sole intention of benefiting others.
As well as Lama Osel, young Tibetans Ling Rinpoche, Zong Rinpoche and Khunu Rinpoche express their views on young people and the world. Both Ling Rinpoche and Zong Rinpoche have spent time in the West and are fluent in English.
Sharon Kitzhabar, wife of the governor of Oregon, talks about the meeting between His Holiness the Dalai Lama and 6,000 teenagers from all over Oregon next May. "There are some very lonely children out there who are grasping at whatever comes their way that makes them feel they belong, so the challenge is to identify risky behaviors and identify positive behaviors and choose a path that will give them a happier and healthier future."
Twenty-five-year-old Sumi Loundon, a student at Harvard School of Divinity, is working on a book called Age of Awakening that brings together contributions of more than thirty young Buddhist practitioners (and Buddhists who work with young people), to be published by Wisdom next spring. One of the contributors, Soren Gordhamer, writes about his experience teaching meditation to kids in juvenile hall.
Jenny Kovalaine is one of the few Buddhists of Finland. Since she was 16 she has been translating the teachings of Lama Yeshe and Lama Zopa Rinpoche into Finnish and posting them on her dynamic website. And she actively works for the freedom of Tibet in her school.
PeaceJam is an international education program designed around Nobel Peace Prize winners who interact directly with youth. The founders interviewed His Holiness the Dalai Lama.
EarthDance, a grassroots organization that benefits Tibet, children and the environment, will hold their fourth annual EarthDance party on Saturday, October 14. And a Tibetan lama in Los Angeles works with young people by using the principles of the Mandala.
Lama Zopa Rinpoche has also taking a step towards the manifestation of a more spiritual and socially aware youth body with the creation of Mind Trip, a Buddhist magazine specifically targeted toward young people.