News/Media

*If a menu item has a submenu clicking once will expand the menu clicking twice will open the page.

Study & Practice

*If a menu item has a submenu clicking once will expand the menu clicking twice will open the page.

Projects

*If a menu item has a submenu clicking once will expand the menu clicking twice will open the page.

FPMT

If we want to understand how we are ordinarily misled by our false projections and how we break free from their influence, it is helpful to think of the analogy of our dream experiences. When we wake up in the morning, where are all the people we were just dreaming about? Where did they come from? And where did they go? Are they real or not?

Lama Thubten Yeshe

*If a menu item has a submenu clicking once will expand the menu clicking twice will open the page.

Shop

The Foundation Store is FPMT's online shop and features a vast selection of Buddhist study and practice materials written or recommended by our lineage gurus. These items include homestudy programs, prayers and practices in PDF or eBook format, materials for children, and other resources to support practitioners.

Items displayed in the shop are made available for Dharma practice and educational purposes, and never for the purpose of profiting from their sale. Please read FPMT Foundation Store Policy Regarding Dharma Items for more information.
We are including obituaries in Mandala so that readers who knew the deceased can pray for them; and as a reminder that we will all go through the death process, readying ourselves for it by practicing the Dharma.
The quality of mind during the death process and after death in the bardo determines the kind of rebirth we will take. Through prayer and other virtuous activity done on behalf of the dead person, those still living can greatly assist the dead as they proceed through the intermediate state towards their next life.
See Lama Zopa Rinpoche's advice page: fpmt.org/teachers/zopa/advice/. Refer also to Advice and Practices for Death and Dying, available at shop.fpmt.org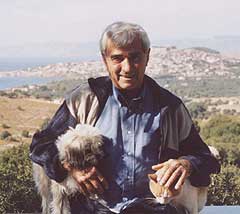 Yorgo Cassapidis, 74, died in Athens, Greece, on October 18, 2005
by Michael Lobsang Yeshe
I think my dad became interested in Tibetan Buddhism when he first came to visit me in Kopan Monastery in 1971 with my sister Melina. I was about seven years old. As he related to me much later, his first reaction when he saw me at Kopan was to take me away and put me in a "proper school." But when he met Lama Yeshe and Lama Zopa, he decided to check out what Buddhism was all about. He enrolled himself in the November course and discovered that there was a lot of wisdom to be gained from the lamas. Respecting my mother Olivia's decision, he decided to leave me in Kopan "as long as I was happy there."
He started a carpet export business and lived in Nepal part of the year with his Nepalese wife Yasodhara. As his business grew, he would offer money to Kopan Monastery to buy buffaloes as a source of milk for the monks. Lama Yeshe considered my dad to be an old friend. When Kopan would arrange picnics, my dad would offer to drive the lamas and monks to the picnic site in his Volkswagen. Lama would sit in front with my dad and relate many stories and laugh a lot. Later, my dad also helped to establish the Mandala boutique in Kathmandu. He purchased some land on the Greek island of Lesbos and slowly established a retreat center, which he named "Karuna Refuge." Lama Yeshe was invited and was able to visit Athens but couldn't make it to the island at that time. After Lama's passing away, my dad got busier running the retreat center with his wife Yasodhara.
When the first Dharma Celebration was organized by Lama Yeshe, my dad received a personal letter from Lama saying, "You must come to Dharamsala now to receive teachings from the Dalai Lama." So my dad made the trip to Dharamsala from Nepal and received intensive teachings from His Holiness and Lama Zopa Rinpoche. It left a significant impression on him. When my dad was casually asked if he was Buddhist, his immediate response was, "I am living my life according to Buddhist principles."
He was very touched throughout the years that Lama Zopa Rinpoche would always remember to send him a personal greeting. During his final illness he received many blessings and personal advice from Rinpoche. My dad felt the strong connection with the lamas until his last breath. I was honored to be with him for the last stages of his life and could offer some service to him, not only as a son but also as a representative of the lamas. May he continue on the path of righteousness to reach the final goal of enlightenment.
Jim Silvestri, 54, died in Boston, USA on November 24 2005
by Wendy Cook
Jim was a devoted and sincere student of Buddhism who had been attending Kurukulla Center for nearly four years. Although his chronic illness meant that he couldn't make it to the center a lot, it meant everything to him. He told me that when he attended Kurukulla Center for the first time and Geshe Tsulga walked into the gompa, he felt that he was home.
About six months ago Jim started to talk to me about how the doctors had given him only a few months to live, and that he wanted to get ready for his death. I gave him a copy of Lama Zopa Rinpoche's Advice for Death and Dying and began visiting him on a regular basis. Jim was drawn to recite the King of Prayers, and Geshe Tsulga advised that he do the practice of the Thirty-five Confession Buddhas. I put these practices onto CD for him, along with a motivation and dedication prayers.
Over the course of my visits we talked about all kinds of things. For example, the experience of peace he got from doing his practice (his "devotions" as he used to call them, a term carried from his Catholic background.)
Also, what to do with his cats. He didn't want to put them in a shelter as he was afraid they would be killed. Eventually, one of the Kurukulla members offered to take them.
He told me about how difficult it was that he wasn't able to talk more frankly to his best friend about his impending death – that she was in denial.
And he spoke of the time he experienced a great heart opening by doing tong-len.
He loved to spin the tabletop prayer wheel that I would bring with me when I visited.
May Jim quickly find a fortunate rebirth with perfect conditions to continue his Dharma practice.