News/Media

*If a menu item has a submenu clicking once will expand the menu clicking twice will open the page.

Study & Practice

*If a menu item has a submenu clicking once will expand the menu clicking twice will open the page.

Projects

*If a menu item has a submenu clicking once will expand the menu clicking twice will open the page.

FPMT

FPMT is unbelievably fortunate that we have many qualified teachers who are not only scholars but are living in practice. If you look, then you can understand how fortunate we are having the opportunity to study. With our Dharma knowledge and practice we can give the light of Dharma to others, in their heart. I think that's the best service to sentient beings, the best service to the world.

Lama Zopa Rinpoche

, (read the

full advice

from Rinpoche)

*If a menu item has a submenu clicking once will expand the menu clicking twice will open the page.

Shop

The Foundation Store is FPMT's online shop and features a vast selection of Buddhist study and practice materials written or recommended by our lineage gurus. These items include homestudy programs, prayers and practices in PDF or eBook format, materials for children, and other resources to support practitioners.

Items displayed in the shop are made available for Dharma practice and educational purposes, and never for the purpose of profiting from their sale. Please read FPMT Foundation Store Policy Regarding Dharma Items for more information.
Death and Dying
by Maureen Lillie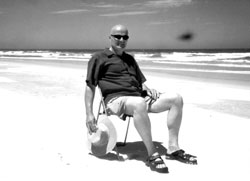 The death of Gunter Lillie, 58, in May this year shocked the community and tested his wife's equanimity about such a sudden loss. Gunter was the treasurer for Langri Tangpa Centre and he also kept the books for the Liberation Prison Project in Australia. His wife, Maureen, is the Centre's secretary. This is her story.
He was spread-eagled on the floor with his eyes open, and he was dead. He had been dead since lunchtime. He had not been ill, and I thought of what Lama Zopa Rinpoche once said: "You can die lifting the fork to your mouth." You can die walking through the door when you have checked your e-mail. "It must have been a shock," everyone said. Well, yes, it was. For a while, I kept feeling he would just walk in the door – that it was a bad dream, a bad taste joke, April Fool – but no, he's really gone and things won't be the same again.
What I have learned about the Dharma is a source of strength. I know that I can't change what has happened, but I can choose how I react and therefore how much I suffer from it. Nothing can alter the fact that I miss Gunter, of course, but I do accept that life is change, though it may be painful, and that the difficult lessons can be the most valuable.
Someone at work asked if I felt anger against the injustice of the universe. Well, no. Since I am responsible for my karma, how can there be injustice? I must say that if I saw myself as a victim, singled out for undeserved misfortune, then it would be much worse. The fact is that unless you die together in some dreadful accident, then one of every couple has to die first. It was Gunter's karma to die now, and it is mine to stay on. I remind myself that I need to make the best use of the extra time.
The discipline of daily practice helps. Meditation allows a kind of emotional respite as the 'here and now' drops away for a while. When you return to it, it's not as intense, as you have a better sense of perspective. This wasn't the main intention of meditating, of course, but I found it was a welcome side effect.
You know, I think that quite apart from the benefit it brings to the dead person, doing 49 days of practices for the dead helps the living, too. It's sound psychology, isn't it – you feel that even though you can't see them any more, you can still do something special to help them. It also keeps a sense of connection for a while, which is important if the person died suddenly and helps you to adjust to their absence. I decided to dedicate everything I said or did for his perfect human rebirth – which is making me very, very careful!
I am trying to turn outward toward others and not inward toward myself. This is partly why Gunter's funeral was meant to be positive. I wanted to celebrate his life and give friends and family a chance to say goodbye rather than to cling to the loss. I'm sure that's what he would have wanted …