News/Media

*If a menu item has a submenu clicking once will expand the menu clicking twice will open the page.

Study & Practice

*If a menu item has a submenu clicking once will expand the menu clicking twice will open the page.

Projects

*If a menu item has a submenu clicking once will expand the menu clicking twice will open the page.

FPMT

May there be no war, disease or natural disaster such as fire, flood, earthquake and so forth. May everybody realize bodhichitta, the good heart, enjoy peace and happiness and as quickly as possible realize the wisdom directly perceiving emptiness, cease all their defilements and achieve enlightenment.

Lama Zopa Rinpoche

*If a menu item has a submenu clicking once will expand the menu clicking twice will open the page.

Shop

The Foundation Store is FPMT's online shop and features a vast selection of Buddhist study and practice materials written or recommended by our lineage gurus. These items include homestudy programs, prayers and practices in PDF or eBook format, materials for children, and other resources to support practitioners.

Items displayed in the shop are made available for Dharma practice and educational purposes, and never for the purpose of profiting from their sale. Please read FPMT Foundation Store Policy Regarding Dharma Items for more information.
Dalai Lama Urges Introduction of Bhikshuni Vows into Tibetan Tradition
BUDDHIST WOMEN
October-November 2007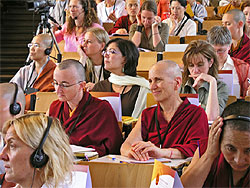 His Holiness the Fourteenth Dalai Lama has spoken out strongly in favor of introducing full ordination for women in Tibetan Buddhism. Addressing a packed audience of 1,200 people in July in Hamburg, Germany, His Holiness said, "I am 100% sure if Buddha were here today, he would certainly give us permission for bhikshuni vows."
In his statement, His Holiness the Dalai Lama said, "The four-fold Buddhist community (of bhikshus, bhikshunis, upasakas and upasikas [Bhikshu/bhikshuni: fully ordained persons, male and female; upasaka/upasika: devout lay practitioners, male and female]) is incomplete in the Tibetan tradition. If we can introduce the bhikshuni ordination, that would be excellent in order to have the four-fold Buddhist community complete. …Given that women are fully capable of achieving the ultimate goal of the Buddha's teachings, in harmony with the spirit of the modern age, the means and opportunity to achieve this goal should be completely accessible to them."
The statement came at the conclusion of a three-day conference on the issue held at His Holiness' request, bringing together over sixty vinaya scholars and senior sangha members from various Buddhist traditions worldwide.
If Tibetans move in the direction His Holiness suggests, this would mark a major milestone in the history of Tibetan Buddhism. Although women can receive novice (getsulma) vows, full ordination (known as gelongma or bhikshuni ordination) is not currently available to them in this tradition. Indeed, a bhikshuni order was never fully established in Tibet, even though a number of individual bhikshunis (including Gelongma Palmo) visited from India, and some Tibetan nuns were ordained by monks in isolated ceremonies, according to exhaustive research undertaken at His Holiness the Dalai Lama's request by the Tibetan government's Department of Religion and Culture.
Because bhikshuni ordination is transmitted within Chinese, Korean and Vietnamese Buddhism through a vinaya lineage known as Dharmaguptaka, many Western nuns practicing Tibetan Buddhism have taken bhikshuni vows from these lineages. The Dharmaguptaka lineage of the vinaya is distinct from the Mulasarvastivada lineage that was transmitted to Tibet.
Until now, His Holiness's position on this matter was not clear to the wide public, and some senior Tibetan monks and lamas have hesitated to encourage nuns to receive bhikshuni vows from the Dharmaguptaka lineage or to attend such bhikshuni ordination ceremonies themselves. Others actively discourage nuns from taking such higher vows…
Read Lama Zopa Rinpoche's endorsement of the Buddhist Women's Conference.
Read the complete article as a PDF.