News/Media

*If a menu item has a submenu clicking once will expand the menu clicking twice will open the page.

Study & Practice

*If a menu item has a submenu clicking once will expand the menu clicking twice will open the page.

Projects

*If a menu item has a submenu clicking once will expand the menu clicking twice will open the page.

FPMT

Countless sentient beings have suffered by being harmed or killed for every grain of rice you eat. Think about the previous grain from which it came. If you understand this, there's no way you'll be able to eat simply for your own selfish enjoyment; you'll always make offerings of your food and drink.

Lama Zopa Rinpoche

*If a menu item has a submenu clicking once will expand the menu clicking twice will open the page.

Shop

The Foundation Store is FPMT's online shop and features a vast selection of Buddhist study and practice materials written or recommended by our lineage gurus. These items include homestudy programs, prayers and practices in PDF or eBook format, materials for children, and other resources to support practitioners.

Items displayed in the shop are made available for Dharma practice and educational purposes, and never for the purpose of profiting from their sale. Please read FPMT Foundation Store Policy Regarding Dharma Items for more information.
By Kabir Saxena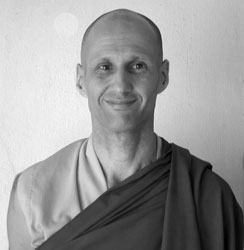 On those occasions where lam-rim meditation alone fails, or is sadly lacking, events have a way of repeatedly reminding one of the precious human opportunity, as I discovered in an interesting fashion this last month.
Last week I sat with class nine of the Maitreya Project Universal Education School for the daily Special Program period in which we practice meditation and discuss subjects ranging from how to cope with difficult emotions to practical ways of helping and cherishing others at school and in society at large. On the day in question we were investigating the effects of karma as well as the process of purification. I was struck by how accepting the students, including a Muslim boy, were of karma and rebirth. They had no difficulty with the observation that karmic effects could mature in future lifetimes and that purification was necessary. And it was totally fine for them to hear it from me – a Buddhist monk.
How different all this was from the situation that had unfolded at Root Institute a month earlier. The event was the first-ever course offered at Root in the Hindi language for local people. As a whole, the course was very worthwhile, but it gave much food for thought as regards the lack of freedom from wrong views. To put this in context I need to briefly introduce some background to the Buddhist revival in modern India.
In 1956, responding to centuries of inhuman maltreatment at the hands of upper-caste Hindus, hundreds of thousands of Indian Untouchables – Gandhi preferred to call them Harijans, or "children of God" – converted to Buddhism under the leadership of Dr. Ambedkar, a famous lawyer and one of the main authors of the Indian Constitution. Even now, almost fifty years later, the movement lacks a well-educated Sangha or laity and seems to energize itself with a continuous and unfortunate anger and contempt toward Hindus and Hinduism. It was the manifestation of this abiding resentment that I saw unfolding in Root Institute's gompa.
To begin with, one of the two excellent teachers that had come from the Tibetan Institute in Sarnath was a layman, born a Hindu – a Brahmin at that – and due to a knee problem had to sit in a chair that was higher than the cushions on which the few monks present were seated. In addition, the professor quoted from Buddhist texts in Sanskrit, sounding just like a Brahmin priest to the non-scholar. And of course he spoke of karma and rebirth and beings in realms that some of the audience thought only superstitious Hindus believed in. So some of the Ambedkarites (sometimes referred to as neo-Buddhists) stopped listening properly and kept on asking controversial questions implying a mistrust of the speaker and the teaching. He was also asked bluntly whether he was a Buddhist or not. Despite his assurances – in terms of philosophical view he is a Buddhist – feedback at the end of the course included pleas to invite only Buddhist teachers in future! The point I laboriously make, dear friends, is that it is very rare to accumulate the conditions of a precious human life qualified by all eight freedoms and ten endowments, even if you consider yourself to be a pukka Indian Buddhist. Seeing this, Lama Zopa Rinpoche has supported efforts in the past to help educate these mother sentient beings, but one wonders how it can happen unless their children are educated from an early age in the principles of a valid spiritual path.
These episodes bring to mind the Tibetan aphorisms on the four reliances: (1) rely not on individuals but on the Dharma; (2) rely not on the words but on the meaning; (3) rely not on the provisional but on the definitive meaning; and (4) rely not on ordinary conceptual consciousness but on non-dual intuitive wisdom. Getting stuck at stage one is unfortunate and common.
As I ponder the situation of indigenous Buddhism here in India and compare it to the world we have lost – the glory of Nalanda and its great pandits, for example – it's easy to feel an almost irreversible melancholy and nostalgia. Until, of course, the guru wakes one up out of the miasma of unconstructive mental elaboration by suggesting one start a Buddhist school followed by a monastery for Indian people in Bodhgaya. When I mentioned to Rinpoche the various difficulties that others and I could foresee in accomplishing this, I was told that it's best to work where the situation is the most challenging! Where did I read that the truly compassionate and qualified guru never lets his disciples go?!
In my carelessness I again and again sink into the swamps of the eight worldly concerns, but on the other hand, at least when I witness my Indian brothers and sisters, this only makes me want to generate conducive conditions for all of us to experience the essence of genuine Dharma practice. Re-reading Geshe Chekawa's Mind Training recently, I was struck by the remarkable aptness of the slogans, each like a surgeon's sharp knife with the potential of cutting out the diseased mental flesh surrounding the cancer of self-cherishing. There are so many that I could cite here, but the one called "Acquire the three principal causes" will suffice. Simple, but devastating if absent. It states: (1) receive guidance from a fully qualified guru; (2) devote yourself to the practice of all the stages of the path in accordance with the guidance received; and (3) assemble the inner and outer conditions necessary for effective practice – the inner being faith, enthusiasm, and intelligence and the outer being food, clothing, and good spiritual friends.
Many of the people I meet here in Bodhgaya lack the leisure to practice the Dharma in so many ways. I hope that by reading this you may be moved at least to say a prayer for the holy Dharma to be planted once again firmly in the hearts of more and more sentient beings in the land of its birth. Thank you so much.
Ven. Kabir Saxena is Indian born, educated in England, and a student of Lama Zopa Rinpoche since 1979. He was ordained in January 2002 and received gelong ordination in March 2003 from His Holiness the Dalai Lama. He lives at the Maitreya Project Bodhgaya where he works for the Maitreya Project Universal Education School.