News/Media

*If a menu item has a submenu clicking once will expand the menu clicking twice will open the page.

Study & Practice

*If a menu item has a submenu clicking once will expand the menu clicking twice will open the page.

Projects

*If a menu item has a submenu clicking once will expand the menu clicking twice will open the page.

FPMT

I hope that you understand what the word 'spiritual' really means. It means to search for – to investigate – the true nature of the mind. There's nothing spiritual outside. My rosary isn't spiritual; my robes aren't spiritual. Spiritual means the mind and spiritual people are those who seek its nature.

Lama Thubten Yeshe

*If a menu item has a submenu clicking once will expand the menu clicking twice will open the page.

Shop

The Foundation Store is FPMT's online shop and features a vast selection of Buddhist study and practice materials written or recommended by our lineage gurus. These items include homestudy programs, prayers and practices in PDF or eBook format, materials for children, and other resources to support practitioners.

Items displayed in the shop are made available for Dharma practice and educational purposes, and never for the purpose of profiting from their sale. Please read FPMT Foundation Store Policy Regarding Dharma Items for more information.
ASK A TEACHER
October-December 2008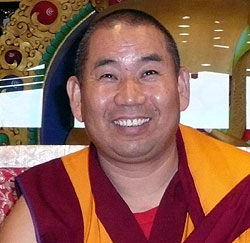 In a time when there is a heightened awareness of global terror and especially during the American presidential elections, the word "freedom" is often heard. But what does "freedom" mean in a Buddhist perspective? During teachings on Shantideva's Bodhisattva's Way of Life, Geshe Jamphel, abbot and resident teacher of Nalanda Monastery in France, had this to say:
Many countries today have the freedom of democracy, whereas others lack this freedom. If we look at a democratic country such as France, we will see that it didn't have democracy from the beginning, but by looking at the faults of their former system and the benefits of democracy, the French people chose democracy. Equality, liberty, and fraternity were only spoken about at a certain moment and not before. We can say that the French people chose this freedom of democracy that they have now, but before they did not have this.
All beings need freedom, and this is the most excellent condition for humans to live with. However, as long as we are under the power of factors such as the afflictions, our freedom is lost. Humans look for happiness and do not want suffering. But despite not wanting it, suffering arises due to the afflictions. Because the unwished for arises, we can see that there is a lack of freedom. We need to get away from the unwished for, namely, the afflictions.
We can look at freedom in different contexts. For example, we don't wish for the weather to be too hot or too cold, we don't want to be thirsty, and we don't want to be hungry; we want to be healthy and not ill. However, things do not always arise as we wish them too. Therefore, we can clearly see that we don't have freedom. Also, in a free country like France, there are still people living in situations of unbearable suffering, which may lead them to commit suicide. You could even say that such a person is less free than someone in prison. If we do not make effort to be liberated from the afflictions, our mind will deteriorate into such states. In short, if we don't make effort to construct a path that is liberating us from samsara, we can construct as many freedoms as we want in this world, but we will never be free.
Someone who achieves what he was looking for, such as definite emergence [renunciation] and the correct view [of emptiness], has freedom as he has liberated himself completely from being under the sway of the afflictions. Usually when we talk about freedom, we refer to things like political freedom, or living in a country where you have freedom of movement, and so forth. However, in such a country you may still not have the employment that you would like, or the partner that you would like; so you do not achieve what you are seeking. Such a person cannot be said to be really free as he isn't achieving what he is looking for.  You may have freedom of movement, but if you don't have a resource such as money, you cannot exercise this freedom much. The Tibetans in exile have the freedom to practice the Dharma, yet we demonstrate for freedom for Tibetans in Tibet! So the freedom of movement and being able to practice the Dharma is not enough. …
Read the complete articles as a PDF.