News/Media

*If a menu item has a submenu clicking once will expand the menu clicking twice will open the page.

Study & Practice

*If a menu item has a submenu clicking once will expand the menu clicking twice will open the page.

Projects

*If a menu item has a submenu clicking once will expand the menu clicking twice will open the page.

FPMT

Don't forget that the starving person preoccupied by hunger and the person obsessing over what to buy next at the supermarket are basically the same. Mentally, rich and poor are equally disturbed, and, fundamentally, one is as unhappy as the other.

Lama Thubten Yeshe

*If a menu item has a submenu clicking once will expand the menu clicking twice will open the page.

Shop

The Foundation Store is FPMT's online shop and features a vast selection of Buddhist study and practice materials written or recommended by our lineage gurus. These items include homestudy programs, prayers and practices in PDF or eBook format, materials for children, and other resources to support practitioners.

Items displayed in the shop are made available for Dharma practice and educational purposes, and never for the purpose of profiting from their sale. Please read FPMT Foundation Store Policy Regarding Dharma Items for more information.
Blessing the World's Waterways
October-November 2006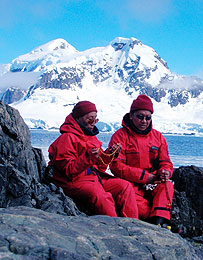 Kirti Tsenshab Rinpoche understands endurance. He spent many years studying sutra and tantra at Kirti Monastery where he became Abbot at the age of 26. At Drepung Monastery in Lhasa he was the great Kirti Rinpoche's debate tutor as he prepared for his Geshe examination. A year later he had to flee his homeland in the face of the Chinese invasion. He went on to survive a fifteen-year retreat in a cold, damp hut in the hills above Dharamsala, often eating his food raw and cold, listening to the mountain lions scratching outside. 
Now the beloved 80-year-old learned teacher is experiencing ill-health, but while his students pray for his recovery, they are also rejoicing in his latest adventure. Bruce Farley tells the story of how Kirti Tsenshab Rinpoche, an inveterate traveler, finally made it to Antarctica, and the extraordinary environmental effects of his visit … 
[Since 1992] Kirti Tsenshab Rinpoche … has traveled the world extensively teaching sutra and tantra, and has bestowed the Kalachakra empowerment thirty-five times. 
Of all the Lamas and Rinpoches I have had the good fortune to travel with, Kirti Tsenshab Rinpoche is notable for his sense of adventure, and his desire to perform numerous blessings and pujas wherever he travels… 
[He said] … "I like traveling and visiting new places. It is part of my nature. But when I am out in these places I make sure that I bless the areas I visit. In particular, if there is a body of water in an area. This is because water is such a great carrier of blessings. So lakes, reservoirs, coasts, waterfalls, and rivers are always places I am interested in visiting. 
"There has been so much pollution, so much mining of precious resources that should never have been extracted from the earth, that should have remained in the earth because as you are extracting you are actually depleting the earth, and then there is so much mass production and so much man-made pollution, and of course all the elements are now out of balance. 
"It is important to understand that all these elements [earth, water, fire, air] are disturbed due to our activities, and there is not one element that has remained clean. Now each one of these elements is actually accompanied by deities, so you have the earth deity, the water deities, the fire deities, the wind deities, the atmosphere deities, and they are not very comfortable once their environment is polluted, so there is a general atmosphere of disturbance, and perhaps dissatisfaction, and Dharma practitioners from their own side should try as best as they can to pacify these deities." 
It was very clear that Rinpoche connected the seemingly increased frequency of "natural disasters" to the disturbance of these powerful deities' environment. 
Antarctic adventure
And so to our latest adventure. [Since 2001] Kirti Tsenshab Rinpoche and his long-time attendant Alak Rinpoche had asked Phillipa, and me if we could take them to Antarctica…. 
Why Antarctica? According to Kirti Tsenshab Rinpoche, because it is the most southern pole of the earth, many water currents gather and disperse from Antarctica, finding their way all over the planet. Likewise, many of the world's weather patterns stem from the southern ocean. Ninety percent of the world's ice and seventy percent of the world's fresh water are found in Antarctica. Rinpoche's wish was to bless these currents with holy water containing blessings from His Holiness the Dalai Lama, as well as water gathered from all the oceans of the world, and from lakes, rivers, etc., visited by Rinpoche over many years. The blessed water also contained sand from many mandalas performed by His Holiness the Dalai Lama, and by Kirti Tsenshab Rinpoche. It is believed that this mixing and unification of water coming from different origins, along with the power of various pujas, can bring about pacification of extreme weather patterns and stabilize and harmonize weather in any place, especially if the weather patterns are disturbed. 
Secondly, Rinpoche wished to place a specially-made stone Buddha, carved in Bodhgaya, India, on the Antarctic ocean floor. …
Read the complete article as a PDF.