News/Media

*If a menu item has a submenu clicking once will expand the menu clicking twice will open the page.

Study & Practice

*If a menu item has a submenu clicking once will expand the menu clicking twice will open the page.

Projects

*If a menu item has a submenu clicking once will expand the menu clicking twice will open the page.

FPMT

According to the Buddhist view, there is no human problem that cannot be solved by human beings.

Lama Thubten Yeshe

*If a menu item has a submenu clicking once will expand the menu clicking twice will open the page.

Shop

The Foundation Store is FPMT's online shop and features a vast selection of Buddhist study and practice materials written or recommended by our lineage gurus. These items include homestudy programs, prayers and practices in PDF or eBook format, materials for children, and other resources to support practitioners.

Items displayed in the shop are made available for Dharma practice and educational purposes, and never for the purpose of profiting from their sale. Please read FPMT Foundation Store Policy Regarding Dharma Items for more information.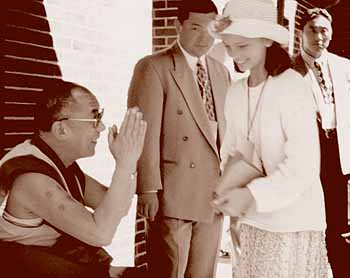 PeaceJam is an international education program designed around Nobel Peace Prize winners who interact directly with youth to "pass on the spirit, skills and wisdom they embody." Geared towards high school-age students, high school teachers and youth group leaders, PeaceJam was started in 1996 by Dawn Engle and Ivan Suvanjieff.
Inspired by the fact that local gang members in Denver, Colorado not only knew who Archbishop Desmond Tutu was but liked his non-violent messages, Suvanjieff first thought of the idea in 1994. After connecting with Dawn Engle, the pair were granted an audience with His Holiness the Dalai Lama (see below), who liked the idea and suggested they bring in other Nobel Peace Laureates to work on the project.
Eleven Nobel Peace Laureates, including the Dalai Lama, Archbishop Desmond Tutu, Rigoberta Menchu Tum, Dr. Oscar Arias, Adolfo Perez Esquivel, Mairead Corrigan Maguire, Betty Williams, Jose Ramos Horta, Bishop Carlos Ximenes Belo, Aung San Suu Kyi, and Jody Williams serve as Members of the PeaceJam Foundation.
PeaceJam on-going, a year-long leadership training program in which young people study a PeaceJam curriculum and spend 36 hours each section with a group of twelve students participating in the curriculum. Representatives from the groups are then elected to attend two-day PeaceJam conferences, where they attend workshops and make presentations. In addition to the conferences and studies, PeaceJammers implement a community service/action project in their communities.
From an interview with His Holiness the Dalai Lama
by Dawn Engle and Ivan Suvanjieff
If you had one thing to say to the young people of the world, what would it be?
Brothers and sisters, as human beings on this small planet, time is always changing, always moving. In a way, the way things always keep changing is good, because if they did not, all of these negative things would remain. Because things are always changing, there is always hope.
Now, what I want to share with you is that there is always the possibility for things to change and to change for the better. Changes full of human value. I think that is our goal. We have the opportunity – particularly you, the young people – you are the main people who are carrying the responsibility for a good future in the long-term.
You are the seed to develop a prosperous, friendly, harmonious, peaceful world. So much depends on you. Education is important, but education alone is not sufficient. Education of the brain and development of the good heart-these must go together.
Good heart gives you courage, gives you the confidence and the determination. These are the prime movers for a better future. And the brain, it is like an instrument, it can solve all our problems. So with a good instrument used by a good heart, then there is real hope, there is a real good future. So you see, much depends on our own shoulders, on our own hands. Let us try to achieve that kind of happy world. Yes, definitely, there is good hope, there is good potential. It is very important to have full confidence and determination to lead that kind of world.
With optimism, even difficult things can be realized. If you lose hope and remain pessimistic in attitude, then even the easy things to achieve, you will never achieve. So therefore, so much depends on our own mental attitude. That is what I really wanted to share with you.
A Truly Striking Person
Elizabeth Casey was present during the PeaceJam conference with His Holiness the Dalai Lama in Bloomington, Indiana, in 1996.
I am 17 and will be a junior at Palmer High School in Colorado Springs this fall. I met the Dalai Lama when I was 13 working for Disney Blast. Since then, I have met Nobel Laureates Betty Williams, Desmond Tutu and Oscar Arias through PeaceJam.
I think that PeaceJam is a fabulous and effective program to promote peace in the world today. Their message, that one person can make a difference, really has made a difference to a lot of the high school kids who attend their programs. Here's the story:
I put my hands together and bowed. The Dalai Lama, spiritual and political leader of Tibet, smiled and placed his hands in greeting over mine.
At the age of 13, I could not completely grasp the importance of the person sitting in front of me, but not one of the 200 high school students, the members of the press nor I could miss the overwhelming feeling of peace which filled the room when His Holiness entered. At the time, I was not completely aware of the situation in Tibet, all I knew was that the Chinese had invaded and taken over, forcing the Dalai Lama into exile from his own beloved country.
The thing that struck me the most knowing what I did, was that the man who had been so wronged by his neighbors did not hate them or feel for them any less compassion than he did for his own people. He gave the impression of not being capable of showing anger, towards the Chinese or anyone else. He referred to his invaders as "guests who came to visit, only without proper invitation," and then went on to explain that being angry at them would only eat him up inside and do nothing to help the plight of his people.
His Holiness is truly a striking person. He always seemed cheerful and funny even when addressing the most serious subjects. His words could only come from one who possessed true wisdom and a sincere understanding of the world and human nature.
At the time, I could not shake the analogy that he reminded me of the character Yoda in the movie Star Wars. Now, three years later, I feel lucky to ever have been in the same room with such a truly remarkable and peace-loving man.