News/Media

*If a menu item has a submenu clicking once will expand the menu clicking twice will open the page.

Study & Practice

*If a menu item has a submenu clicking once will expand the menu clicking twice will open the page.

Projects

*If a menu item has a submenu clicking once will expand the menu clicking twice will open the page.

FPMT

When you meet miserable conditions, it is extremely important to use skillful means. In other words, there is a meditation to mix with whatever suffering you experience. When you apply the teachings in this way, all sufferings are mixed with virtue. All experiences of suffering become virtue.

Lama Zopa Rinpoche

*If a menu item has a submenu clicking once will expand the menu clicking twice will open the page.

Shop

The Foundation Store is FPMT's online shop and features a vast selection of Buddhist study and practice materials written or recommended by our lineage gurus. These items include homestudy programs, prayers and practices in PDF or eBook format, materials for children, and other resources to support practitioners.

Items displayed in the shop are made available for Dharma practice and educational purposes, and never for the purpose of profiting from their sale. Please read FPMT Foundation Store Policy Regarding Dharma Items for more information.
Bhutan's Velvet Revolution in Reverse
DEMOCRACY
October-November 2007
By Linda Leaming
Photos by John Berthold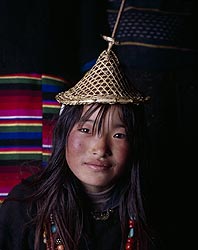 The last Buddhist monarchy, the breathtakingly beautiful Himalayan nation of Bhutan, is preparing to become a parliamentary democracy, with elections slated for early 2008. King Jigme Singye Wangchuck has been readying the country for almost two decades by decentralizing the government, handing over his powers to his ministers and creating a constitution, but the Bhutanese still can't quite believe it.
In the peaceful Buddhist Kingdom of Bhutan a revolution is taking place. But you'd never know it by looking at the streets of Thimphu. True, the Swimming Pool Road is being widened, Changlemethang Sports Ground is getting a facelift, construction of the ring-road to Babesa limps along, and from my sitting room window in Motithang, I can see no fewer than ten construction sites, including the fabulous new boutique hotel near the town's center, built in partnership by the Indian Taj Group and local business people.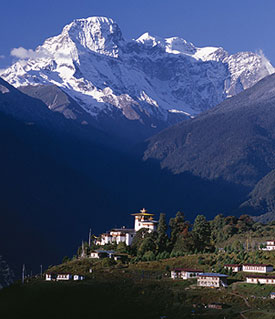 There is a ban on any new construction, and citizens are urged to finish what they've started in time for the centenary anniversary of the monarchy [Bhutan's absolute monarchy dates back to 1907, when Jigme Singye's great grandfather Ugyen Wangchuk was formally anointed the first king of Bhutan with British support and patronage] and the coronation of King Jigme Khesar Namgyel Wangchuck, the Fifth Druk Gyalpo, next year in late spring.
June 2008 is also the official switch from Buddhist monarchy to parliamentary democracy, with elections for 105 seats in the legislature. The Bhutanese have a lot of work to do, not the least of which is to educate the 650,000-plus populace on the nuances of democracy and one-person, one-vote.
"Most of the people would prefer the monarchy. Now that the king has given power to the people they feel a bit lost. They have some apprehension early on, but this will change," said Rinzin Namgay, a People's Democratic Party candidate contesting a seat in the parliament in 2008.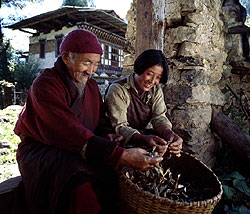 So it's not a struggle for independence so much as it is a struggle to get ready for it. The struggle mostly plays out in the minds of the Bhutanese, not on the streets, and the coercion is from the top down. Much to the dismay of the Bhutanese, their revered former King, Jigme Singye Wangchuck – who governed Bhutan for 32 years, since he was 17, and whose development program eschews GNP for GNH (Gross National Happiness) – abdicated last December in favor of his son, Jigme Khesar Namgyel Wangchuck. He commanded parliamentary elections be held in 2008, the centennial of the monarchy, and that his country become a democracy. He is forcing his people's hand to accept self-rule. …
Read the complete article as a PDF.