An interview with Yangsi Rinpoche
Lam-Rim Chenmo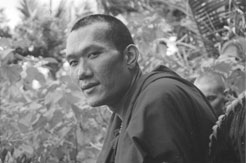 Every student of the Gelug tradition knows the importance of the Lam-rim in Tibetan Buddhist studies, but how many of us understand how to use it wisely and well to achieve realization? A new commentary on the Lam-rim Chenmo – Practicing the Path by Yangsi Rinpoche – together with this short interview with the author (the incarnation of the outstanding Lharampa Geshe Ngawang, who died in 1967) begins to show us how.


First, we asked Yangsi Rinpoche if we need specific instructions to meditate on the Lam-rim. He says:
"Of course. In the Lam-rim there are several traditions of methods to explain the texts. The first is the direct explanation, the traditional method in our system, in which the lama explains the entire Lam-rim point by point according to the outline. This elicits a very clear intellectual understanding of the Lam-rim in the mind of the student. You can begin your meditation with this. However, on that basis it is then best to receive instruction based on the second, third, and fourth traditions.
"The second is the method in which the teacher points out the faults and mistakes in the mind of the disciple, and teaches their antidotes.
"The third is the instructions on meditation based on the teacher's own experience of meditation.
"The fourth method is the gradual method, in which the student is given specific instructions on how to meditate on each of the topics progressively. Usually, these instructions will be given to the student based on his or her own level of mind and understanding. Each topic is taught successively, and a new topic will not be taught until signs of realizations of the first are experienced.
"Usually in the West we first receive the general instructions on the Lam-rim from a lama in teachings in a center and so forth. It is then the responsibility of the student to familiarize him- or herself with those instructions, and then request specific instructions on meditation for the topics.
"The Middle Length Lam-rim, also by Lama Tsongkhapa, is also organized more from the point of view of meditation instruction than the Lam-rim Chenmo, which presents a more philosophical approach. However, all of these instructions can be found within the Lam-rim Chenmo as well. The eight Lam-rim texts, including The Blissful Path and The Quick Path by the Panchen Lamas, are also organized more from the point of view of meditation instruction." …
Contact Info
1632 SE 11th Avenue
Portland, OR 97214-4702 USA
Tel (503) 808-1588 | Fax (503) 232-0557
About FPMT
FPMT is an organization devoted to the transmission of the Mahayana Buddhist tradition and values worldwide through teaching, meditation and community service.
more...
About Buddhism
If you're new to Buddhism, please read our
Buddhism FAQ
. A place to learn about Buddhism in general, FPMT, and our Discovering Buddhism at Home series.