News/Media

*If a menu item has a submenu clicking once will expand the menu clicking twice will open the page.

Study & Practice

*If a menu item has a submenu clicking once will expand the menu clicking twice will open the page.

Projects

*If a menu item has a submenu clicking once will expand the menu clicking twice will open the page.

FPMT

Dharma is a total way of life. It's not just for breakfast, Sundays, or the temple. If you're subdued and controlled in the temple but aggressive and uncontrolled outside of it, your understanding of Dharma is neither continuous nor indestructible.

Lama Yeshe

*If a menu item has a submenu clicking once will expand the menu clicking twice will open the page.

Shop

The Foundation Store is FPMT's online shop and features a vast selection of Buddhist study and practice materials written or recommended by our lineage gurus. These items include homestudy programs, prayers and practices in PDF or eBook format, materials for children, and other resources to support practitioners.

Items displayed in the shop are made available for Dharma practice and educational purposes, and never for the purpose of profiting from their sale. Please read FPMT Foundation Store Policy Regarding Dharma Items for more information.
The life and times of Ribur Rinpoche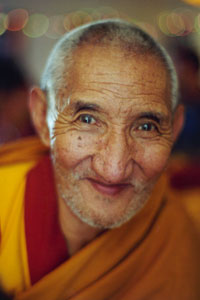 In the 1980s, concerned at the "misrepresented, twisted, and unreal history [of Tibet] like a bad smell penetrating everywhere," His Holiness the Fourteenth Dalai Lama asked for someone with firsthand experience of important events of the past and present to "write them down, without exaggerating or underestimating them."
That "someone" was the (at that time) 64-year-old geshe, Ribur Rinpoche, who was recognized by the Thirteenth Dalai Lama as the reincarnation of the head lama of Ribur Monastery. Rinpoche was imprisoned in Lhasa from 1959 until 1976, experiencing relentless interrogation and torture during thirty-five of the infamous "struggle sessions.""If I told you what happened on a regular basis, you would find it hard to believe," he said.
By the end of the Cultural Revolution, Ribur Rinpoche had spent more than 10 years in Chinese labor camps, and was given a job with the Religious Affairs Office in Tibet. Since his exile to India in 1985, Ribur Rinpoche, now 82 years old, has written numerous biographies of great lamas such as the Thirteenth Dalai Lama as well as an extensive history of Tibet (in Tibetan), which includes his autobiography.
Mandala is fortunate to have been given access to the English translation of the first part of his epic work, Experience of Positive and Negative Karma. This is an edited excerpt, describing the situation in Tibet in his early years.
I was born in Garthok. It's known as the center of Mar Kham Hill, which is one of the areas included in the "six hills separated by four big rivers" region, in Dotoe (Kham). Mar (meaning "goodness") Kham is one of the best areas in Dotoe. Most of it is covered in forests of medicinal plants and meadows of fragrant flowers. The rocky mountains have no precipices, so climbing up and coming down is not tiring. Clear, fresh water runs down from the mountains. Most of the fields are fertile and free of frost. Wild animals abound. The birds in the area have beautiful feathers and chirp melodiously; you can see white and black foxes and many other rare carnivorous animals. It is a beautiful landscape with a good production of crops.
My father's role in dealing with the invaders
. When the Chinese abolished the Tibetan government and set about reordering Tibetan society in accordance with their Marxist principles, the educated and aristocratic were to put to work on menial jobs and subjected to "struggle sessions," known as thamzing, which sometimes resulted in death. My father had studied hard as a child. He was a courageous man full of dignity. The holder of the Phuntsok Phodrang throne of the Sakya, Dzamling Chegu Wangdu, asked him to be the treasurer of Mar Kham Gyakak.
On his way to Mar Kham he spent a few days in Lhasa. At that time the Thirteenth Dalai Lama had come back from India and was in the process of expelling from Tibet the Chinese invaders – the Lu Chun general and his troops. The former abbot, Jampa Tendar, advised the two generals (that is, the secretary and the accountant) to call my father and tell him to provide precise information about the situation in Kham. He agreed to do so and left for Mar Kham.
He sent secret reports to the king and his ministers regarding the Chinese generals, the local chieftains, and the people's way of thinking. I saw at least two letters of reply from the government, which said something like, "Don't give up serving the government … we will not forget it."
Soon, the Chinese general Lu Chun and his troops based around Lhasa began to attack Sera Monastery. The Sera monks, with united strength, responded and hit the target exactly. At the same time, the protector Machen Bomra, known also as Ka-nyän Zhidag, suddenly descended into two monks from Gyalrong who acted as kuten, or "receiving body" mediums. They went to the protector chapel, took a pickaxe with a long handle, and by riding horses, arrived at a large Chinese camp. They killed many soldiers and then went on to Drashi. Finally, one of the two monks disappeared around the place called Drom Toe. Later, he was rumored to be in Gyalrong. The other monk went back to Lhasa and again killed and injured many Chinese soldiers around Ching Gur. He finally returned to his monastery. …
This article can be read in its entirety in Mandala