News/Media

*If a menu item has a submenu clicking once will expand the menu clicking twice will open the page.

Study & Practice

*If a menu item has a submenu clicking once will expand the menu clicking twice will open the page.

Projects

*If a menu item has a submenu clicking once will expand the menu clicking twice will open the page.

FPMT

The workshop is in the mind.

Lama Zopa Rinpoche

*If a menu item has a submenu clicking once will expand the menu clicking twice will open the page.

Shop

The Foundation Store is FPMT's online shop and features a vast selection of Buddhist study and practice materials written or recommended by our lineage gurus. These items include homestudy programs, prayers and practices in PDF or eBook format, materials for children, and other resources to support practitioners.

Items displayed in the shop are made available for Dharma practice and educational purposes, and never for the purpose of profiting from their sale. Please read FPMT Foundation Store Policy Regarding Dharma Items for more information.
September-November 2003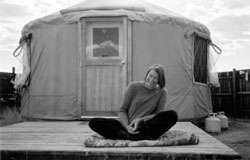 As Petra McWilliams came out of her three-year deity retreat, she was invited to talk about the most important realization she had during that time. "There's no way!" was her first thought – so much had happened. Four and a half seconds later, she knew what she wanted to say:
For me, the most important aspect of this retreat was really experiencing the difference between understanding things intellectually, and even whole-heartedly believing that they were true, and having a real heart-felt life-transforming realization. The lamas always say that there's a difference. I'd experienced so many lam-rim topics that for me were intellectual, or something I whole-heartedly believed in, but feeling them transform into realizations was one of the most striking and significant aspects of my retreat. I want to talk about one of them, because this one happened early on, and set the tone for a lot of the rest of my work in retreat.
It happened on January 15, 2001, the first year in retreat, and the birthday of the great bodhisattva Martin Luther King, Jr. As I was doing my prostrations – usually when I woke up, around 3:30 or 4:00 a.m., I would do a round of prostrations to the 35 confessional buddhas, and I found that a large number of my epiphanies happened then, face down on a cold floor – I suddenly flashed on my mother, who had passed away twenty years ago. I thought about my selfishness and lack of kindness to her, especially as a rebellious teenager. In that moment, I had an enormous realization of the depth and extent of my self-cherishing. And on top of that, I realized what the lamas have always said, and I had heard over and over again for years and thought I believed: that self-cherishing is the source of every moment of suffering that I've ever had in my entire life. It hit me like a ton of bricks!
For the next three days I just sat on my cushion crying almost non-stop. I spontaneously reviewed my entire life, and saw that every moment of suffering that I'd ever experienced, from a moment of slight irritation to the life-long difficult relationship with my father, was created by my self-cherishing; not to mention all the suffering that I'd created and caused other people to experience. And it was just relentless – my mind couldn't stop going through this process. At one point I was desperately looking for some exception to the rule that self-cherishing had caused every moment of suffering. There wasn't one exception! So I just cried and cried. It was so intense.
At that point I remembered one of my favorite teachings, the Seven Point Mind Training by Geshe Chekawa; and the Five Powers [under "Teaching and practice to be applied your whole life"] – especially the Fourth Power, "to rip something out by the heart." In Liberation in the Palm of your Hand, Pabongka Rinpoche says on that point, when self-cherishing raises its ugly head, just bash it. I decided to take this teaching as my heart advice, and to live my life by it. I started applying it with fierce determination because I'd just seen this relationship between self-cherishing and my own and others' suffering. And so every morning even before I got out of bed, I'd say, "I'm going to do it! I'm not going to give it an inch. I'm just going to bash it whenever it raises its head." I was relentless and determined.
Read the complete article as a PDF.