News/Media

*If a menu item has a submenu clicking once will expand the menu clicking twice will open the page.

Study & Practice

*If a menu item has a submenu clicking once will expand the menu clicking twice will open the page.

Projects

*If a menu item has a submenu clicking once will expand the menu clicking twice will open the page.

FPMT

See everyone as precious and fulfilling all your wishes.

Lama Zopa Rinpoche

*If a menu item has a submenu clicking once will expand the menu clicking twice will open the page.

Shop

The Foundation Store is FPMT's online shop and features a vast selection of Buddhist study and practice materials written or recommended by our lineage gurus. These items include homestudy programs, prayers and practices in PDF or eBook format, materials for children, and other resources to support practitioners.

Items displayed in the shop are made available for Dharma practice and educational purposes, and never for the purpose of profiting from their sale. Please read FPMT Foundation Store Policy Regarding Dharma Items for more information.
Don't throw Dharma at me when I'm in a bad mood
January / March 2009
MIXED MOTIVES
By Ven. Tenzin Chonyi (Dr. Diana Taylor)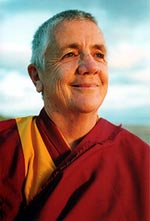 I want freedom from suffering on my own terms. I would like the weather to be always temperate, and people likewise. I would like only food that I enjoy, never having to get up early for puja and being able to get top marks in a test without studying. My teacher would give me unlimited and undivided attention. My pride would never be dented, my depression would never be denied and my anger would never be challenged.
Yes, I want freedom from suffering, but I want it now and on my terms. Don't throw Dharma at me. My ego knows all the correct answers and uses them to protect itself. I want complete freedom from the suffering of my ego, not freedom from my ego.
It was my ego that took refuge, renunciation and bodhichitta vows. It wanted to be bolstered against turbulence. It did not want to be challenged, and it definitely did not want to be annihilated. It was quite happy for anything outside its pride and self-seeking to be annihilated. It was happy to annihilate anger that showed me up as an imperfect Dharma student and nun, or attachments to things that other people wanted but I did not. Even when it looked at the teachings on emptiness, my ego managed to make this serve its own purposes. It could, for example, deny any responsibility because it was empty. It could also twist dependent arising by claiming that my suffering was dependent on all the factors around me.
I doubt if I am alone in this battle to preserve my ego. Of course, that is not what Dharma is about, but it is very easy to fool ourselves. To annihilate suffering, we necessarily annihilate the ego. We are not invalidating the self which arises in dependence on the five aggregates of body and mind. We are invalidating that ego which lives in a state of denial, and in which anything outside the barriers set up by pride is ignored or repressed.
When we are sick, or depressed, or red with anger, or green with jealousy, these are the moments when the self-serving ego is exposed. The self-serving ego has a strong aversion towards any Dharma practice which challenges its supremacy. We can catch ourselves out and plug the emotions. We can say that Dharma teachings are too vague or too hard, and avoid any responsibility. But if we want deeper healing, then we have to stop and investigate why our self-serving ego is so desperate to protect itself. This is an intensely personal exercise. It involves seeking out our unique karmic imprints. It means asking ourselves: "Why do I react in that way?" "What are the expectations of my self-serving ego?"
Bolstering a prideful ego is the opposite of Dharma practice. So if I really want to practice Dharma I have to destroy the very thing that I had thought was going to be protected by Dharma. This also implies a huge transformation in my perceptions of this "I". By this I mean transforming the dependently-arising "I" to include all those parts of itself that the self-seeking ego has denied. It means such things as acknowledging that I prefer to be in control, or that my self-righteousness is invalid, or my self-abnegation is not really renunciation but a way of manipulating people to help me, or my being a stickler for rules is a way of masking my faults. It means dropping the stratagems of the self-seeking ego. It means understanding our own ways of practicing the eight worldly dharmas. It means painful self-realisation. It means becoming your own therapist. It means not quoting texts, but developing realizations about these texts. And it involves pain.
Then when we are prepared to let go our self-serving ego we being to understand the richness of the Dharma teachings for what they are. And when I get there, you can throw it all at me and I will be delighted.