News/Media

*If a menu item has a submenu clicking once will expand the menu clicking twice will open the page.

Study & Practice

*If a menu item has a submenu clicking once will expand the menu clicking twice will open the page.

Projects

*If a menu item has a submenu clicking once will expand the menu clicking twice will open the page.

FPMT

Actions that give harm to other sentient beings aren't those of a bodhisattva. In Buddhism, there's no such thing as a holy war. You have to understand this. It's impossible to equalize everybody on earth through force.

Lama Thubten Yeshe

*If a menu item has a submenu clicking once will expand the menu clicking twice will open the page.

Shop

The Foundation Store is FPMT's online shop and features a vast selection of Buddhist study and practice materials written or recommended by our lineage gurus. These items include homestudy programs, prayers and practices in PDF or eBook format, materials for children, and other resources to support practitioners.

Items displayed in the shop are made available for Dharma practice and educational purposes, and never for the purpose of profiting from their sale. Please read FPMT Foundation Store Policy Regarding Dharma Items for more information.
April-May 2008
ASK A TEACHER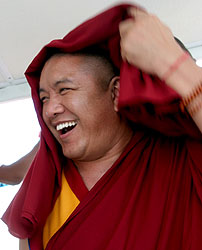 Geshe Gelek Chodak, resident geshe at Kadampa Center in Raleigh, North Carolina responds:
Between 1759 and 1815, one of the great Masters of Sera Jhe Monastery called Tri Chen Tenpa Rabgyal gave an answer to the question – What is the definition of Root Guru? Gyal Wang Chod Je Tulku from Sera Mey Monastery was the one who asked the question, and the Master's answer was: "A direct Lama is the Root Lama, that means that from whomever we received teachings directly, we can consider them as our Root Lamas."
He also says: "Within the Lamas, there are different levels of qualities. Some of them are very close and more kind towards us. But from our side, we must try to see all of them as real enlightened beings and no different. By doing this, we are the ones who will receive great benefit, not them. If we make differences towards all our Teachers, we will not gain anything, plus we will not be able to practice Guru Yoga successfully. Therefore Guru Yoga is not an easy practice at all."
I hope this will help, because this answer is coming from this great Master.
Q. In this day and age of easier travel, and therefore greater access to different teachers, many modern practitioners take teachings from up to a dozen or more teachers. Sometimes, these students settle on one particular teacher, but sometimes they do not. How should such students regard all of the many teachers from whom they have taken teachings? Would they all be regarded as root gurus?
A. In the monastery we don't go and receive a teaching from every teacher, simply because they are there and accessible. Why? Because it is not just about learning something new: It is also about developing Guru Devotion. Therefore, even if it takes many years to analyze someone before you accept him or her as your Spiritual Master, it's important. In the monastic system, we request a teaching before even receiving it. We have already analyzed and decided to ask this person to be our teacher before sitting down to listen. In the West, you do not have this system. It's not the same situation and environment.
Because of that there are fewer problems with this issue in the monastery. Here in the West you go to listen to different people talk on a variety of topics, some Dharma and some not. There is a different attitude and protocol and understanding. People in the West are used to going to talks and seminars out of curiosity, or with the desire to learn something.  So it depends on the mindset of the person who is going to listen to a variety of teachers. Only they know their mindset, and how they view the particular teacher. If the student has no view or intention for the speaker to become their teacher, it's hard to say if just receiving a teaching makes that person their guru or teacher.