News/Media

*If a menu item has a submenu clicking once will expand the menu clicking twice will open the page.

Study & Practice

*If a menu item has a submenu clicking once will expand the menu clicking twice will open the page.

Projects

*If a menu item has a submenu clicking once will expand the menu clicking twice will open the page.

FPMT

Approaching enlightenment is a gradual process, but once you attain it, there's no going back; when you reach the fully awakened state of mind, the moment you experience that, you remain enlightened forever.

Lama Zopa Rinpoche

*If a menu item has a submenu clicking once will expand the menu clicking twice will open the page.

Shop

The Foundation Store is FPMT's online shop and features a vast selection of Buddhist study and practice materials written or recommended by our lineage gurus. These items include homestudy programs, prayers and practices in PDF or eBook format, materials for children, and other resources to support practitioners.

Items displayed in the shop are made available for Dharma practice and educational purposes, and never for the purpose of profiting from their sale. Please read FPMT Foundation Store Policy Regarding Dharma Items for more information.
Inner and Outer Disarmament
WORLD PEACE
December 2002-February 2003
During the public talk he gave in San Jose, California, last year, His Holiness the Dalai Lama reflected on world peace and universal responsibility. This is an edited excerpt.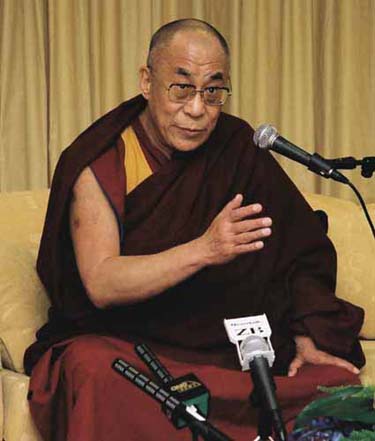 We are all human beings, and we all share this planet. We are members of one big human family. And we also have the same sort of experiences — when you smile at me, I feel happy, and when someone smiles at you, you feel happy. We have the same basic human nature.
Our future as human beings is very much interlinked. Because of our neglect of the environment, for example, changes in weather patterns are experienced all over the world. No matter how powerful one individual nation is, it cannot solve these problems unless humanity worldwide gets involved to take care of the planet and the environment.
So under these circumstances, it becomes quite clear that we need some kind of sense of global responsibility, not only taking care of one's own family, or one's own community, or one's own nation, but having a sense of caring for humanity in its entirety. Because the interests of oneself and the interests of the other are always interconnected, I therefore sometimes feel the very concept of "we" and "they" are no longer there. So in order to have a happier life, or a happier future oneself, you have to take care of others' interests.
As a human being therefore everyone has the right to be happy and to have a happy family and a happy society. So we have to have some responsibility for the happiness of humanity, and for a peaceful world.
One arrives at peace mainly through inner peace. First the individual mind should develop peace, and this will eventually extend into family and society. In this way the public can influence the leadership. While anger and hatred destroy our inner peace, compassion, forgiveness, a sense of brotherhood or sisterhood, contentment, and self-discipline are its basis. Peace can develop through practice in strengthening these good inner qualities. We should then propagate this 'inner disarmament' in family life and educational institutions.
External disarmament is equally important. If we look at the human capacity for destruction purely from the point of view of the ability of the human body then it is rather limited. But because of our sophisticated intelligence, we have this tremendous capacity for destruction, especially now in the nuclear age.
War means to kill deliberately. Death is not usually celebrated, and it is an unwanted thing. But in war it is deliberately created. War is like mobilized violence, and in some cases, legalized violence. We call someone a "murderer" if they kill one individual, yet in a war where maybe millions are killed, we call its perpetrators "heroes" or "victors." …
Read the complete article as a PDF.