News/Media

*If a menu item has a submenu clicking once will expand the menu clicking twice will open the page.

Study & Practice

*If a menu item has a submenu clicking once will expand the menu clicking twice will open the page.

Projects

*If a menu item has a submenu clicking once will expand the menu clicking twice will open the page.

FPMT

Superficial observation of the sense world might lead you to believe that people's problems are different, but if you check more deeply, you will see that fundamentally, they are the same. What makes people's problems appear unique is their different interpretation of their experiences.

Lama Thubten Yeshe

*If a menu item has a submenu clicking once will expand the menu clicking twice will open the page.

Shop

The Foundation Store is FPMT's online shop and features a vast selection of Buddhist study and practice materials written or recommended by our lineage gurus. These items include homestudy programs, prayers and practices in PDF or eBook format, materials for children, and other resources to support practitioners.

Items displayed in the shop are made available for Dharma practice and educational purposes, and never for the purpose of profiting from their sale. Please read FPMT Foundation Store Policy Regarding Dharma Items for more information.
FPMT News Around the World
January / March 2010
WORLDVIEW
INTERNATIONAL
FPMT Young Dharma
The FPMT Young Dharma Advisory Group was created to address the concerns of centers and students regarding the next generation of FPMT students. They've recently come up with a few exciting forums and ideas that centers and students might find helpful.
FPMT Young Dharma Advisory Group:
This is a group of FPMT students 35 years old or younger from around the world that have connected and established an advisory board as a resource for FPMT centers, services and projects regarding issues related to young people and the Dharma.
Unveiled at CPMT 2009, the group offered 11 suggestions for how to keep young people involved with FPMT centers:
1) Be friendly and explain Buddhist tradition and rituals to new people
2) Provide youth specific courses and retreats
3) Give a certificate of service and references suitable for CVs and resumes for volunteers
4) Promote social service
5) Create links with Loving Kindness Peaceful Youth and Essential Education
6) Consider offering cheaper rates and concessions for young people
7) Think about providing childcare and babysitting services so that young people with children can attend classes
8) Create a community feel – offer chai and coffee; give young people something to do so that they don't feel useless
9) Consider annual grants for a young person to go to the Kopan November Course
10) Create and encourage opportunities for young people to connect with Rinpoche and the FPMT vision
11) Link them to volunteering in other centers when they travel
The FPMT Young Dharma Advisory Group is always seeking questions and suggestions, and young people to participate.
FPMT Young Dharma Social Networking Site:
The FPMT Young Dharma Social Networking Site is a special social networking site for FPMT young people. It's aimed at creating the space for the next generation to connect, communicate, network and keep in touch.
Dharma Kids Club:
There is even an e-group for centers running or thinking about running a Dharma Kids Club. Individuals that join this "Yahoo! Group" can share activities, ideas, books and resources. They can also ask questions to others.
LKPY: Loving Kindness Peaceful Youth:
LKPY is an international peace organization for young people and an Essential Education project. LKPY aims to create the space for young people to form connections, exchange ideas and share passions, and to be inspired to make positive changes for ourselves, our communities and the world as a whole. LKPY believes that peace starts with just one person, and that FPMT centers and students can help:
Create an event to celebrate International Day of Peace, September 21.
Celebrate and participate in LKPY International Be Kind Day, March 31.
Watch and share our YouTube video on your website, provide a link to LKPY.
Keep up to date with LKPY by subscribing to our e-newsletter.
Consider starting your own HABIT! at your center or in your local community.
Check out the Peace Award and Peace Grant offered by LKPY.
Participate in non-violent political action at Stand Up for Tibet.
Essential Education:
The aim of Essential Education is to take forward the Dalai Lama's vision by helping children, youth and adults of all cultures and traditions to develop their innate capacity to be kind and wise, and contribute to peace in the world. Essential Education has many exciting activities for young people, especially working with the 16 Guidelines.
FPMT Youth Dharma Webpage: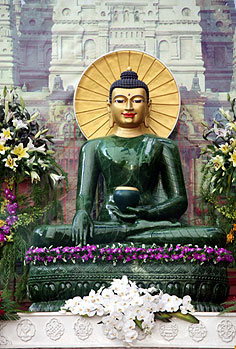 AUSTRALIA
The Jade Buddha's Effect
The Jade Buddha statue is having a tremendous effect on those who see it. This letter comes from M.T., a resident of Australia who recently saw the Jade Buddha on tour:
"I have [recently] visited a local temple at Canley Vale in NSW and have seen the Jade Buddha. It is a very unique Buddha, and that is why I'm saying "thank you." Because of the Jade Buddha [being present in the temple] and because of my eagerness to see it, my family and I visited the temple to pay our respects. Now,  I was very religious when I was young, but, during my high school years, I [lost my way….] But after visiting the temple where the Jade Buddha was being shown to the public, I felt my old (true) self had come back to me, my buddhahood path. I have been reading many Buddhist and religious books and my life is so much better now. My gaining great knowledge and understanding the concepts and principles of life and the path to enlightenment is all because of your doings."
CANADA
Live Happy: Learning by Example – Community Challenge
By Dekyi-Lee Oldershaw
Join us for a community-wide campaign that celebrates the inner qualities that help us enjoy a happy life.
Weekly interviews of local heroes across Canada and the United States will be the primary content of Live Happy: Learning by Example, a 17-week print and video series published by The Hamilton Spectator and TheSpec.com in order to introduce the guidelines from 16 Guidelines for Life.
We are asking you to look fo r people in your everyday life who exemplify each specific quality in a way that leads to happiness for those around them.
Nominate them for recognition by posting their story on our online forum in the "comments" sections after each topical write-up. Describe the quality they embody and what they do that generates happiness for others.
If there is a large response, The Hamilton Spectator will challenge other newspapers in Canada to the Great Canadian Community Challenge to Live Happy.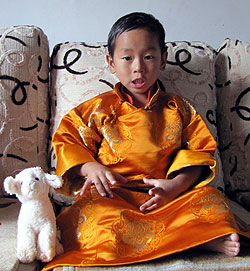 INDIA
Discovery of Ribur Rinpoche's Tulku Announced
By Lorne Ladner
It's been nearly four years now since Kyabje Ribur Rinpoche passed away in South India. Before Rinpoche's death, he made it extremely clear to quite a few of his students that he would quickly take rebirth in order to continue his work for the benefit of sentient beings. Before Rinpoche passed away, he even made it clear that he'd built his labrang (home) near Sera Mey for his next incarnation to grow up in. Also, he requested Gyumed Khensur Rinpoche Lobsang Jampa (whom Rinpoche often praised very, very highly) to be his first teacher in his next lifetime and even chose a young monk to be his attendant in his next life.
Soon after Rinpoche passed away, his nephew and long-time attendant, Tenzin Rinpoche, wrote to His Holiness and received word that it would not be difficult to find the tulku of Ribur Rinpoche and that this would be possible in four or five years time. Also, Kyabje Ribur Rinpoche had told a couple of people that his tulku would be found very close to Sera Mey Monastery in South India.
Last year, at the request of Kyabje Lama Zopa Rinpoche, Gyumed Khensur Rinpoche arranged to have some monks collect names and information about boys recently born near Sera Mey. These names were then given to Kyabje Lama Zopa Rinpoche who subsequently arranged to have them given to His Holiness the Dalai Lama. Recently, His Holiness wrote back to Kyabje Lama Zopa Rinpoche indicating that a young boy currently named Tenzin Pasang who lives close to Sera Mey Monastery in South India is the reincarnation of Kyabje Ribur Rinpoche!
The young boy apparently lives with his father and older sister. His parents have been told about this news by a group of monks from Sera, and they were apparently quite happy with the news and quite agreeable to his entering the monastery to study when he is old enough to do so! His parents apparently mentioned that Tenzin Pasang often liked holding a vajra and bell.
His Holiness the Dalai Lama advised that the boy recite the mantras of Manjushri and the Migtsema name mantra of Je Rinpoche to remove obstacles or obscurations. Gyumed Khensur Rinpoche indicated that it was OK for students to also recite these on behalf of the tulku.
NEW ZEALND
Horse Liberation Update
This comes from Ven. Gyalten Wangmo who recently wrote and online exclusive, "Liberating Horses on Saka Dawa," for the October-December 2009 issue of Mandala:
"This is just a quick update on the horses (from "Liberating Horses on Saka Dawa"). Twenty horses have just arrived at the Stonhurst Farm Sanctuary in Nelson (on the South Island of New Zealand). These twenty were from the farmer's land where they had been abandoned, and were about to be sent off to be made into dog food. As part of our animal liberation, these horses were rescued. These twenty will be able to stay wild on the Stonhurst land. Six more were also uplifted from the farm: one placed in a good home, and five more are in another location to be handled. However, the condition of the horses on the farm was not good and they are in need of a good feeding and rest before they can be handled."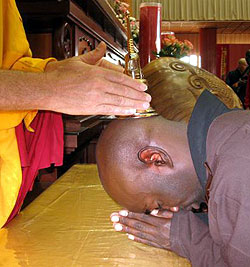 SOUTH AFRICA
Relics in South Africa
This account of the Maitreya Project Heart Shrine Relic Tour in Africa, comes from Ven. Nyinje (Ven. Paula Chichester). In it, she recounts the tours amazing effect on the continent's people, and a miraculous event involving Geshe Lama Konchog's relics:
Early the next morning, Victoria, Rog and I filled up a huge taxi with two large aluminum containers, three suitcases, a backpack and, of course, the case with the holy relics in a heavy suitcase which we could not put on the ground (thank you, Ven. Rog, for carrying them.) At Heathrow Terminal 5, Victoria showed us how to look at the people working the check-in counter and pick the one who would be sympathetic to our large amount of luggage. We flew 11 hours to the island of Mauritius, which is east of Madagascar, where we waited eight hours at a nice beach!
That evening, we went to Ile de la Réunion (which belongs to France) to meet Ven. Thubten Sangpo (formally François Fontaine) and our hosts, the Samsara Healing Centre. Last time we saw Sangpo was at the Chakrasamvara retreat at Tushita Dharamsala in 1986 when Rinpoche and Dr. Nick arrived with 14-month-old Osel Hita! We were happy to see Sangpo again. After his two three-year calm-abiding retreats at Mahamudra Centre in New Zealand, he became the resident monk for the whole island where he teaches in five locations. A joyful, tall, big-hearted monk, mobile phone in hand, he shares the Dharma with many people on the little volcano island where his ancestor arrived after barely escaping the guillotine of the French Revolution.
About 2,300 people viewed the relics in two days on Ile de la Réunion. We had to extend our hours from 9 a.m. all the way until midnight so the people standing in line for two hours could see the relics and receive the blessings. The three of us Sangha members took turns placing the stupa that contains Buddha's relics on people's heads while reciting Buddha's mantra and sending the blessings through their being. Some people cried, most smiled, some even passed out! Ile de la Réunion has people of all races – a rainbow of the human family. The relic tour is exhausting, but I can't think of anything more worthwhile to do with this life! Constantly reminded of Kyabje Zopa Rinpoche's vast vision and immense kindness, Roger and I both feel greatly honored to serve Rinpoche and sentient beings in this way. To see how the relics touch people's hearts and open them to the blessings of Buddha's teachings is astounding and awesome.
Roger and I offered a new dimension to the Maitreya Project Heart Shrine Relic Tour. While people viewed the relics, Roger gave talks on the story of Buddha's life and led Dharma discussions. I led meditations on loving-kindness and Chenrezig. Rinpoche has told Victoria that it is beneficial to offer music to the holy relics, so I led song circles where people offered their wonderful songs. We also read the Sutra of Golden Light a few times in each place. After I explained how reading the sutra creates the cause for wise leaders, everyone was enthusiastic to read.
I heard mutterings about ending corruption in government. What a cacophony of virtuous sound as 100 people read one page all at the same time!
After a day of rest at Sangpo's place at the beach, we endured a long 19-hour travel day to Cape Town, South Africa. The relic tour was hosted by Kagyu Samye Dzong, a sister center to Kagyu Samye Ling in Scotland; Akong Rinpoche is the spiritual director. The center was in a big house in an upscale neighborhood where the houses are surrounded by 8-foot-tall walls with razor wire on top and electric wire on top of that, and bars on all the doors and windows. People don't walk the streets or go out much at night.
Victoria and I shared Akong Rinpoche's room. Man, great meditations and Technicolor dreams! Many animals came for blessings there, as well as people. One afternoon, I took a break from blessing folks while Roger was telling Buddha's life story. As I circumambulated the relics, I noticed that Lama Tsong Khapa's relic, the size of a mustard seed, was gently glowing.
After the weekend, Brian, our artist-surfer-Dharma friend and Emma, took us to climb Lion's Head Mountain, a peak in the middle of Cape Town. On top, Rog and I did Chöd while Victoria, Brian and Emma read the Sutra of Golden Light. Afterwards, Victoria had the idea to encase one of Ven. Tom Ivory's prayer wheel pendants in a boulder on top of the mountain. The trail up to the top circles around twice before getting to the top, so now all the tourists are going round the prayer wheel. The next day, we went to the Cape of Good Hope and did the same thing, this time consecrating the boulder as Chenrezig. I did the Chöd again in a cave while a group of about ten recited the Sutra of Golden Light. Cape Town is set in a remarkably beautiful landscape: table mountain on the ocean, big sky. Observing the culture there and contrasting it with Ile de la Réunion caused me to ponder the history of colonialism and how its results are manifesting in the world today.
Then it was on to Johannesburg for a week. We were hosted by Lam Rim Tibetan Buddhist Centre, which is affiliated with Drepung Loseling Monastery. The center is in a renovated Dutch church in a neighborhood reminiscent of East Oakland, CA. Again, we were surrounded by walls and razor wire and electric fences. I had to go through six locks to get to our room. There were bars on the sliding glass doors and even inside the house. We wanted to take the relics to Soweto, but we never got there. Next time!
The last evening of the tour, while I was leading the final dedication with the 20 or so people from the center, a light caught my attention out of the side of my eye. Earlier that day, in a talk on the Eight Verses for Training the Mind, I had talked about Geshe Lama Konchog's great qualities as a Kadampa master. Roger had praised his qualities as well in a question and answer session for the practitioners of the center. There was also a six-year old boy named Ryan Cortney who had asked his parents to take him back to see the relics a second day. Ryan said that he wanted to stay to the very end. At that moment, I understood why… I looked over to the case that holds the contemporary masters' relics and one of them was glowing rainbow lights! I stopped talking and went over and saw that it was Geshe Lama Konchog's relic. It is about half a centimeter in diameter and usually has the outer appearance like an eggshell. Now it looked like a fire opal and emitted colored light rays. I turned off the light, and, yes, it was still glowing bright light. We all saw it. I took it out of the case and blessed everyone on the head with it. When we finished the dedication, it returned to its normal state. I don't know what that was about, but it was sure blissful, amazing and incredible.
UNITED STATES
25 YEARS ON: A STUPA ON LAMA YESHE'S CREMATION SITE
By Jon Landaw and Fabienne Pradelle
Twenty-five years have passed since our beloved guru, Lama Thubten Yeshe, gave his final teaching on impermanence by showing the aspect of passing away. It was on the ridge at Vajrapani Institute – a center for which Lama always expressed special regard and affection – that the cremation of his holy body took place on March 7, 1984.  Now plans are underway to build a commemorative stupa at the site of Lama's cremation, thereby transforming this blessed place into an even more powerful spot for spiritual practice. Construction is scheduled for this winter to coincide with the 25th year of Lama's passing.
This commemorative stupa is the second of three projects at Vajrapani dedicated to Lama, the first one being the large enlightenment stupa which was completed in 1986, and the third, the creation of a shrine containing a life-size statue of Lama. The statue, designed and built by Jim Westbrook, has already been completed and is temporarily housed in Vajrapani's main meditation hall.
Vajrapani being one of Lama's heart centers, it is hardly surprising that its community should seek these different ways to honor the memory of Lama. But the greatest offering to Lama has been the development of the center and its community. When Lama passed away 25 years ago, Vajrapani was a young center and still in the process of being built. Now it is a well-established and renowned retreat center, hosting both group and personal retreats. We passionately believe what Lama Yeshe and now Lama Zopa Rinpoche so often reminds us, that one of the most powerful tools available to transform one's mind is retreat. Over the past five years the Institute has welcomed 172 group retreats (the equivalent of 2.3 years of continuous group retreat) and hosted the equivalent of 718 yogis doing a one-week personal retreat.
In addition to the many retreats that take place, the development of a harmonious community dedicated to spiritual awakening is of utmost importance to Vajrapani's vision. This is the most precious gift to our holy guru. At Lama Yeshe's cremation memorial, Lama Zopa Rinpoche poignantly reminded us that first comes the development of one's mind, then on that basis, the center develops:
I think the most pleasing thing at each center, the first thing, the most important thing is to be able to develop one's own mind, to practice bodhichitta and patience as much as possible, to develop a good heart. Then, you see, that center will really develop. It will have an incredibly good vibration, harmonious and with no confusion, and just by being there people will be able to generate realizations easily. People will want to stay there, they will want to do retreat, they will want to do things. This is the best way to develop a center.
Under Elaine Jackson's five years of directorship, the contemplative quality of the community has flourished, and various support systems were implemented to help mainta in mental spaciousness despite the demands of a busy Dharma center. For example, a mindfulness bell is rung hourly which echoes throughout the land, and the center shuts down for a month each winter to allow the staff to engage in retreat.
Like everything, this harmony and contemplative atmosphere is a dependent-arising. The moment we take it for granted, that moment we create the causes for its downfall. And so we come back to the importance of the cremation stupa project. As Lama Zopa Rinpoche says, "All our opportunities to purify, to accumulate merit, to plant seeds of the entire path to enlightenment by practicing sutra and tantra – all this comes from Lama." And so it is by honoring our holy guru with a stupa at his cremation site that we create the causes to further develop our minds and cultivate a yearning for retreat. By remembering and honoring Lama, we create the causes for our own enlightenment.
The construction of stupas – the symbol of the limitless mind of an enlightened being – goes back to the time of Shakyamuni Buddha himself; he directed his disciples to build these monuments at such significant locations as the sites of his birth, enlightenment, first teaching, and passing, or parinirvana. He taught that performing spiritual practices at these stupas would be the same as making offerings to Buddha himself, and thus the power of any practice done there would be enhanced many times over. Now, 2500 years later, the Buddha's enlightening activities are performed by such holy gurus as Lama Yeshe, and we – his fortunate disciples – continue to benefit from Lama's supremely compassionate deeds. Just one of these immeasurable deeds has been the construction of the various retreat cabins dotting the area on and around the ridge at Vajrapani, and those practitioners using these cabins greatly benefit from the natural beauty and serenity of the cremation site in their midst. It is definite that a stupa constructed at such a blessed site would increase its spiritual power limitlessly and provide great benefit for all who visit. When finished, the site is certain to become a vivid reminder of the extraordinary power of Lama Yeshe's transformative vision, which is still very much alive and growing after twenty-five years.
Of course, it takes the contributions of many different people to turn these plans into a reality. Kyabje Zopa Rinpoche has demonstrated his support for this project by donating $5000 towards its completion, and the fund raising completed so far has brought in over half of the total estimated cost of $59,400. An appeal for support is being made to Lama Yeshe and Kyabje Zopa Rinpoche's worldwide students who, whether they met Lama in person during his lifetime or not, continue to benefit from his tireless activities on behalf of others.
Few Tricks, But an Unrivaled Treat at Kurukulla Center!
By Bryce A. Schintzius
During Halloween weekend this year, Kurukulla Center in Boston, MA had the once-in-many lifetimes privilege to host the Maitreya Project Heart Shrine Relic Tour. The event was an enormous success due to the superior organization of Sean Gonzales, the center's assistant director, and over 30 dedicated volunteers. From my post as "relic guardian" (a joke around the center owing to my size and stature) I had the beautiful experience of watching at close range the outward signs of mental transformation that the relics produced in our hundreds of visitors. Specifically, I recall one woman, who was not a Dharma student, who came to see the relics out of curiosity. Within minutes, we were passing out the tissues, as she and so many others were in tears. She stayed in the gompa for several hours, taking in the enormous power of the experience. To my delight (although I can't really say surprise) she returned the following day and stayed for several hours more.
From my own perspective, I can tell you that the depth of experience from being in the presence of these relics simply defies description. The practices I was able to do while viewing them have truly transformed my own mind, and I pray that every sentient being may be able to reap the benefits of the tour and achieve liberation. Each person who came to see the tour now carries with him the spiritual energy of the great masters who manifested these precious gems, and I know that the world around us improves immeasurably with each stop of the tour. Thanks are due to the kindness of Lama Zopa Rinpoche, tour managers Dekyi-Lee and Cristian, and the Maitreya Project as a whole that supports and enables the relics to reach around the world.