News/Media

*If a menu item has a submenu clicking once will expand the menu clicking twice will open the page.

Study & Practice

*If a menu item has a submenu clicking once will expand the menu clicking twice will open the page.

Projects

*If a menu item has a submenu clicking once will expand the menu clicking twice will open the page.

FPMT

FPMT is unbelievably fortunate that we have many qualified teachers who are not only scholars but are living in practice. If you look, then you can understand how fortunate we are having the opportunity to study. With our Dharma knowledge and practice we can give the light of Dharma to others, in their heart. I think that's the best service to sentient beings, the best service to the world.

Lama Zopa Rinpoche

, (read the

full advice

from Rinpoche)

*If a menu item has a submenu clicking once will expand the menu clicking twice will open the page.

Shop

The Foundation Store is FPMT's online shop and features a vast selection of Buddhist study and practice materials written or recommended by our lineage gurus. These items include homestudy programs, prayers and practices in PDF or eBook format, materials for children, and other resources to support practitioners.

Items displayed in the shop are made available for Dharma practice and educational purposes, and never for the purpose of profiting from their sale. Please read FPMT Foundation Store Policy Regarding Dharma Items for more information.
How Prayer Can Help: Reciting the Sutra of Golden Light
How Prayer Can Help: Reciting the Sutra of Golden Light
By Ven. Lhundup Nyingje (Paula Chichester)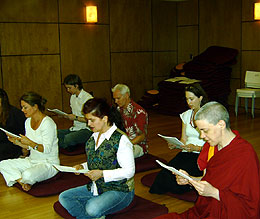 In about the second year of my last four-and-a-half year solitary retreat, I was offered cassette tapes of Ribur Rinpoche's lam-rim teachings at Land of Medicine Buddha that I could not attend. In the section on bodhichitta, Rinpoche began to talk about the escalation of suffering that is going on in the world due to ignorance, particularly of our leaders. He said that all the meditators must come down out of the mountains and do something to help the political situation. It was like I was stabbed in the heart when I heard those words.
So, in the autumn of 2004, Land of Medicine Buddha allowed me to lead Tara pujas at the Memorial Shrine before the presidential election. Our intention was to create the cause for sane, compassionate leadership to stop the wars, help the AIDS epidemic, cease environmental mismanagement, and create economic systems that help the poor. At about the third puja, to our great surprise and delight, Lama Zopa Rinpoche appeared and asked me why weren't we reciting The Sutra of Golden Light. Reading the Sutra of Golden Light, if done with bodhichitta motivation, is one way to create the cause for wise leaders. As Lama Zopa himself says, "This text is very precious; it brings peace and happiness and is very powerful to stop violence. It gives incredible protection to the country from violence, etc. By hearing this text, one's karma is purified."
Rinpoche asked the Guhyasamaja Center in Washington, D.C. to begin reciting this sutra, and last April I was invited to Washington to lead a recitation at the capitol mall. Totally energized and inspired by this activity, the wish arose to return to the mall and recite this sutra every day for the month of October before the 2006 elections, and pray as hard as I can for political policies that will bring about world peace and halt global warming.
An idea soon came to create a campaign amongst all the FPMT centers to recite the sutra as many times as we can in October. I gingerly asked Rinpoche about this idea. The reply was overwhelming encouragement and enthusiasm. Rinpoche said, "Not just at the centers, but going from friend to friend, spread the practice."
So now, I envision all of us who are a part of Buddha's mandala spreading this practice. In our homes and in our centers we can host sutra recitation parties where we invite our friends (Buddhist and otherwise) to join us for refreshments and meaningful fun. You can even do it at lunch time with your office mates. They may do it just to humor you, especially if you offer great treats, but after they do it once, they'll want to do it again!
It is wonderful to sit with a group of six to ten people and recite parts of the sutra together. You can divide up the numbers of the pages of the sutra by the number of people present. After everyone has their assigned pages, someone in the group can lead a meditation that includes refuge and an inspiring bodhichitta motivation. Add to that a motivation for global kindness and wisdom that will produce leaders who will legislate for world peace, sane environmental policies, help for the sick and the poor, and other beneficial ends. When everyone recites their pages simultaneously, the cacophony of sounds mixed with the joy and amazement that comes from reading such words is a powerful experience.
People feel a need to engage in meaningful activity these days – the suffering is so intense – that something as global a concept as prayer appeals to a broad spectrum. And if someone practices properly, as a result they will become more compassionate and able to engage in activism in a more helpful way.
Get started today! To be a part of the global community and to record your progress in the Cause for Peace campaign, go to www.sutraofgoldenlight.com
The Sutra of Golden Light is one of three sutras that Lama Zopa Rinpoche has requested the FPMT Education Department to have translated into "as many languages as possible." To date, the Sutra of Golden Light has been translated into ten languages, the Vajra Cutter Sutra into seven, and the Sanghatasutra into twelve. You can download the Sutra of Golden Light from fpmt.org/education/prayers-and-practice-materials/sutras/golden-light-sutra/