News/Media

*If a menu item has a submenu clicking once will expand the menu clicking twice will open the page.

Study & Practice

*If a menu item has a submenu clicking once will expand the menu clicking twice will open the page.

Projects

*If a menu item has a submenu clicking once will expand the menu clicking twice will open the page.

FPMT

Unlike an external enemy, the inner enemy cannot regroup and launch a comeback once it has been destroyed from within.

His Holiness the Dalai Lama

*If a menu item has a submenu clicking once will expand the menu clicking twice will open the page.

Shop

The Foundation Store is FPMT's online shop and features a vast selection of Buddhist study and practice materials written or recommended by our lineage gurus. These items include homestudy programs, prayers and practices in PDF or eBook format, materials for children, and other resources to support practitioners.

Items displayed in the shop are made available for Dharma practice and educational purposes, and never for the purpose of profiting from their sale. Please read FPMT Foundation Store Policy Regarding Dharma Items for more information.
A Day in the Life of an FPMT Lama
Geshe Lobsang Sherab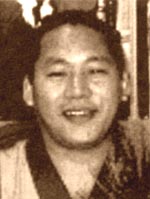 Since May, 1997, Geshe Lobsang Sherab has been living and teaching as resident lama at Heruka Centre, Kaohsiung. His exemplary attendant, Kopan monk Thubten Yeshe, kindly helped Fritz Grohmann with the translation for this interview.
Geshe-la, could you please tell us a little bit about yourself?
I was born in 1963 in Tawang. This region was part of southern Tibet but now lies within the borders of the Indian state of Arunachal Pradesh. It's important historically because it's the birthplace of the Sixth Dalai Lama.
When I was seven, I entered the local monastery, which was founded by the Fifth Dalai Lama. About 250 monks live there. Besides learning how to read and to write, I became also familiar with a number of rituals. Since I studied hard the abbot was very pleased, and three years later I was sent to Sera Monastery in south India.
It was here that I began to attend philosophy classes. I had the good fortune of being trained by a number of outstanding scholars like Geshe Lobsang Wangchuk who had been the abbot of Sera Je back in Tibet. He was so famous. I studied Vinaya and Abhidharma under him. Other teachers were Karma Sonam, a young geshe who taught us subjects like the Perfection of Wisdom and Logic, Geshe Dorje Tashi, ex abbot of the Gyume Tantric College from whom I received many teachings over the period of ten years, and Khyabje Choden Rinpoche who also bestowed initiations upon me. It is extremely rare to find such gurus who are highly qualified in both Sutra and Tantra and also well versed in other subjects — grammar, composition, astrology and so on.
Besides studying in Sera Monastery we went to attend teachings His Holiness the Dalai Lama gave in Dharamsala, Bodhgaya, and Varanasi. In 1990, I finished the courses on the five major texts. The next three years were spent reviewing topics like the Vinaya and Abhidhamma, and in 1993 I was admitted as geshe candidate. I took the examinations that very year. They were held in Drepung Monastery and were extraordinarily strict with the Ganden Tripa and the other main abbots attending but I managed to pass the Lharampa Geshe examinations.
We know that you taught in Mongolia for some time. What What was your experience there?
They've no facilities for the sangha and no teachers. There is one Mongolian monastery which was in the past a benefactor of Sera Je. So in 1996 they turned to my alma mater to get teachers and I was sent there.
I stayed in a guest house and the students had to come every morning to attend pujas and classes. This meant ten or fifteen kilometers in freezing cold from their family homes, every morning. That's difficult. And it's difficult to maintain one s vows purely living in a lay environment. Understandably enough, many of them become more interested in learning modern languages and making money.
I wrote a great number of letters to get some support for these students but only a few Mongolians responded, no one from outside. And there was the language barrier. For the first two months, one Mongolian scholar translated for me. He studied in Dharamsala and knows Tibetan and Dharma well but he was too busy to help for more than two months. I carried on in Tibetan but finally left after six months because I felt I really couldn't benefit them much.
In many respects, the situation in Taiwan seems to be pretty much the opposite of that in Mongolia. What are your impressions after a few months here?
The Buddhists here are very devoted. I feel, in the future they may have many Dharma scholars because they are materially well off and work hard but still take the time to attend teachings and do their practices. This seems to be the result of imprints from previous lives. And finding meaning and happiness in one's life of course depends on whether one practices or not.
Do you have any plans for the future, Geshe-la?
Not really, but somehow I think of my native place. The people there are poor and without access to modern education. Moreover, their understanding of Dharma is very limited. It's somehow on my mind to help them.
Could you please give some advice to those who want to practice Dharma?
One should try to become warm-hearted and not to cheat other people. Moreover, it's important to have faith in the law of karma and its effects. This is meaningful for both the present life and future ones because in this way your wishes are fulfilled and great merit is accumulated. And if you can, help the destitute. This would be my advice.
In Buddhism, you find hundreds of teachings but the most important one is to subdue one's mind and be a good person. So increase wholesome thoughts and minimize negative ones.