News/Media

*If a menu item has a submenu clicking once will expand the menu clicking twice will open the page.

Study & Practice

*If a menu item has a submenu clicking once will expand the menu clicking twice will open the page.

Projects

*If a menu item has a submenu clicking once will expand the menu clicking twice will open the page.

FPMT

No matter whether you are a believer or a non-believer, religious or not religious, a Christian, Hindu, or a scientist, black or white, an Easterner or a Westerner, the most important thing to know is your own mind and how it works.

Lama Thubten Yeshe

*If a menu item has a submenu clicking once will expand the menu clicking twice will open the page.

Shop

The Foundation Store is FPMT's online shop and features a vast selection of Buddhist study and practice materials written or recommended by our lineage gurus. These items include homestudy programs, prayers and practices in PDF or eBook format, materials for children, and other resources to support practitioners.

Items displayed in the shop are made available for Dharma practice and educational purposes, and never for the purpose of profiting from their sale. Please read FPMT Foundation Store Policy Regarding Dharma Items for more information.
A Dharma King Takes Shape: The origins of Buddhist Art
February / March 2007
Buddhist History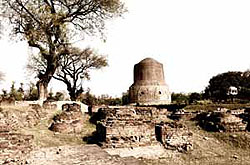 Cosmic pillars, the cult of the Chakravartin, and the influence of Alexander the Great. Mandala Associate Editor Sara Blumenthal recently sat down with Professor Gautama Vajracharya from the University of Madison to talk about the rise of Buddhist art in North India and the iconography that has defined it for centuries.
Sara Blumenthal: What is the earliest Buddhist image that is known to exist?
Gautama Vajracharya: The symbolic representation of a Buddhist idea began to appear in the third century B.C.E. during the time of the Mauryan Imperial Emperor Ashoka [273-232 B.C.E], but we do not see images of the Buddha or a Bodhisattva in human form at that time. Most of the Ashokan pillars that we find contain symbolic animals such as lions, elephants, stallions, and bulls.
Buddha Shakyamuni's life story contains many references to different animals. For example, according to legend, when Queen Mayadevi conceived the future Buddha Shakyamuni, a cloud elephant descended from heaven and entered her body. We can therefore understand why Ashokan pillars bear a sculpture of an elephant on the top of the pillar to represent the Buddha. At the same time, Buddha Shakyamuni's early name was Siddhartha Gautama. Gautama means "the excellent bull." This may be the reason that other Ashokan pillars bear the depiction of a bull.
The other reason for animal representations of the Buddha is that many of the different animals that became symbolic of the Buddha were also associated with the monsoon culture of India. Buddhists and Hindus alike incorporated many animal images from this culture into their religion as art.
And then we also see Buddha Shakyamuni represented in these early times by a tree and his throne, by a chakra or wheel or by a lotus flower, sometimes by a footprint, and sometimes with a trident-like symbol, representing the three Jewels.
SB: Some of the early sculptures from North India seem to embody a Greco-Roman influence. How did Greco-Roman culture influence Buddhist art?
GV: What happened is a long history. The Greeks came to India in the fourth century B.C.E. when Alexander the Great invaded most of Persia as well as the northwest part of India. Alexander and his army stayed in that part of India only two years, but many other Greeks who came with Alexander continued to stay there, and Alexander's generals continued controlling that part of India. After the Alexander invasion, the Maurya empire emerged in India [321-184 B.C.E.]. The very first Mauryan emperor was Chandragupta Maurya, and it was his grandson, Ashoka, who famously became Buddhist..
This article is an excerpt of the full article printed in Mandala