News/Media

*If a menu item has a submenu clicking once will expand the menu clicking twice will open the page.

Study & Practice

*If a menu item has a submenu clicking once will expand the menu clicking twice will open the page.

Projects

*If a menu item has a submenu clicking once will expand the menu clicking twice will open the page.

FPMT

In my mind, one of the beauties of Buddhism is that it offers us a practical training for our mind. It does not say, 'Bodhicitta is fantastic because Buddha said so!' Instead, it gives us the methods for developing such an attitude and we can then see for ourselves whether it works or not, whether it is fantastic or not.

Lama Thubten Yeshe

*If a menu item has a submenu clicking once will expand the menu clicking twice will open the page.

Shop

The Foundation Store is FPMT's online shop and features a vast selection of Buddhist study and practice materials written or recommended by our lineage gurus. These items include homestudy programs, prayers and practices in PDF or eBook format, materials for children, and other resources to support practitioners.

Items displayed in the shop are made available for Dharma practice and educational purposes, and never for the purpose of profiting from their sale. Please read FPMT Foundation Store Policy Regarding Dharma Items for more information.
Spoggy the Sparrow: A Real Dharma Bird
October / December 2009
By Susan Macauley (Thubten Drolkar)
Mum lives in the house next door, about half a kilometer away. I wondered who it could be arriving at that time of night, but when I saw her get out of the car in her pink dressing gown … well, let's just say I knew exactly what that meant! It meant time was of the essence and a sentient being urgently needed help.
Mum had seen it happen and she ran. Her garden, in the rural forests of Northwest Tasmania, is a haven and home to many birds. It was dusk and a pair of currawongs [crow-like birds] had just emptied a sparrow nest of its babies. In the fading light, Mum frantically searched the remnants of the nest and the ground below, hoping for survivors. She very nearly trod on the only one the currawongs had missed. Currawongs looked on as Mum quickly grabbed the baby, cradled it in some nesting material and got straight into her car.
Our farmhouse is old, large and rundown; it's a little like camping out indoors (it actually rains in the hallway during winter!) Spring brings the inevitable nesting frenzy in our roof and my husband has had to knock several holes in the walls, rescuing babies trapped inside the wall cavities. We share this home with all creatures, including venomous snakes, spiders and insects. In fact, it is the perfect place to practice animal liberation.
During the last seven years, more than thirty birds and an assortment of wildlife have come our way. Some are nurtured and released (whenever appropriate) and we rejoice in this. Some die due to injury and for those creatures, we love them, whisper mantras to them and circumambulate with them, and then give them a safe place to pass away (in our arms, if possible). Those who live and do not meet release criteria get a forever home with us.
But this was our greatest challenge to date. This bird was so tiny – a formless pink blob, all bum, no eyes and only an inch and a bit long. Certainly it was no more than 24- to 36-hours old. Mum said, "It most likely won't last out the night, but I knew you would want to try."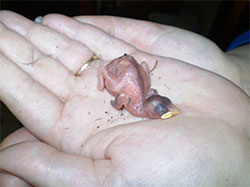 A sparrow! I had not raised a sparrow before and never a bird as young as this. To date, the youngest were five days old and they at least had eyeballs! The first thing I did was take it to my altar. I knelt, praying that the buddhas would guide me and grant me the strength to do whatever was needed to save this helpless bird. A photo of my precious guru, Lama Zopa Rinpoche, smilingly looked on.
My next step was the Internet, where I posted a photo and a message asking for help on the bird forum Starlingtalk, then waited for the support I knew would come. Within 25 minutes I had my first response from a mentor in the UK. We had the ingredients at hand to make up the very specific diet required. Almost straight away, the bird gaped and took food from us with a hungry chirp.
Without the extra heat provided by siblings or parents, it's very easy to lose such a young and featherless bird. I moved into the spare room, sleeping 20 minutes at a time with an egg timer to rouse me, so I could monitor his temperature throughout the night. We didn't have a heating pad and the vet had none to spare. We live very rurally and as it was eight days until Christmas, our postal service was already closed for the holidays. For seven nights, when I did sleep, I lay curled around a box containing "Spoggy," with him cradled in my hand and a microwave-heated wheat-bag to keep him warm. While I slept, my husband did day-shift, feeding every twenty to thirty minutes throughout the day, from sunup to sundown. It was 24-hour tag-team care.
Looking back, those night-shift hours were special. In this lifetime, I was unable to bear children due to serious illness. As I cared for Spoggy, I realized just how dependent upon us he was for everything – food, warmth, safety – he was totally helpless. I began to consider how our own kind mother sentient beings had provided and cared for our every need too. And not just for a few short weeks, but for years and years. That first week, Spoggy inspired me to contemplate the infinite kindness of all our precious mother sentient beings. It was a very enriching experience – this pink blob was giving me a teaching!
Day five was a great day. Slits appeared on his big fish-like eyes; they slowly opened and this bird finally got to see the rest of his "flock." He was an "imprinted bird," thinking us his parents, and we knew that if he lived he would be another forever pet. We fought to save him and despite early ominous clicking sounds in his breath, he did make it.
Spoggy flew on the thirteenth day and began feeding himself on the sixteenth. "What next," I joked, "university on day seventeen, perhaps?" He was a very advanced sparrow! Once, when I was sick in bed, a young Spoggy flew into the room like a rocket from four rooms away and carefully placed a corn kernel on my chest. He chirped at me as if to say, "See how I provide for my flock!"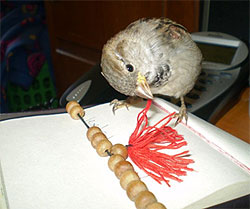 My husband is my full-time caregiver and I'm often bed- and house-bound. Because of this, my prayers and practice are often done propped up in bed. A TV in my bedroom allows me to watch and listen to the teachings on DVD or CD. Spoggy's life joined mine on the Buddhist path from day one and it is obvious that he loves the Dharma. His first toy was no toy at all. At three weeks of age, he laid claim to a sandalwood hand mala as his own, its red tassel gently chewed over and over. Spoggy once hovered just inches from the screen when His Holiness the Dalai Lama was teaching. He regularly sits atop the TV, listening intently to Lama Zopa's teachings or chirping loudly along with Venerable Robina when it's mantra time. He doesn't chew holy books, but gleefully shreds others. He alerts us to and guards insects, until we come to catch and then release them outside. And his favorite roost is in the hallway, high-up, sitting against a large photo of His Holiness. Last year, Ven. Wy came to visit. I admit I was interested to see his response to a member of the Sangha. Within ten seconds of her entering, Spoggy flew straight to her shoulder and studied her face with great interest.
Spoggy's story seems to transcend boundaries of age, nationality or faith. His videos on YouTube have had over 100,000 views in 18 months, and messages and comments have poured in by the hundreds. Many have said his survival was inspirational. Some have been moved to tears. Others say it restored their faith in humankind – that people could still show such loving kindness to a helpless creature. Spoggy is very popular with the 13- to 17-year old bracket. There is no doubt in my mind that there are many youth today who wish to work for the benefit of birds and animals through wildlife rescue.
While we did not purposely set out to have Spoggy's story benefit others, I'm so g rateful our sharing of him with the world is helping to save the lives of other birds. His slideshows contain links to websites where correct care advice from helpful mentors can be found. His day-by-day photo album also helps those who find a sparrow to age and identify it swiftly.
At the time of writing, Spoggy is healthy, happy and 20 months old. Sparrows are very social birds with huge personalities and Spoggy involves himself in everything we do – grooming my husband's beard, sharing food from our plates, singing, dancing, playing and snuggling – he even helped me type this story. After free-flying all day long he puts himself to bed each evening, loudly chirping until we cover him up for the night. It's a lot of fun being a part of Spoggy's flock, but Dharma practice with a sparrow? I sure didn't see that one coming!