News/Media

*If a menu item has a submenu clicking once will expand the menu clicking twice will open the page.

Study & Practice

*If a menu item has a submenu clicking once will expand the menu clicking twice will open the page.

Projects

*If a menu item has a submenu clicking once will expand the menu clicking twice will open the page.

FPMT

You can see that some people's relationships are reasonable. Therefore, they last a long time. If people's relationships start off extreme, how can they last? You know from the beginning they cannot last. Balance is so important.

Lama Thubten Yeshe

*If a menu item has a submenu clicking once will expand the menu clicking twice will open the page.

Shop

The Foundation Store is FPMT's online shop and features a vast selection of Buddhist study and practice materials written or recommended by our lineage gurus. These items include homestudy programs, prayers and practices in PDF or eBook format, materials for children, and other resources to support practitioners.

Items displayed in the shop are made available for Dharma practice and educational purposes, and never for the purpose of profiting from their sale. Please read FPMT Foundation Store Policy Regarding Dharma Items for more information.
The challenge: Kids and their 'stuff'
With Allys Andrews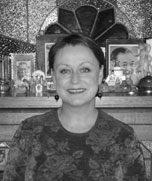 Allys Andrews and her husband Dave (Center Director at Tara Institute in Melbourne, Australia) attribute their progress in twenty years of parenting their three children to the advice of Geshe Doga – and the lam-rim. Allys explains:
Dave and I have been blessed with the sensible and insightful advice of our geshe. Some of it we have sought personally; some of it has trickled down during teachings and meditation courses. Like any training worth its salt, it is valid whether applied to the country, the community, the family, or the self.
There are so many areas of potential conflict in family life. Homework is always high on the list. When my children were in primary school, Geshe-la recommended sitting with them at the table after dinner, to read and do homework. He said to make it a peaceful time, while encouraging some enthusiasm for learning. Thinking back to my own childhood, I remembered clearly being banished to my bedroom to work alone – and I hated it.
So for years our dining room table was covered with books and pencils and glitter glue. We would chat and draw borders and make projects in a mostly cheerful manner. As the children grew older and my input was no longer so necessary – in fact, often actively discouraged – it was still pleasant to sit with them reading the paper, or doing my own work.
As they became independent in their studies, different problems emerged: work requirements not handed in, insufficient study, too much television watching, and hours on the phone. "Don't nag," said Geshe-la. "Don't use harsh speech. Be patient; explain why they need to study and why it is important to respect their teachers. Be a good example – you can't expect children to be reasonable if you aren't."
Following such gentle advice, life would become peaceful once more, and then a letter would arrive from school: "Your child has been involved in an incident." As my dear friend Cal would say, "Ooh, it's great stuff." And it is. Our children are so good at revealing our own 'stuff,' and when our desire for a good reputation is threatened, watch out! The self-centered desire to be seen as the best parent will always motivate the least skilful actions.
Geshe-la speaks often about the need for harmony in the home, the need for love and compassion. In a teaching last year he said: "One really has to practice it. It is not a question of understanding the importance of love and compassion – everybody is able to understand the importance of love and compassion; rather, one has to actually put it into practice instead of thinking to oneself, 'Yes, that's a very nice idea.'"
I have found the Buddhist definitions of love and compassion to be so helpful, so clear: love – the sincere wish for others to be happy; compassion – the sincere wish for others not to suffer. When my children make mistakes, it is easy to react with anger and impatience, particularly if I am tired and over busy. The tendency to blame the child, the friends, the school, or my partner arises effortlessly. It does, indeed, take effort to apply the mind training teachings, to put the theory into practice and analyze the situation with an open, clear, and compassionate mind. But the results are worth it. One of the sweetest gifts is that now when I lose the plot and get upset and agitated, my children will say, "You're tired, Mum. Sit down and I'll make you a cup of tea and run you a bath."
Of course, family life doesn't always run so smoothly; invariably, there will be times of anxiety and upheaval. But it's great to have truly reliable methods for dealing with whatever arises, particularly my own unruly mind. The Lam-rim is the best parenting manual that I've come across, and having it elucidated by Geshe-la has been a great blessing. When actually put into practice the results, can be beautiful.
Allys Andrews' active role in the community includes teaching Buddhism at high schools around Melbourne and Introduction to Buddhist Meditation at Tara Institute. She can be reached at allys.andrews@optushome.com.au