News/Media

*If a menu item has a submenu clicking once will expand the menu clicking twice will open the page.

Study & Practice

*If a menu item has a submenu clicking once will expand the menu clicking twice will open the page.

Projects

*If a menu item has a submenu clicking once will expand the menu clicking twice will open the page.

FPMT

Proper guru devotion – correct devotion to your virtuous friends – allows you to actualize successfully all the steps of the path to enlightenment, from the perfect human rebirth up to buddhahood itself.

Lama Zopa Rinpoche

*If a menu item has a submenu clicking once will expand the menu clicking twice will open the page.

Shop

The Foundation Store is FPMT's online shop and features a vast selection of Buddhist study and practice materials written or recommended by our lineage gurus. These items include homestudy programs, prayers and practices in PDF or eBook format, materials for children, and other resources to support practitioners.

Items displayed in the shop are made available for Dharma practice and educational purposes, and never for the purpose of profiting from their sale. Please read FPMT Foundation Store Policy Regarding Dharma Items for more information.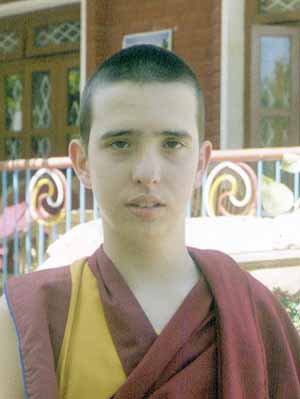 September-October 2000
Lama Tenzin Osel Rinpoche was born to Spanish parents in 1984, eleven months after the death of the founder of the FPMT, Lama Thubten Yeshe, of whom he is the reincarnation. Since he was 7, Lama Osel, as he is affectionately known, has been studying at Sera Je Monastery in south India. Julia Hengst talked to Lama Osel for Mandala.
In November, Lama Osel will give his first inititiation of this life, a highly auspicious event, as Ven. Marcel Bertels points out, "as our kind Lama is re-starting his teaching career. Lama Osel has come of age and is manifesting his great compassion by granting the sublime Dharma."
What is important to express to young people about the Dharma?
The most important thing is to give them advice. Here in the Tibetan culture, small monks who have a teacher end up being very nice, but those who don't have any teachers often end up being very naughty. I think advice is the most important thing.
At the beginning you just try to explain to them as best as you can. You cannot just be a machine; actually try to explain the best way you think they will understand. It's very personal.
In the West we're really independent and don't want to listen to advice.
I'm not very experienced with teenagers in the West, but I'm not sure they respect teachers very much. I know that here the teacher is the most important thing for most of them, and they do whatever they tell them to do.
What if your teachers are doing negative things themselves?
Here there are teachers who have problems also, but the students imagine that the teachers are Buddhas, so they don't find so many problems. Whatever the teacher does is something they are doing for all sentient beings. I think this kind of attitude [of seeing the teacher as Buddha] would be difficult in the West.
I've heard one story about the Buddha in one of his past lives. He was the captain of a ship and learned that one of the crew members planned to kill everyone on the ship. When he learned this, the only way he could prevent the deaths of so many people was to kill that man. We think that the Buddha was bad for killing him, but he actually did it for everyone else. It also stopped the killer from having to experience the heavy negative karma for having killed so many people.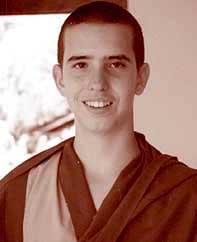 Can the Dharma be altered to suit the minds of young people?
You cannot force them to come; it's their choice. We only have to make it as nice as possible.
A lot of people in the West use drugs. Some of the drugs make you feel your heart is opening and you can feel more relaxed. What's wrong with that?
It's harmful to your body, isn't it? And then you become addicted and you have to use a lot of money, and then you start to steal to get the money. I know one drug addict inSpainwho used to be a millionaire. He's been taking drugs for 20 years, and now he doesn't have much money. He's trying to stop now, but it's very difficult for him. Aren't drugs illegal?
It is, but some are so easy to get.
The police don't do anything?
Sometimes, but they go more for big drug busts. You can do it from a young age, too. I started some drugs when I was 14, and I know others who've experimented by the time they're 11.
Didn't you get addicted?
A little. I was addicted to cigarettes.
If life is very difficult in our minds, how can we counteract low self-esteem?
Just think about it. I've never had that experience; I don't know what it's like. Here everyone is happy, always laughing. In the West there are so many things, so many problems. Take for example hair. Everyone has this problem about their hair: Oh, my hair looks like this, I wish I had this type of hair. Or even their clothes; some people say, "I don't know what clothes to put on, I need new clothes." Here there are no problems with hair, no problems with clothes. It's the same with bullies at school – they're worse in the West.
In the West they have guns.
Yes, I heard about those boys shooting people in the schools. So many children killing each other. It mostly comes from the movies.
Do the movies cause that to happen?
Yes, yes, definitely. It leaves an impression in your mind. I've experienced that. Sometimes I see some movies about guns, and once when I saw a plastic gun I really thought it was very nice, very cool.
On some televisions there is a device that allows parents to control what their children watch. Is that good?
Yes, it's good, but maybe the children will start to hate their parents if they do that. Here in Tibetan society the kids respect their fathers and mothers like God or something. It's not like that in the West, where they always shout back at their fathers. Tibetans never talk back to their mothers and fathers; it's like something impossible.
Is the freedom we have in the West to express ourselves good in any way?
If all the children are like that, then if one child tries to be respectful it won't work. He will just become like the other children. If all of them are good from when the kids are small and the parents don't do bad things in front of their children, then the children will think, "My father is very good. He never does anything bad." The father and mother shouldn't always let the children do anything they want. From a young age they should start giving them advice. Whatever you tell small children they will believe it. I think it's mostly in the schools where they learn all these bad habits.
Is it helpful for young people to be good examples for each other?
Yes, that's good. The younger kids always do what the older kids are doing. If the older boys smoke then the younger boys will smoke. If the kids do something good the young ones will do the same. The older ones should try to do good things.
It's also very important for the parents not to show their negative sides to the children because the children will say, "My father is so bad. He smokes all the time, he gets drunk."
What if someone's father smokes cigarettes, for example? They should hide it from the children?
Yes, that's good. Even if you cannot do it you should try to teach other people not to do it. The father would know that smoking is not good; he would have the experience that it's not good. He should teach the children not to smoke.
If he smoked in front of the children then the kids could say, "Well, he's smoking, why can't I smoke?"
How can we know it's possible to change our thoughts?
I think in the beginning you don't try to teach people to change the thoughts. They might think this is all very stupid. You need to go slowly, slowly. You give them examples. You can say, "I've had depression before and it was like this, and you can do this." It's good for young people to share what they're experiencing and other young people can give their advice from their own experience.
What is a good way to balance being young and wanting to experience life with the discipline of Dharma practice?
I think it's good for Westerners to have experience about how everything is. Then afterwards they can see what is best.
For example, most of the older practitioners and monks from the West have experienced everything and they've come to the conclusion that it's useless. That's when they turn to Buddhism. I think that's the best way to understand.
We often hear that we need to give up attachments, give up this life, renounce the world.
When they become older, they'll know. Like Max, the Australian monk – do you know him? He was from a really rich family and his father was a butcher. He had everything he wanted. His father was very, very fat and ate a lot. I think his father got cancer and couldn't eat regularly for a year after that.
Max had already experienced everything, including fighting in the Six-day War in Israel. That's how he got a little deaf; someone shot a gun right next to him. Anyway, when his father was dying he was there. His father was crying, "I don't want to die, I don't want to die," and he died just like that. Max decided, "I don't want to live like this. This is so stupid." Live, live, live, eat, eat, eat, and then die like this.
He inherited his father's business and sold it, and continued his search for something. He finally found Lama Yeshe. He offered all the money to Lama Yeshe but Lama Yeshe said, "No, no," he didn't want it. He became a monk after experiencing all of this. His father showed him a very good example.
Experience is one of the best ways to learn. Wisdom grows over time. Every moment you learn something new; and older people are wiser than young people.
It's like small children; they put their finger in a candle and burn it, or they put something in their mouth, or they drop the cup and see that it breaks. They're learning new things. Eventually you can tell whether you are making bad decisions or good decisions.
One of the most important things about respecting the father and mother is to know that whatever they're telling you to do is for your own good, not for them. If they tell you not to do something it's for you, not for them.
What if we think it's against us? If we want to do something and they say no?
Then you have to think about it. If they tell you not to go out after 9, then you need to think, "Why did they say that? Maybe they think it's dangerous for me." You need to think about it. If you think they're just saying it, you'll get angry. Usually they do it to help you.
What if a young person studies Dharma but the parents don't?
I've heard that before many times. Like the son wants to become a monk or wants to study Buddhism but the parents are Christian and they don't want him to. A good thing to do is explain to them about Dharma, otherwise wait until you're older and then you can do this.
But when you're younger you should listen to your parents. Tibetans say until you're 20 years old you don't know how to think. The children here are disciplined until they're 15, and once they're 20 they say you know how to think.
You need to think for yourself whether it's good or bad. It may be better to hide that you're Buddhist.
There are a lot of problems in the West, aren't there?
In a way it's completely wild. I'm lucky where I grew up; people were generally good. If you go into the inner cities of New York or Los Angeles, though, that's where kids carry around guns and shoot each other. They have to set up metal detectors at middle schools to prevent the kids from bringing in guns.
There was an article in Manadla about this Mexican gangster Arturo; he had a really strong life.
Even though he knew a lot of people he said he felt very lonely and isolated. Do you think it's good for young people to express their emotions, to share how they're feeling about these difficult situations?
Yes, it's good, but with someone they know. If they just tell it to anyone, that person may tell someone else and the person will feel very angry. It's also good to tell the father and mother.
For a lot of young people it's like a war against the parents. I always rebelled against what my parents told me to do, and I thought they were preventing me from being happy.
The father and mother may have favorites. That's not good. They always behave nicely with one kid but the other is always considered bad. We always ask my father who his favorite son is and he says, "All of you." Or sometimes he says, "You are all equally problematic."
If we have friends who are doing negative things – lying, stealing, drinking and doing drugs – is it good to still be friends with them?
Yes, yes. The main thing is to give them advice. If you're friends but then all of a sudden you don't talk to them, they'll be very sad. The best thing is to give them advice, but not like telling them what to do. It's difficult, though, because I have no experience with it.
Lama, are you interested to go back to the West again?
Right now I feel much more drawn to my studies, so when I go outside my studies might get cut. If there's a text that has a hundred pages and we've studied 20 pages, then let's say I go to America for 10 days, and each day they study two pages, then I'll be 20 pages behind.
In the future the studies don't wait for you. But people in the West don't listen; they don't pay attention in class, do they?
Not like here; maybe in college they listen more.
Here the disciples have so much respect for the teacher. You cannot imagine how much respect they have. They never space out; they think about how there are so many people who don't have food, who cannot study this. They feel they must listen and use this incredible opportunity. Some really bad students may not, but the majority listen. Here in Sera they say studying is not for your teacher, it's for yourself. The teacher is not doing it for himself.
So you think Western education is important?
Yes. It's important if you are going to live in the West all your life and you want to find work there. In the future when I teach I also need to know about the Western subjects, such as math and science. The ones I like less are physics and biology. I'm pretty good at chemistry. Mathematics I'm pretty good at. When I think about mathematics I don't like it, but when I sit down to do it, and someone tells me about it, once my mind goes inside, I really enjoy it. When I'm thinking about something else, I don't. And physics is so difficult to understand! All these forces! I try to understand but I can't. My mind spaces out because I don't understand. It's important for the geshes to know about the Western traditions, though.
I like Western psychology very much, the study of the mind. It's very similar to the Tibetan philosophy of the mind. I really like the way psychologists talk. In Spain I went to a psychologist one time. The way she walked, she really tried to go deep. She also gave me some paper and told me to draw anything I want. I found that very interesting. They always tell you to draw something to see what you have in your mind. When I become older I think I would like to study some psychology.
Can you use tools like drawing to learn something about the mind?
Definitely. When people are really angry and you tell them to draw something it comes out kind of [Lama enacted drawing in an aggressive way], and when they're very happy they try to draw something very happy.
Also your dreams: Like when people dream they usually dream about something they feel, or something they've experienced, something they want to happen. Once I had one dream in which I was swimming in a river and suddenly I got to somewhere it was very deep. I was drowning and suddenly I saw my dog Om Mani on the beach (she died already), and then I was on the land. I woke up after that.
The next day was Tuesday, which is the holiday around here. All of the monks went to the river here and we were all swimming. I was also swimming and it happened exactly like in the dream. I got to a deep point and I couldn't swim anymore. My dog, she's very clever, saw I was drowning and jumped in to help me and I caught her tail. Then I think it made her drown a little, too, but we swam to the shore. It was exactly the same as the dream. I heard of people before having a dream and the same thing happening. Now it's not allowed anymore to go to the river. A lot of people have died.
When a geshe here, Gen Pema, passed away, he stayed in clear light meditation for 14 days after he died. He's incredible. When an ex-abbot died, he stayed six days. I think the ex-abbot was lying down, but his body didn't smell. But Gen Pema was in a meditation position for 14 days with no smell.
When we talk about reincarnation in the West, a lot of people ask "Why do I have to suffer in this life for mistakes somebody in some other life made?" How would you answer that?
If you do something bad it comes back to you, right? One good example is if someone hits you, you feel angry and want to hit them back, right? Like that, in the same way, it will happen to you in the next life.
But, for example, my brother feels like he shouldn't be punished for something someone else did. He doesn't feel a connection with any past life so why should he have to suffer from it?
I see. One good way is when you suffer you can feel compassion for other people who are suffering. You can feel compassion for other people who are creating bad karma. That's one of the best ways.
But also if people don't believe in reincarnation it's good to give them some examples. There are stories of people who remember things from their past lives. The story of His Holiness is a good one; or other people. Lama Zopa's story is also good.
There's one story I read in this book of Sogyal Rinpoche's called The Tibetan Book of Living and Dying. There was an English guy who, from when he was small, had visions of some place. When he became older he had more visions of it, and finally he saw a photo of the exact same place. The place was in Egypt or Libya, and it looked very similar. He said he had been there in a past life. Eventually they took him there and he knew all the places.
There was one building and they didn't know what it was for, and he said, "Oh yes, this building was the temple, and this is where they killed people," and he could explain what they were. He said he was a soldier there about 200 years ago. He could remember everything.
At one location he said there used to be a building that was a soldiers' barracks. He was traveling with some archaeologists who dug up the spot he pointed out, and they actually found the remains of barracks. It would be impossible for him to know it was there, so it must be from reincarnation.
I read in another book about an Indian boy who was born and said he was the reincarnation of S. Krishna, who was the owner of some school. He insisted on going there and his father took him, and he recognized the school. When he went to the manager's office he was surprised. He said, "I don't know who this guy is. I appointed someone else before I died."
It was actually true. S. Krishna had appointed someone else before he died but he didn't work out so they kicked him out. He asked, "Where is the poster that had my name?" It turns out the poster was there before he died and they had it taken down. He went to S. Krishna's family and he recognized the family: his sister, his sister's husband, and his former wife. He asked where several personal belongings were that he had before, and he even recognized his own photo. In a group picture he said, "That one was me." Everyone was amazed.
This was not some high teacher; he's just some normal person who remembered his past life. You don't have to be some realized being to remember your past life. There are also children who know how to play the piano very well even if they haven't learned.
And also when you see someone's photo and you feel something very special about that person: that's a past life connection. It's the same with times in history. When I was younger my favorite time in history was Alexander the Great and the Greeks; I really liked that time in history. I also liked the French and English fighting all the time. I studied World War II and really enjoyed that. My favorite times in history are always wars!
Some people think animals don't really suffer that much.
Of course they suffer. If you cut yourself a little bit like this, it hurts a lot. Just imagine the animals who get killed. It's the same, you just don't feel what they're going through. They are all sentient beings, same as us.
People who like to ride horses say horses are very strong, they don't mind.
I'm sure it hurts when you pull the reins and it catches in the mouth. I'm sure it hurts. It's amazing! To put something in their mouth and then pull on it. Probably when people go on the horses the animals are used to it, so it's not as difficult. But for most animals it's really difficult for them.
Like in India the oxen, the bullocks; they make a hole through their nose and put a ring through it. It pinches them. They also get whipped. Some of the oxen you can see really bad wounds from whips. They put a huge bar on their necks and have to carry such heavy loads.
An old friend told me when he was in the army some soldiers used to put their cigarettes through the ears of an ox, and the ox would go completely crazy. The older soldiers would pull on the reins to keep them there, and everyone would laugh. The oxen suffer so much in the army. The soldiers do really bad things with them. And in Spain a long time ago, they used the oxen to pull the artillery.
Since you were talking about emptiness and how difficult that is to attain, how should we think about enlightenment?
Enlightenment is very difficult to attain. It's not something you can do in one life. It takes many lives to get enlightened. You should think, "I got this life, this really incredible human rebirth, and I've got to take advantage as best I can." Don't think, "Oh, I've got my whole life," and not do anything. You have to do that.
What if someone's life is very difficult – someone has died, they don't have any money – and they hear this is a precious human life, but they don't believe it. What can they do in that situation?
You can give them an example of many other sentient beings who are suffering much more, like ants or animals. Or people who go to war and their whole family dies. So many other people suffer, so it's not as if their own suffering is the worst.
If you haven't experienced emptiness, is it still good to discuss?
Most of the people here haven't experienced emptiness. It's still good to know about it and to debate. I don't even know what emptiness is about. I only know the word emptiness. I don't know anything about it yet.
My attendant is in the second highest class and we talked about it, and he said emptiness is so difficult to understand, like almost impossible. It's really, really difficult.
Should we feel discouraged that it's so difficult?
For me, I don't feel discouraged. Whatever class I'm in, I just understand and focus on that. One day I'll get to the class on emptiness and I'll understand it. Maybe I'll be discouraged then, but now I'm just focusing on what I'm on!
It's important to study emptiness, but it's like here we have kindergarten. I haven't even started kindergarten yet! I start at the end of April. It's like kindergarten; it's the lowest class. That's when you start debate. You start with the most simple things.
At the beginning when you start about the colors, then the first thing is talking about the main colors. There are blue, yellow, white and red. You say these are the four main colors. Then the first debate is you learn is this: Are all colors yellow?         
You have to say no. All colors are not yellow. Red is not yellow. That's how your first start. After that you start going into permanence and impermanence, then you go into cause and result, then more complicated things.
If you start out with colors, it's interesting that later, when you study emptiness, one way you view emptiness is by analyzing how everything is just colors and shapes. It seems like these preliminary studies lead up to the more profound in sights.
Yes, that's right. It's like you learn the first words like "Momma, Poppa," and slowly you say, "I want food, I'm hungry," things like that. It goes slowly, and the vocabulary becomes more advanced. It's the same with Buddhism. They say more simple things first and then it becomes more complicated.
Now I've started thinking about something really complicated, something I don't understand very well. But the more I debate about it, the more I understand. The more I think about it, the more I understand.
Debate helps you understand how to think?
Yes, yes. Debate is very, very important because if you have some doubt you can debate about it and the doubt goes away. Let's say you have a doubt that all colors are yellow, so in debate you can say, "All colors are yellow," and everyone says, all colors are not yellow because red is not yellow. That doubt goes away. So it's like this.
The monks that study well like debate. The ones that don't like to study or don't study at all don't want to debate because they can't understand anything and they don't enjoy it. If you understand well, study well and read the texts all the time, you really have an eager mind. Then you learn and you go to debate and enjoy it.
When there is no debate, many monks feel bored and unhappy. Once they're studying they're happy. Some boys really like mathematics and are good at it, but others don't understand it, so they don't like it.
The most important thing is to read what you're studying many times. If you read it one time and don't understand it, then it's no good. At the beginning I would read a text and if I didn't get it I'd leave it. But if you read it once, read it again — read it 10 or 15 times and you'll start to understand it. It's also very important that good teachers explain it. If you don't have teachers to explain it it's very difficult to understand.
If you met someone who'd never heard of enlightenment and they asked you what it is, what would you say?
You can ask Lama Zopa. I haven't studied that very much.
From your understanding?
Attaining buddhahood is attaining buddhahood!
Well, let's say right now if I look at the tape recorder, I can see it very clearly. But when I close my eyes and think with my mind, I cannot see it as easily as when I looked with my eyes. With my open eyes I can see the writing and details, but when I close my eyes and think with my mind I can just see a form but I cannot see it as clearly.
What makes me not see it clearly are obscurations. But when you attain buddhahood then the obscurations go away, and whatever you think of, it's like seeing it as clearly as with your eyes open. You know everything.
What if some Westerner hears that and says [that] to say you can know everything sounds like a big ego trip?
First it's good to practice simple things, not complicated things. Just talk about simple things like kindness and compassion.
What advantages can you see of living in the West?
I don't see any advantages of living in the West.
None?
Maybe watching TV?! Sorry!
Even all the freedom we have?          
One day we will die; what will you get? Playing, watching TV – we think we're happy but when we die we won't get anything from it. You just study, then you work, you work to get money. Problems, problems, problems, money, money, money; having a nice time, getting old and dying, then finished. I feel fortunate that I've discovered Buddhism and I have such a good opportunity to practice instead of having a life of study, work, die, finished.
It sounds depressing like that.
Yes. I like watching TV a lot but it's not allowed here. Sometimes when I go to a city and stay in a hotel, then I get to watch it. At that time I feel TV is something incredible. Whatever is on the TV, even if it's an advertisement, I like it.
Can you learn anything from watching TV?
Maybe something educational, like National Geographic or Discovery Channel. Movies, though: it's all just lies. It's not real. All the shooting – like if there's 15 guys shooting one guy and they all miss him, then he shoots them all. You don't get anything by watching that, but still you like to watch it.
With all of the advantages, money and facilities we have in the West, there are no real meaningful advantages with this?
No. Maybe in this life you think you're happy, but you cannot take money with you when you die. You're born alone and you have to go alone. There's no one to go with you when you die.
The teachings say, "Give up attachment to this life in your mind," but how do you explain that to someone who doesn't believe in a next life?
The best thing is to say that you can't take anything with you when you die. You die alone. Like the Egyptian leaders: they put many things in their tombs to take with them when they die.
So what if someone says, "Well, no problem then. My life is short so I'm going to enjoy what I can while I'm here."
Many people say life is short, they have to take advantage of it. But when you're older and you start to think about death, then you'll change your mind.
When you're young you don't want to think about death.
They think death is far away but it can happen any second. Like right now I can die. I can have a heart attack and die. Or maybe I can die tomorrow. It can happen anytime.
We're been having some dance parties for young people at Land of Medicine Buddha in California. I asked Lama Zopa Rinpoche if we should continue having them. You see, when they come, they also turn the prayer wheel and see holy images. Rinpoche said, "Yes, definitely. It must be enjoyable or they won't come back." Do you think that mixture of Dharma and entertainment is good?
Yes, it's important. Let's say some boy really wants to dance, and he goes and everyone is sitting there meditating. He would say, "This is really pathetic." He might get up and go.
But if he goes and everyone is there dancing, and he dances too, and suddenly everyone sits to meditate for a while, then maybe he'll look around and everyone else is doing it, so he gets interested. Here in Sera, though, it's not like that!
Do you feel more like a Tibetan, or Spanish?
When I am with Tibetans I feel more Tibetan. His Holiness says, "When you are with Tibetans you have to act Tibetan. When you are with Westerners you have to act more Western."
For example, with Westerners, when you eat you can't slurp, but here it's normal to make loud slurping noises when you eat. And in the Western tradition if you ask people if they want more food, they say directly, "Yes." But in Tibetan traditions when they ask if you want more you have to say, "No, no." And then they say, "Yes, have more;" and you say, "No, no, no" – and then they put more food on your plate anyway! There was one geshe who went to America. He was having lunch on his first day there. The food was delicious; he really, really liked it. He ate everything very quickly, and someone came and asked him if he wanted more. Of course, following Tibetan tradition, he said, "No" – and the person went away. He was very surprised!
Do you think it's necessary for Tibetan teachers to live in the West for them to really understand it?
Yes, yes, definitely; experience is important. Like Lama Yeshe. When he was in the West he tried all types of Western things just to know what it was, what the Western mind was. So then he would teach like that, you know?
Have you read any of Lama Yeshe's books?
Not many. Sometimes when I am reading them I get bored. It's so complicated.
Do you think it's strange to be a reincarnation of a lama?
Not for me because from since I was young I have been known as a reincarnation; it's something completely normal for me.
Does it feel natural to have the responsibility where people will already be devoted to you since you are a reincarnated lama?
It feels like I have to study well. I have to study well so that I can help people. If I don't study well and am just spacing out then I feel bad.
Are you confident?
I am not confident; I am just hoping.