News/Media

*If a menu item has a submenu clicking once will expand the menu clicking twice will open the page.

Study & Practice

*If a menu item has a submenu clicking once will expand the menu clicking twice will open the page.

Projects

*If a menu item has a submenu clicking once will expand the menu clicking twice will open the page.

FPMT

Superficial observation of the sense world might lead you to believe that people's problems are different, but if you check more deeply, you will see that fundamentally, they are the same. What makes people's problems appear unique is their different interpretation of their experiences.

Lama Thubten Yeshe

*If a menu item has a submenu clicking once will expand the menu clicking twice will open the page.

Shop

The Foundation Store is FPMT's online shop and features a vast selection of Buddhist study and practice materials written or recommended by our lineage gurus. These items include homestudy programs, prayers and practices in PDF or eBook format, materials for children, and other resources to support practitioners.

Items displayed in the shop are made available for Dharma practice and educational purposes, and never for the purpose of profiting from their sale. Please read FPMT Foundation Store Policy Regarding Dharma Items for more information.
Advice from Lama Zopa Rinpoche
Advice from Lama Zopa Rinpoche
The Lama Yeshe Wisdom Archive collects advice from Lama Zopa Rinpoche on many topics in the form of short talks or letters to students. Here are a few responses dealing with fear. Many more can be found online at https://www.lamayeshe.com/advice/lama-zopa-rinpoches-online-advice-book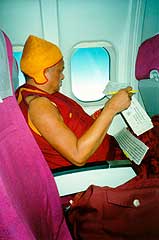 Fear of Flying
A student was afraid of flying
Just before departure and during the flight, it is very good to recite the names of the ten directions' buddhas. If you keep on reciting the names, in whichever direction you are flying, if you recite that Buddha's name and pay one-pointed attention to this, not only will you be free from danger, but your wishes will be fulfilled. So not only is this for safe travel, but for the successful fulfillment of whatever goals you had for going in that direction.
It is very good to pray not just for your own safety, but on behalf of all the people in the airplane – all 300 passengers and crew, or however many people there are – for them all to have a safe journey. Not only that, but you can pray that whoever this airplane carries may always be safe. It's very good to pray like that.
Fear of Snakes
A German woman had had a fear of snakes since she was a child. At the age of nine, she saw a smashed snake in her parents' garden, and another woman in Germany, who was clairvoyant but not Buddhist, told her that in a former life she had destroyed people.
You do not need clairvoyance. This is explained by karma. In a past life, after dying because of a snake killing you or dying out of fear of snakes, this often goes into the next life.
Some beings are born in a shape that gives fear to others. It is just like that. Often it is a result of anger. You did some unpleasant things to others, and now you fear the result.
Even I would run away when I see a snake. That is normal.
Think of the suffering of the snake: It has no chance. If it had a choice, it would take another form. The snake itself has a fear of eagles. Use the snake to generate compassion and to develop bodhichitta. If you had the opportunity, you would also choose another body, not a body that nobody likes. Snakes are very afraid; they hide themselves and disappear as soon as someone comes close.
Meditate on compassion, and you will reach enlightenment by understanding the suffering of the snake. Now the snake becomes so compassionate. Now the snake is actually giving you enlightenment, and you are able to liberate all sentient beings. When you have compassion and bodhichitta, no snake can give you harm.
For example, when St. Francis of Assisi met a dangerous wolf, the wolf actually lay down on its back. St. Francis tamed the wolf's mind by the power of his compassion. He told the wolf to stop harming others, and the wolf did. No being could harm St. Francis of Assisi; even the elements such as fire and water can be controlled by the power of compassion.