News/Media

*If a menu item has a submenu clicking once will expand the menu clicking twice will open the page.

Study & Practice

*If a menu item has a submenu clicking once will expand the menu clicking twice will open the page.

Projects

*If a menu item has a submenu clicking once will expand the menu clicking twice will open the page.

FPMT

Buddhist meditation doesn't necessarily mean sitting cross-legged with your eyes closed. Simply observing how your mind is responding to the sense world can be a really perfect meditation and bring a perfect result.

Lama Thubten Yeshe

*If a menu item has a submenu clicking once will expand the menu clicking twice will open the page.

Shop

The Foundation Store is FPMT's online shop and features a vast selection of Buddhist study and practice materials written or recommended by our lineage gurus. These items include homestudy programs, prayers and practices in PDF or eBook format, materials for children, and other resources to support practitioners.

Items displayed in the shop are made available for Dharma practice and educational purposes, and never for the purpose of profiting from their sale. Please read FPMT Foundation Store Policy Regarding Dharma Items for more information.
Buddhism in the Family: Dealing with the "Terrible Twos"
April-June 2005
By Ven. Thubten Yeshe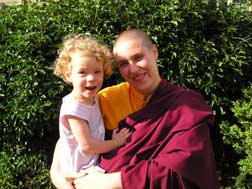 A nun and a two-year-old walk into a supermarket. The two-year-old throws a tantrum. The flustered nun, epitome of Dharma sincerity in her red robes, watches her little daughter (and her own mind) in dismay …
Every now and then, concerned members and visitors to Vajrasattva Mountain Centre (Katoomba, Australia) enquire about my two-year-old daughter Lily Rose, who lives here with me and her grandmother, Ven.Tenzin (Mandala August-September 2004). Will she be brought up with religious freedom? Does she know this? Can she do that? My general response is one of a mother whose ego is wrapped up in her child. Actually, this is often how I see parents: as people who feel that anything regarding their children is a reflection upon them.
Yes, I am a nun, and a very happy one at that, and my little daughter has a very supportive and loving family, albeit an unusual one, but the problem isn't in people's concern, which I am sure is well-placed. The problem is always in my reaction. "Of course, she will go to school… Of course, she socializes with other children… She can count to ten for goodness sake!!" But really, who cares.
My daughter is just an extension of my ego, a condition for the egocentric tentacles of the eight worldly dharmas to arise, and I am sure that I am not the only parent who suffers from this. When my daughter receives praise, I feel as though I am being praised; when my daughter, is blamed and scrutinized, I feel that it is a direct attack on me! Does this sound familiar? I am swinging constantly – happy one moment, arrogant the next. I spend much of my time justifying my daughter's upbringing to people who really aren't that interested, and this is wasted energy that could be spent on my Dharma practice.
I can see this as though it is some ridiculous show, a performance. My "I" is under attack because my girl wees in the middle of a restaurant, or throws a tantrum in the supermarket. I see mothers and fathers all the time dealing with the latter. "Oh, PLEASE be quiet!" we say, nervously looking around trying to deflect what we think is harsh judgment. Yet people probably don't even care; their own suffering, I am sure, is far more important.
Often I can be quite rude when people challenge my 'I' about my daughter, which is not a good reflection on the Sangha and the center. My child is constantly scolded due to my lack of patience whenever she does something that may make me look bad or embarrass me. And I am sure it is easy for everyone to see the suffering I undergo and create.
Whenever my daughter is harmed, it is the other kid's fault; they and their parent(s) become my enemy, and I delve into a mind of anger and hatred. Too many enemies. Too much anger. Way too much suffering.
I have had to develop an antidote. A way of dealing with this "ego bound in my child," this "my child is an extension of my 'I'." Why? Because it really is suffering. I suffer, my child suffers, and of course, I make others suffer.
My teacher (and Lily Rose's grandmother), Ven. Thubten Tenzin, is very kind. Her advice is the same as that which she gives to those in relationships. When you work for one person (whether it be yourself, your partner, or your child), you exclude so many others. There is no equanimity and no peace. How can one possibly become the warrior saint when one is engaged in constantly protecting only oneself or one's family? This makes sense to me. I became a nun not because I thought it was easy (it sure ain't easy!) but because when I was in a relationship, only one person was important. We can agree that "all" is far more important than "one."
Where does the law of cause and effect come into this? When do I begin to see that not everything is about me, and that this being, who is with me due to some common cause, has her own results ripening, good and bad?
Another word of advice that I cherish is to see the 'selflessness' of my child and myself. Also, understanding past and future lives and understanding that because I am beginningless and endless I must release this tight bondage of ownership that I have over my girl – all these are helpful. It would be nice to remember that she had been my kind mother countless times, and that at some time all sentient beings have been my closest, dearest mother, child, friend. It would be a kind of liberation to think in this way, a higher training for parents. Most importantly though, I think this is a nicer view, a bigger picture, a universal view.