News/Media

*If a menu item has a submenu clicking once will expand the menu clicking twice will open the page.

Study & Practice

*If a menu item has a submenu clicking once will expand the menu clicking twice will open the page.

Projects

*If a menu item has a submenu clicking once will expand the menu clicking twice will open the page.

FPMT

Anything is possible. Everything is possible

Lama Yeshe

*If a menu item has a submenu clicking once will expand the menu clicking twice will open the page.

Shop

The Foundation Store is FPMT's online shop and features a vast selection of Buddhist study and practice materials written or recommended by our lineage gurus. These items include homestudy programs, prayers and practices in PDF or eBook format, materials for children, and other resources to support practitioners.

Items displayed in the shop are made available for Dharma practice and educational purposes, and never for the purpose of profiting from their sale. Please read FPMT Foundation Store Policy Regarding Dharma Items for more information.
A sacred trek round Mount Kailash
by Toscino D'Ancona
From the very first moment I saw the name Kailash I was obsessed with the thought of going there. It was not possible then. I even thought of piercing my lips and placing a miniature trisuli (Shiva's trident) through them to demonstrate a vow of silence and continuing on into Tibet as a native born Hindu Sadhu. I had a chance of pulling this off — long black matted locks, dark brown eyes, deeply browned skin, calloused feet from not wearing shoes — but at that time the border was closed, not only to non-Indians but to Indians as well. China and India were in the throes of a border dispute and the Cultural Revolution was in full swing across China. No one was going into or out of Tibet except those who had thorough knowledge of the most remote and dangerous passes and could travel undetected between India and Tibet.
In the second half of the 1980s China began allowing Westerners to travel to Tibet in an effort to woo foreign currency and to show the world how progressive the leadership in Beijing had become, wishing to distance itself from the atrocities of the Cultural Revolution. In 1985 the first Westerners since 1949 were allowed to visit Kailash when Lama Govinda and Li Gotami traveled in the region. One of them, the late Brian Beresford, was a close friend of mine. He and Sean Jones were full of stories about the wonders of Kailash and that region of the world. This greatly strengthened my long cherished dream of making pilgrimage to Kang Rinpoche and, as they had been successful, I knew it was possible.
Many years later, five friends and I finally circumambulated Mt. Kailash and my dream came true.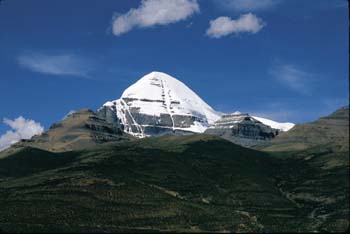 The pilgrimage begins
We entered Tibet by walking over the Friendship Bridge from Nepal. For two days before this, we had stayed in Nagarkoth, a picturesque area located at about 10,000 feet (3075 meters) in the Himalayan foothills of Nepal. The strategy was to begin the process of acclimatizing to the very high altitudes of the Tibetan plateau. In those two days, before the ascent to much higher altitudes (anywhere from 16,000 to 19,000 feet — roughly 4800 to 5800 meters) we began taking 250 mgs. of diamoxin twice a day to prevent altitude sickness. I would wholeheartedly recommend these strategies for anyone wishing to make the pilgrimage to Kailash. Altitude sickness can be very serious. It is the number one cause of death among high altitude mountain climbers and others visiting the higher regions of the Tibetan plateau …
… From speaking with Tibetans across the length and breadth of Tibet we came to know that at least 90 percent of Tibetans would have images of His Holiness the Dalai Lama in their homes and places of business if they were permitted to do so. This is not a political statement on their part; they see His Holiness as their spiritual guide and guru. Spiritual and temporal affairs were so integrated for so long in Tibet that for Tibetans there is really no distinction. The Chinese leadership in Beijing seem to fear that the powerful faith Tibetans have in His Holiness would cause political upheaval in Tibet if Tibetans were given free reign to display their devotion.
This repressive policy is mandated from Beijing, not the Chinese living in Tibet. It was refreshing to learn that Tibetans do not dislike the Chinese because they are Chinese….
… Things would be so much better if the leadership in Beijing would ease up on restrictions. The Tibetans know that their old system is gone and are reconciled to it but they are adamant in wishing to retain their cultural and spiritual history and heritage. This does not mean that they are lobbying for independence in the same way that nations of the former Soviet Union have achieved. From the Tibetan point of view, being able to display images of His Holiness is a spiritual right of theirs. If freedom to practice religion is the policy in Tibet (which is the Beijing party line) then why are Tibetans not permitted to display images of His Holiness in their gompas, homes, yurts and teahouses? Devout Catholics the world over are free to have images of the Pope. His Holiness occupies a similar place in the hearts of the Tibetan people….
… After Lhatse we headed west. We ran into a great deal of trouble in Sang-Sang. The river was practically impossible to ford and we were stuck there for nearly 24 hours. We were only able to get all of our vehicles across by deals made between our drivers and guide with other drivers who were stuck and going in the opposite direction, and also with the assistance of about 200 village people (who towed us across with ropes made of braided yak hair) and $100.00 U.S. to inspire people to assist us. It was quite a production.
The day we left Sang-Sang we camped on the other side of another river where the bridge had collapsed the day before with a truck full of Tibetan pilgrims. Thirteen people died. We were to see their corpses several days later at the Charnel Ground of 500 Foe Destroyers on the flanks of the mountains that ring Kang Rinpoche.
This is an excerpt from a longer article appearing in Mandala.
Toscino D'Ancona has been a student of Buddhism for thirty years. He began his formal studies at Kopan, Nepal in 1971 under Lama Thubten Yeshe. In June of 1973 he was ordained as a monk by the great master, Trulshig Rinpoche. He disrobed in June of 1979 and is now an instructor of Buddhist meditation and philosophy, teaching at Buddhist centers around the United States. He is employed by the University of California, San Francisco as a Special Projects Manager and also conducts a private practice where he specializes in treating people suffering from substance abuse and chemical dependency using meditation and Buddhist psychology as treatment components.