News/Media

*If a menu item has a submenu clicking once will expand the menu clicking twice will open the page.

Study & Practice

*If a menu item has a submenu clicking once will expand the menu clicking twice will open the page.

Projects

*If a menu item has a submenu clicking once will expand the menu clicking twice will open the page.

FPMT

We often feel miserable and our world seems upside-down because we believe that external things will work out exactly as we plan and expect them to.

Lama Zopa Rinpoche

*If a menu item has a submenu clicking once will expand the menu clicking twice will open the page.

Shop

The Foundation Store is FPMT's online shop and features a vast selection of Buddhist study and practice materials written or recommended by our lineage gurus. These items include homestudy programs, prayers and practices in PDF or eBook format, materials for children, and other resources to support practitioners.

Items displayed in the shop are made available for Dharma practice and educational purposes, and never for the purpose of profiting from their sale. Please read FPMT Foundation Store Policy Regarding Dharma Items for more information.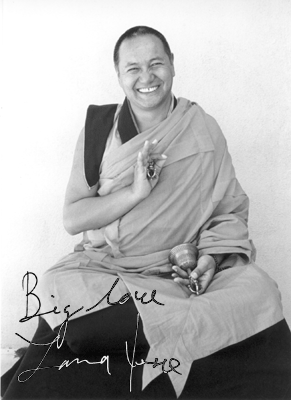 The lamas have returned from their 1975 tour and will leave Delhi for Dharamsala on October 24. Lama Yeshe wants to present his usual tour report to His Holiness the Dalai Lama without delay. But that day is momentous for two Australians as Adele Hulse's recounting of the life of Lama Yeshe continues …
That day, 24 October 1975, is engraved forever in the minds of Australian students Gloria and Bill Searle*. At the Fourth Kopan Course in 1973, Lama Yeshe paid considerable attention to their four-year-old son, Adam. One day, Lama spoke very seriously to Adam in front of his parents, saying, "You must take care of yourself, Adam. You are reckless."
Gloria and Bill lived on a small farm at Mullumbimby in New South Wales, prime hippie country. On that day, Adam, by then six years old, was playing with his little friend, Jason, at the edge of a dam on the property. Bill was working in the family's commercial herb garden just below it.
"It was about two o'clock in the afternoon," said Bill. "Adam and Jason were chasing dragonflies around the dam and nagging me to take them to the beach. Suddenly I heard Jason yell, 'Come back Adam!' Something in the tone of his voice made me climb up there. Jason was standing knee-deep in thick brown water, pointing to a flat, empty space.
"I remember thinking very strongly that I just didn't want to acknowledge this. I just wanted to walk away, pretend it wasn't happening. But I stripped off and jumped in. I swam up and down that dam for I don't know how long. Twice I had to crawl out and vomit up all the filthy brown water I'd swallowed. Little Jason just stood there, mute.
"Then I found him; face down in the mud in ten feet of icy cold water. I got hold of him, but his little body slipped out of my grasp before I got to the surface. To make things worse, I had to get out and vomit again because I was full of water. I went back in and got him, and he was entirely dead. I wasn't even going to attempt resuscitation.
"Then I had a vision of Lama Yeshe. I can't describe it, other than to say he was there, standing on the rise on the other side of the dam. The vision was absolutely clear and seemed completely external – outside of me. He appeared to be a little bigger than normal size but not huge. He was in robes and bathed in this golden light and looking directly at me. It was like a reality check, because everything happening right then was pretty unreal. The message I got from him was that there was something I could do about it, that I was not unempowered.
"I immediately started doing CPR, which I'd recently learned on a building site first-aid course. By now, Gloria knew what was happening and had raced off to find a telephone. We didn't have one. Then completely out of the blue, a friend arrived who took over the mouth-to-mouth. My breathing had become pretty irregular, but I could keep up the heart massage. I felt it give a kick and realized that he might come back.
"When the ambulance came, we took him to a hospital, forty minutes away. We had oxygen on him by this time, and I just kept up working away at his heart. A doctor friend of ours happened to be on duty in casualty. He took us aside and said, 'You should hope he does not live because he's full of very dirty water and has a huge brain edema and badly damaged lungs.' We estimated he'd been under the water for ten minutes."
"Everyone started praying for him," said Gloria. "Every church in Mullumbimby held a service for him. Two days later he was still in a coma, and everyone was sure he would die. Anila Ann McNeil was visiting the town at the time, and she invited us to a puja they were having for Adam, but we couldn't go, we were just too upset. The next day Adam woke up, pulled out all the equipment he was hooked up to, and sat up. Our doctor friend told us he was completely clean and had only very slight brain damage, which might show up during adolescence. The only sign of it we ever noticed was his poor ball-handling skills. He grew up to be a healthy man, and an environmental lawyer.
"The really surprising thing about the vision of Lama was that it happened to Bill, not to me. He wasn't a Dharma student to the same extent as I was. He hadn't even thought about Lama Yeshe for a long time before that day….
This article can be read in its entirety in Mandala