News/Media

*If a menu item has a submenu clicking once will expand the menu clicking twice will open the page.

Study & Practice

*If a menu item has a submenu clicking once will expand the menu clicking twice will open the page.

Projects

*If a menu item has a submenu clicking once will expand the menu clicking twice will open the page.

FPMT

Meditation is not on the level of the object, but on that of the subject. You are the business of your meditation.

Lama Thubten Yeshe

*If a menu item has a submenu clicking once will expand the menu clicking twice will open the page.

Shop

The Foundation Store is FPMT's online shop and features a vast selection of Buddhist study and practice materials written or recommended by our lineage gurus. These items include homestudy programs, prayers and practices in PDF or eBook format, materials for children, and other resources to support practitioners.

Items displayed in the shop are made available for Dharma practice and educational purposes, and never for the purpose of profiting from their sale. Please read FPMT Foundation Store Policy Regarding Dharma Items for more information.
Study Versus Meditation: Do they complement or compete with your practice?
Is it important for somebody interested in achieving enlightenment to study? Certain lineages seem to place more emphasis on meditation than study, saying that study is not necessary because it just fills your mind with conceptual thoughts and that conceptual thinking is not meditation…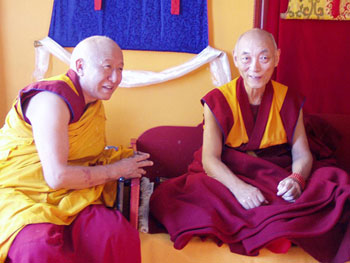 Nick Ribush asked Choden Rinpoche, Losang Gyalten Jigdrel Wangchuk, who had a formidable study record as a young man and who later went into solitary retreat for nineteen years, for his wise counsel…
Choden Rinpoche: The recommended procedure is first to listen to teachings, then to contemplate what you have heard, and then to meditate. Therefore, at the beginning, it's important to find a learned teacher with whom to study; then analyze with logical reasons whatever you have heard, which is what we mean by contemplation; and then focus single-pointedly on that which you have established after analysis, which in this context is what we mean by meditation. So, these three have to go in that order: hearing, contemplation, and meditation. This was said by both Shakyamuni Buddha and Buddha Maitreya.
NR: Thank you, Rinpoche. Which teaching should we listen to first?
CR: That depends on the kind of study you're planning to do. If it's going to be extensive, you should follow the example of the monks in the great monasteries of Sera, Drepung, and Ganden, where they study five major topics [Prajnaparamita (perfection of wisdom), Madhyamaka (middle way philosophy), pramana (valid cognition), abhidharma (phenomenology) and vinaya (monastic discipline)] for many years or even their entire life. At the intermediate level of study, you can focus on such texts as Shantideva's Guide to the Bodhisattva's Way of Life or its commentary, the Compendium of Training. If you don't have much time, you can study the lam-rim.
NR: Is meditation part of the training of those monks in the great monasteries following the extensive course of study?
CR: Meditation is not a part of the formal study program, but there are monks who both study and meditate. They meditate on what they study – study and practice should be done together. The monks memorize by day, recite what they've memorized in the evening, and later at night, meditate on what they've studied. Most of the monasteries had a rule where, at night after the disciplinarian had given the signal, everybody would have to stop reciting so as not to disturb those meditating. They weren't even allowed to walk around with their shoes on. So, even though meditation wasn't compulsory or part of the curriculum, the monks were encouraged to meditate, and the conditions for them to be able to do so were created.
NR: Were there meditation teachers or yogis in the great monasteries to guide the monks in their practice?
CR: Yes, and whatever the monks were taught was meant for meditation. They studied emptiness in order to meditate on it, calm abiding in order to meditate on it, and so forth.
NR: However, people who have jobs and families and not much time should focus on the lam-rim?
CR: Yes, but even lam-rim texts can be extensive, middle length, or short, and the longer ones may be difficult for people with jobs and families. Short lam-rims – like Liberation in the Palm of Your Hand, the Swift Path, or the Blissful Path – might be more suitable for people with little time.
NR: How should busy people meditate on the lam-rim they study?
CR: They have to make the time to meditate, to practice. In Tibet, there was no set time for going to work. People worked on their own schedule, for as long or as short as they wanted. They could practice for a couple of hours in the morning before going to work. But here you have to work according to what your employer wants, so you have to make time as best you can, like an hour before work and an hour after…
This article can be read in its entirety as a PDF.