News/Media

*If a menu item has a submenu clicking once will expand the menu clicking twice will open the page.

Study & Practice

*If a menu item has a submenu clicking once will expand the menu clicking twice will open the page.

Projects

*If a menu item has a submenu clicking once will expand the menu clicking twice will open the page.

FPMT

The office is a place for Dharma practice. When one goes to the office, dealing with people, one has to recognize it's a place to practice lam-rim, the three principles of the path, tantra, and the six paramitas. The six paramitas fit very well for daily life. They offer protection for you. Everything is there.

Lama Zopa Rinpoche

*If a menu item has a submenu clicking once will expand the menu clicking twice will open the page.

Shop

The Foundation Store is FPMT's online shop and features a vast selection of Buddhist study and practice materials written or recommended by our lineage gurus. These items include homestudy programs, prayers and practices in PDF or eBook format, materials for children, and other resources to support practitioners.

Items displayed in the shop are made available for Dharma practice and educational purposes, and never for the purpose of profiting from their sale. Please read FPMT Foundation Store Policy Regarding Dharma Items for more information.
A Peaceful Wonderland of Learning Called Alice
by Darlene Lorrain
A little miracle in education is flourishing in poor villages in India. Alice Project, an experiment in 'Universal Education' is bringing unity of body, mind, and external world to students and teachers in Sarnath and Bodhgaya, India. By facilitating the discovery of the nature of mind, understanding the root of suffering, focusing on interdependence and cultivating happiness, Alice Project Schools are creating communities of peace and service.
In rural India, where suffering is life's journey, two veteran teachers from Italy embarked on an educational quest. Curious to see if the Alice Project methodology they developed in Italian public schools would also be effective in an entirely different cultural and socioeconomic setting, Valentino Giacomin and Luigina De Biasi started an educational service project in Sarnath, India. Now, eleven years later, Alice Project School celebrates the high school graduation of their first students, and a BA program in Education and Psychology is currently in the accreditation process.
Below: Rural Bodhgaya. Older girls walk to school with their precious books wrapped in recycled plastic bags. Generally, girls drop out of school when they get older in order to tend to home chores and family. However, the drop-out rate at Alice Project Schools is much less than in any public school.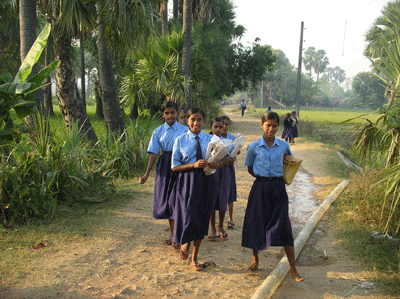 Since its introduction in Sarnath, Alice Project Schools and programs have taken root in rural Bodhgaya, Taiwan, and now Bogotá, Colombia. In India alone, Alice Project Schools offer accredited education to over 900 students from poor village families. The projects also include evening education for working children, a program for delinquent youth, adult education, a program for destitute women, and a touring theater group presenting psychosocial issues to surrounding communities. The Sarnath and Bodhgaya schools also have resident programs, housing students from troubled families or from areas of political strife such as Chakma youth from the Chittigong hill tribes.
Alice Project methodology was birthed in the early '80s when Giacomin and De Biasi initially took up the challenge of addressing the widespread educational issue of students' lack of attention, inability to concentrate, and aggressiveness that was a concern in Italy, just as it is currently in the US and other Western countries. Originally motivated and inspired by the teachings and inspired writings on Universal Education of Lama Thubten Yeshe and, more recently, Lama Zopa Rinpoche, they found guidance in the Buddhist philosophy of mindfulness, non-duality, and understanding of the root causes of suffering to begin their educational research experiment…
… Recognizing that learning is not readily attainable or sustainable if a child's mind is not present, Alice Project integrated a "special program" curriculum into the government-mandated academic curriculum. Exercises in attentiveness, mindfulness, perception, and self-inquiry were presented, refined, and documented over a ten-year period, revealing students' increased ability to concentrate and learn, associated with a decrease in aggressive behavior. An equally important finding was that all children, even kindergartners, were found to be not only capable but also eager to discover and share their awareness of thoughts, emotions, and life's interdependence. Also, teachers and families found this new perspective compatible with their own religious traditions….
This article can be read in its entirety in Mandala