News/Media

*If a menu item has a submenu clicking once will expand the menu clicking twice will open the page.

Study & Practice

*If a menu item has a submenu clicking once will expand the menu clicking twice will open the page.

Projects

*If a menu item has a submenu clicking once will expand the menu clicking twice will open the page.

FPMT

However the very bottom line is to do all ones actions with bodhichitta. That is the best, the most meaningful way to think during your break time. This makes your life most beneficial. As much as possible with awareness keep ones attitude and thoughts in bodhichitta, the thought of benefiting others, try to do all the activities with that mind, including doing your job and throughout the day. This way even in your break time whatever you do becomes the cause of happiness.

Lama Zopa Rinpoche

*If a menu item has a submenu clicking once will expand the menu clicking twice will open the page.

Shop

The Foundation Store is FPMT's online shop and features a vast selection of Buddhist study and practice materials written or recommended by our lineage gurus. These items include homestudy programs, prayers and practices in PDF or eBook format, materials for children, and other resources to support practitioners.

Items displayed in the shop are made available for Dharma practice and educational purposes, and never for the purpose of profiting from their sale. Please read FPMT Foundation Store Policy Regarding Dharma Items for more information.
A new generation of Tibetan lamas
Three young Tibetan lamas talk about the Dharma, young people, and how to make life worthwhile. Mandala's Julia Hengst interviewed Ling Rinpoche and Zong Rinpoche, and Linda Noble interviewed Khunu Rinpoche. All are reincarnations of renowned Tibetan masters.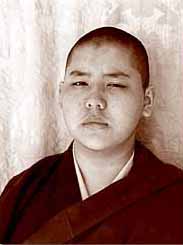 Ling Rinpoche
Ling Rinpoche was found at an orphanage in north India and recognized as the reincarnation of Kyabje Ling Rinpoche, who passed away in 1983. He was ordained as a monk as a very small child and has since been studying at Drepung Loseling monastery in Mungod, south India. Now 16, and a commanding presence, Ling Rinpoche showed his qualities even at the age of 6 when he said, "Playing with toys is fun, but studying hard is much more important. I already know many things, but people need so many different advices. I must learn more."
The previous Ling Rinpoche was the ninety-seventh Holder of the Throne of Ganden, thus the head of the Gelug tradition of Buddhism in Tibet, the first being the Gelug founder Tsong Khapa in the fourteenth century. Revered as an emanation of the Buddha Yamantaka, Ling Rinpoche was the senior tutor of His Holiness the Dalai Lama, a role he's had for many lives.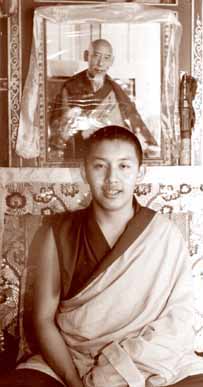 Zong Rinpoche
Now 15, Rinpoche studies at Ganden Shartse in Mungod, south India. "He loves debate so much that if he is eating and the debate bell rings, he won't even finish his food but will go to debate instead," his attendant Ven. Tenzin Wangchuk said.
The previous Zong Rinpoche passed away in 1984 at Ganden Shartse, where he was once abbot. He was known as an emanation of the Buddha Heruka Chakrasamvara. After his exile from Tibet, Rinpoche was appointed by His Holiness the Dalai Lama as principal of the Institute of Higher Tibetan Studies at Varanasi, India. First invited to the West by Lama Thubten Yeshe in 1978, Rinpoche had many Western students.
Khunu Rinpoche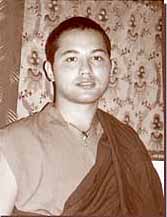 Now 22, Rinpoche was born in Denmark to a Danish mother and a Tibetan father. Recognized as the reincarnation of the previous Khunu Rinpoche by His Holiness Sakya Trizin and His Holiness the Dalai Lama, he now studies in at Mindroling Monastery in Dehradun, India, and visits his small monastery in Kinnaur, birthplace of his predecessor.
The previous Khunu Rinpoche, author of The Jewel Lamp: A Praise of Bodhicitta (published by Wisdom as Vast as the Heavens, Deep as the Sea: Verses in Praise of Bodhicitta), was a great scholar of the Rime (nonsectarian) tradition of Tibetan Buddhistm. He spent thirty-four years in all studying throughout India and Tibet. He gave teachings to many high lamas, including the previous Ling Rinpoche and the present Dalai Lama.
This article can be read in its entirety in Mandala