News/Media

*If a menu item has a submenu clicking once will expand the menu clicking twice will open the page.

Study & Practice

*If a menu item has a submenu clicking once will expand the menu clicking twice will open the page.

Projects

*If a menu item has a submenu clicking once will expand the menu clicking twice will open the page.

FPMT

If you want to be loved, love others first.

Lama Zopa Rinpoche

*If a menu item has a submenu clicking once will expand the menu clicking twice will open the page.

Shop

The Foundation Store is FPMT's online shop and features a vast selection of Buddhist study and practice materials written or recommended by our lineage gurus. These items include homestudy programs, prayers and practices in PDF or eBook format, materials for children, and other resources to support practitioners.

Items displayed in the shop are made available for Dharma practice and educational purposes, and never for the purpose of profiting from their sale. Please read FPMT Foundation Store Policy Regarding Dharma Items for more information.
ANIMAL LIFE: Benefiting the Animals in Our Lives
By Lama Zopa Rinpoche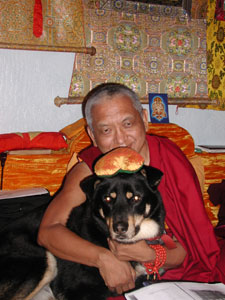 Lama Zopa with Om Mani Padme Hum, the perfect Dharma name for a pet.
We are not the only beings who can benefit from holy objects. Animals can liberate themselves from samsara simply by circumambulating a stupa, statue, or other holy object, even without the motivation. Lama Zopa Rinpoche reminds us that just by seeing, hearing, touching, or thinking about any holy object containing the four dharmakaya relic mantras, anyone (and that includes all living creatures) can be liberated from all negative karma and sufferings.
Inside the retreat house in Washington, Buddha Amitabha Pure Land, we have many insects. Every day we catch as many as possible in large jars with holes in the lids, so that they have ventilation, and we circumambulate a large altar full of holy objects – relics, photos, and images of buddhas, tsa-tsas, and stupas (filled with the four dharmakaya relic mantras) – running as fast as possible to do as many circumambulations as we can with the jars full of insects. Then we release them outside.
It is so incredible how fast this will purify them. By circumambulating with them, we will give all of them a happy rebirth in the body of a happy transmigrator in the next life. Not only that, we give them the opportunity to practice Dharma in their next life, which is the most important thing, to have a better rebirth in order to be able to accomplish the path, cease the defilements, and achieve enlightenment. This gift to them repays the kindness, since they have been our mothers numberless times, and because of their kindness we have been able to practice Dharma.
For these reasons I asked for a stupa to be built at my house in California, Kachoe Dechen Ling. It is an extremely beautiful stupa filled and covered with many tsa-tsas and the four dharmakaya relic mantras. The idea to build the stupa came because Ven. Roger wanted to have a dog. We got a dog from somebody who could no longer keep her and called her OM MANI PADME HUM.
If you have a pet it is very good to give it a Dharma name rather than one that has no benefit. Dharma names such as the words for the path to enlightenment (renunciation, bodhichitta, and emptiness, in English, Tibetan, or Sanskrit) leave a positive imprint on the mind of the animal.
Whenever OM MANI PADME HUM hears her name, it plants the seed for the whole path to enlightenment. It also creates the cause for her to understand all the 84,000 teachings of Buddha because they are contained in OM MANI PADME HUM: the two truths, the path, method and wisdom, and the goal, dharmakaya and rupakaya. It leaves a positive imprint for her to be able to hear all the sutra and tantra teachings, the extensive teachings of Buddha, each time we call her name. It definitely brings her closer to enlightenment.
Other things that you can easily do for your pets is to read aloud Lam-rim prayers, which contain the whole path, or sutras, such as the Heart Sutra, Diamond Cutter Sutra, the Sutra of Golden Light, and the Arya Sangata Sutra, and chant powerful mantras as much as possible.
Now that we have the stupa at Kachoe Dechen Ling, we also have three or four animal liberation practices each month (on the Tibetan 8th, 15th, and 30th and on all wheel-turning days). We buy worms, insects, etc., and circumambulate them around the stupa as many times as possible, then we chant mantras and blow on water, which we sprinkle on them; we then liberate the animals.
When you bring people around the stupa, then you are liberating human beings. When you educate people about the benefits of the four dharmakaya relic mantras and the benefits of holy objects, then you are inspiring those sentient beings to build a stupa or to make circumambulations, prostrations, and offerings, to collect unimaginable merits, and to purify.