News/Media

*If a menu item has a submenu clicking once will expand the menu clicking twice will open the page.

Study & Practice

*If a menu item has a submenu clicking once will expand the menu clicking twice will open the page.

Projects

*If a menu item has a submenu clicking once will expand the menu clicking twice will open the page.

FPMT

You don't need to obsess over the attainment of future realizations. As long as you act in the present with as much understanding as you possibly can, you'll realize everlasting peace in no time at all.

Lama Thubten Yeshe

*If a menu item has a submenu clicking once will expand the menu clicking twice will open the page.

Shop

The Foundation Store is FPMT's online shop and features a vast selection of Buddhist study and practice materials written or recommended by our lineage gurus. These items include homestudy programs, prayers and practices in PDF or eBook format, materials for children, and other resources to support practitioners.

Items displayed in the shop are made available for Dharma practice and educational purposes, and never for the purpose of profiting from their sale. Please read FPMT Foundation Store Policy Regarding Dharma Items for more information.
An Interview: His Holiness the Karmapa speaks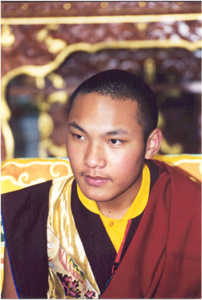 His Holiness the Karmapa

Ven. Sangye Khadro spoke to the Seventeenth Karmapa, Ogyen Trinley Dorje, [Mandala April-May 2004] earlier this year about the mind, meditation, and the differences, if any, between the Kagyu and Gelug traditions.
Ven. Sangye Khadro: The mind is very important in Buddhism, but it is something very elusive, hard to understand. Could Your Holiness give some words of advice on how to understand and work with the mind?
His Holiness the Karmapa: To understand the nature of the mind, there are two ways: one is easier, the other is harder. The easier way involves your lama introducing you to the nature of the mind, and on that basis you work on that and come to know the mind and its nature.
As for the harder way, even if a lama introduces the nature of the mind, still it may be difficult to understand its nature. Therefore, to really understand the true nature of the mind, the introduction by the lama must be supplemented by faith, belief, and longing supplications. Then you will receive the siddhi of your guru.
Many people can talk about the nature of the mind, but when you have a karmic connection with a lama, even though the words are the same, the effect is different.
SK: What is the most effective kind of meditation?
HH: In general, sentient beings have different aspirations. According to one's own conceptions and wishes, whichever meditation is beneficial to you as an individual is the best kind of meditation. It's not appropriate to set one particular kind of meditation as the most effective. For example, meditation on emptiness is very important, but it may not be the best meditation for everyone; otherwise, its full impact may not be fully realized.
SK: What are the main differences between the Kagyu and Gelug traditions?
HH: I think that there are no big differences. Both traditions are Mahayana, their view is Madhyamaka, and their conduct is the Vinaya. And the practices are much the same in all traditions of Tibetan Buddhism.
There is a difference in the lineage tree. The Gelug tradition comes down from Lama Tsongkhapa, whereas the Kagyu tradition comes down from Marpa, Milarepa, and Gampopa. There are also some slight differences regarding meditation practices. But these small differences do not justify saying that there is a big difference between the two traditions. Their view, conduct, and meditation are basically the same.
SK: What are the lessons that can be learned from having to stay in a place and not be completely free to go where one likes?
HH: Whether you are in a secluded place or traveling around to different places, your main purpose should be to practice Dharma. You should develop and arise in yourself the attitudes of love and compassion, and also disliking worldly attachments.
Some great practitioners, Vajrayana masters, stay in one place, a secluded place, to practice Dharma and not to be distracted by external distractions.
It depends on the individual. If one stays too long in a secluded place, it can become a hindrance to proper practice. But for others, they can't concentrate on their practices when they are traveling. So, the most important thing is to practice Dharma, and each person needs to find the best situation in which to do that.
SK: But I think that the question was referring to the situation that Your Holiness is in – not being completely free to go where you wish. [The Karmapa resides at Gyuto Monastery, a Gelug Tantric College near Dharamsala, India, with only the occasional short trip away]. What can be learned from such a situation, or how can one use the Dharma to deal with such a situation?
HH: There are both positive and negative qualities. On the positive side, having the opportunity to go about freely means that one's awareness of the outside world is up to date. You see and hear more, and this can go together with the times.
On the negative side, if you stay mostly in just one place, when you do go out, then you're a little bit backward or stupid. You're not up to date.
For me, having to stay in one place like this is good. I don't hear or see much, so my mind is more peaceful. Hearing and seeing too many things agitates the mind. But this kind of situation wouldn't be good for everyone. For many people, it's good to be able to see and hear more things; this is good for their healthy development.
Once you see both sides of the world – the happiness and the suffering – then there's the opportunity to become a genuine Dharma practitioner.
SK: Do you have any advice on how a young reincarnate lama can cope with the expectations placed on him by students of the previous incarnation?
HH: A young reincarnate lama must study closely the activities of the previous lama, and in that way will be able to continue and fulfill those activities. However, it's not fair to say that he must do exactly what the previous one did, because the change of time will affect the manner in which his activities will continue. But the essence of his activities must follow those of the previous one, based on the teachings of the Buddha.
SK: Is it necessary for non-Tibetan practitioners to learn and practice all the various rituals of Tibetan Buddhism, e.g., making tormas, playing instruments, doing cham dancing?
HH: It depends on the individual, if one wishes to do these practices or not. However, if one does do a ritual, it must be done properly. Vajrayana rituals are vast, but whatever you do, do it well and according to the prescribed instructions, and not for show.
There are longer and shorter versions of rituals; perhaps non-Tibetans can opt for the shorter versions.
SK: Do you have any other advice for Western practitioners?
HH: The attitudes of Eastern people and Western people are a little different. But there is one thing that they have in common: Both look for happiness and wish to be free from suffering. We all want to be happy and free from suffering. Dharma practice will bring benefit if we work hard with diligence.
Buddha's Dharma is meant to be studied in an investigative way; therefore, it is very relevant to the Western mind, because you like to investigate things. So this Dharma will meet with your attitudes, but you must work hard at it.
American nun Ven. Sangye Khadro (Kathleen McDonald) was ordained in Kopan Monastery, Nepal, in 1974 and has been teaching in many countries since 1979. In 1988 she took the full ordination or Gelongma vows. Her book, How to Meditate, is a Wisdom Publications' bestseller, now in its fourteenth printing.